This page is devoted to ab exercise equipment, ab machines, core exercise equipment and abdominal exercise equipment. There are many different tools that you can use to work your ab muscles, and they all have pros and cons.
The con of every ab machine is that an ab machine cannot magically melt fat off your stomach. The pro of most ab machines or ab exercise equipment is that they can help to strengthen your ab muscles.
Crunches and Sit Ups are the most popular ways to exercise your stomach muscles, but using machines or equipment can add variety to help to keep your body balanced. Use ab exercise equipment and ab machines to strengthen your muscles, challenge your body in different ways, and keep your workout fun and interesting. In regards to core exercise equipment, the Rebook Core Board is a great tool to enhance your core workout and engage your core muscles.
You can stand on the core board or place your hands on the core board to increase shoulder stability and hip stability while engaging more muscles and burning more calories. Hanging Leg Raises are a good lower abdominal exercise, but sometimes grip strength can limit the ability to focus on the abdominal muscles. It's hard to believe companies that sell Electronic Ab Belts are still in business, especially after the Federal Trade Commission filed complaints the 3 Top Companies for making false claims about ab toner belts.
Exercise balls (stability balls) have become a popular piece of exercise equipment in the past years.
Because the exercise balls are unstable, they force your ab and lower back muscles to work harder during exercises and can increase your strength, coordination, and stability.
When the floor becomes too easy, you can increase the challenge on your ab muscles by adding resistance to your ab exercises.
Before spending more than $100 on a bulky ab machine, try a few dumbbell exercises for your abs.
Dumbbells are a great way to add resistance to your upper body, and ankle weights are a great way to add resistance to your lower body.
It's one of the most popular pieces of abdominal exercise equipment in major gyms and fitness facilities. I am generally not a fan of as seen on tv ab machines because almost every company lies and uses deceptive marketing techniques to convince people to but their ab machine. The main way that companies try to trick people is by perpetuating the spot reduction myth. Ab machines and ab exercises can help to strengthen your muscles and keep you fit, and some ab machines can be fun and challenging. If you're board with your current routine and a new gimmick helps you get focused on fitness, then go for it. Remember, despite what clever marketers say, no ab machine or ab exercise equipment can magically get rid of stomach fat or give you 6 pack abs and a flat stomach.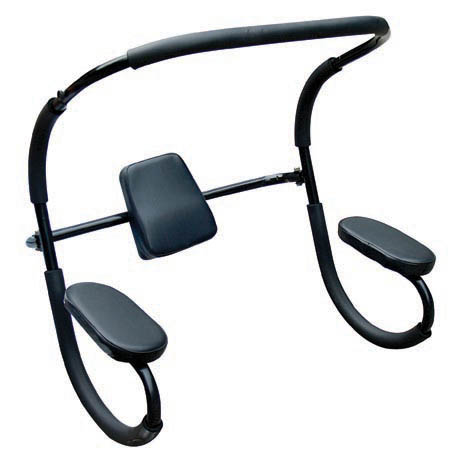 Ab machines and different types of ab exercise equipment can help to relieve boredom and strengthen your muscles in different ways then the floor or other types of ab equipment.
Every week, I try to add more information to this site, so keep checking back to learn more about the best ab machines and the best ab exercise equipment.
If you're looking to buy an exercise bike but not sure which brand or model is right for you?
Personal Training Secrets to Lose Belly Fat and Get a Flat Stomach is the answer to your prayers.
It's a Complete Women's Fitness Plan with Simple Secrets to Lose Weight and Tone Your Stomach. I also use my ab wheel for my core abdominal routine, but it is not the only way I train my midsection. The first part is made for beginners, so if you find it too easy you can increase the number of repetitions and make the whole session longer. TIPWe suggest using this roller as it has more features than the others, and you can use it even for body weight exercises. Crunches are the best for training the upper part of the abdominal, but there are some variations for a roller. If you do not have time, money or energy to go to a gym for abdominal workouts, an ab roller is a great and cheap tool. Various ab roller exercises help to tone your abs, but they do not help too much with getting rid of the fat that may cover your stomach.
If you're someone on a quest for six pack abs, it's important that you're only including the best of abdominal exercises in your workout program.
This piece of equipment will take your standard abdominal crunch and supercharge it, helping you get superior results in half the time.
In order to see the utmost benefits from your ab workout, it's important that you're hitting the muscles at all angles as this is one muscle group that's fast to adapt.
Due to this dual motion you're also going to burn up calories twice as fast throughout the workout and since getting six pack abs does come down to burning more calories throughout the day to increase overall fat loss, this will be a huge benefit. The ProForm Ab Glider comes with a sturdy steel frame that is made with durability in mind so not only will you be comfortable while using it, but you can feel confident that the equipment will last for a long time.
The movement pattern that you'll execute with the ProForm Ab Glider is also much safer for the body than a traditional crunch performed on the floor, so if you're someone who suffers from back pain or is worried you might be at risk of back pain, it's a much better ab workout to use.
One drawback that some people may find with the ProForm Ab Glider pro is that it can take a bit of time to get used to the movement pattern, so you may not pick it up at first. The second potential drawback for some individuals is they may think that as long as they are using the ProForm Ab Glider regularly they will get six pack abs and will neglect training for the rest of their body. Remember, you always want to be making sure your body stays well balanced, so full body training will be paramount. Since diet is such a huge component of getting six pack abs as well since it's what will help bring down those low body fat levels, the manufactures of the ProForm Ab Glider have provided you with a full eating guide as well as two training DVD's to ensure that you do see success when using it.
If you implement the eating strategies provided and make sure to also perform a proper full body strength training workout program along with using your ProForm Ab Glider, then you can rest assured that you're on track to a firm, flat stomach.
When I ran track in college, I would work my abs for an entire 30 minute Simpson's episode. If you call us we'll give a huge discount on the advertized price - beating the price offered by our competitors.
He spent at least 30 minutes nearly every day with his equipment, but after 3-4 months he hardly saw any results. Most of the people by this tool thinking that it is a magic wand which make them six pack abs without doing anything. The roller helps to control the movements and hold your head, but you should also look after how you do the exercises. I believe to have a flat stomach wide variety of exercises are needed with and without tools. If you want to have beautiful stomach doing ab exercises is not enough, you should burn belly fat as well by eating correctly. It is not the news video, but it contains all the best exercises to train your upper and lower rectus abdominus, obliques. For example, if you catch it higher it trains upper parts better if you take it lower it has an effect on lower abs and obliques, as well.
The cross arm method is really efficient, I always feel burning pain on my sides, which means it is efficient. If you follow the video above and do this routine at least 3 times a week and have a good diet, you will see great changes. The secret behind its success is the fact that it uses a dual motion system that will engage not only the front abdominal muscles, but also call your obliques into play as well.
In fact, some people may find that it feels rather awkward initially, but with sufficient time and practice this typically can be overcome.
It is great equipment to train abdominal muscles if we do different types of workouts with it. This workout routine helps to build muscles which will look better and at the same time support losing belly fat.
As you see, you can combine crunches and leg raises which is a really complex way to train the entire abs.
After talking with him, I realized that he did only simple crunches with this tool and the way he did was also bad.
Comments to «Ab exercise equipment ratings»