I personally never cared for hard shell tacos, but my kids like them so I've always shelled out for the processed corn hard shells that are ¼ broken when you open the box. Method #1: Using Tortilla Shell MoldsIf you'll be making these often or making a large number for a party, I highly recommend these molds.
A big benefit of using these shell molds is that the finished tortilla bowls stack and nest compactly. Method #4: Form tortillas around outside of canning jarsI first saw this method at Mel's Kitchen Cafe.
The only drawback of the jar method is that the finished tortillas aren't as evenly browned on the inside as they are on the outside, and they don't nest and stack, if you're making a lot of them. Whatever size you choose, whatever method you use, there are so many fun and tasty ways to use these tortilla bowls and cups. My favorite way to use tortilla bowls is to fill them with all of the tasty fixins' of a taco.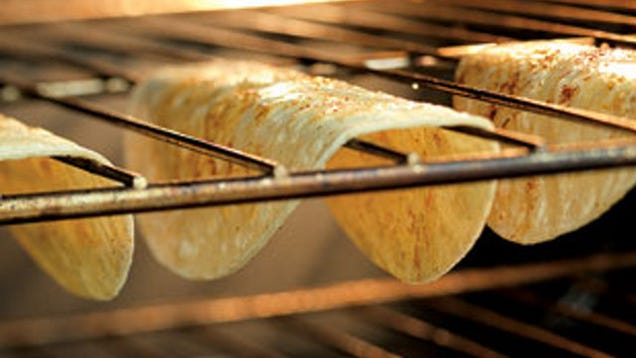 In this homemade taco bowl recipe, we show you how to make a taco bowl with a corn tortilla using the underside of a muffin tin as a mold and then baking it to create cute little taco serving bowls.
Thanks to a tip from culinary weblog Eating Well you can just bake regular floppy flour tortillas in your oven. Coat both sides of the tortillas with cooking spray and drape each tortilla over two bars of your oven rack and bake at 375 degrees Fahrenheit until crispy, which should be 7-10 minutes. Not anymore, beween this tip and the taco bowl tip I'm out of the buying overpriced preformed tortilla shapes market for good! If tortillas are not soft and pliable, wrap them in a slightly dampened dish towel and microwave 20-30 seconds, just until soft.
The tortilla bowls can be made in a variety of ways and are a fun to fill with taco ingredients or salad. Using tongs, slide one tortilla at a time over the burner for a few seconds, alternating sides, until it's softened and beginning to char.
Nestle a tortilla in the space between 4 cups to form a "bowl." Repeat with 3 more tortillas, making 4 bowls total.
I've seen other recipes that called for coating the tortillas with oil or butter before baking.
If you're using refrigerated tortillas, wrap them in a slightly dampened dish towel and zap them in the microwave for 20-30 seconds, just until they are soft. May be made a day ahead and stored in airtight plastic container or bag.To bake multiple tortillas bowls at one time, place multiple tortilla maker molds, bowls, or jars on large baking sheet in oven.