In order to ensure you are covering all your bases with your snowboarding fitness training, you need to be including all 4 of the following components into your snowboarding workouts. Perhaps most important part of your snowboarding training workout is the Dynamic Warmup as it will help prepare your body for the functional strength snowboarding exercises that follow. Corrective Exercises – These will help improve common postural and muscular imbalances you may have.
Mobility Exercises – Mobility exercises will help improve your ability to actively move through a full range of motion which can directly enhance your movement patterns when snowboarding by helping you to be more efficient, expend less energy and reduce your injury risk.
Activation Exercises – These exercises will help turn on any under-active muscles so that when you are performing the functional strength exercises your muscles are more likely to fire in the correct sequence.
Balance, Core Stability and Rotational Core Exercises – Stability is extremely important for snowboarding and therefore needs to be adequately trained in your workouts. Multi-joint Exercises – The focus of your functional strength training should be on multi-joint exercises that use multi-planar movements (the 3 planes of movement). Power Exercises – Your snowboarding will also benefit from including some power exercises which are basically strength exercises performed explosively. The most effective way to train your energy systems is with High Intensity Interval Training (HIIT). Using High Intensity Interval Training also allows you to do a shorter workout and produce better results when compared to traditional cardio training.
The ultimate snowboard training cardio is when you use bodyweight exercises like squat jumps, combined with agility drills, so you can build leg endurance and snowboarding agility at the same time as increasing your aerobic and anaerobic endurance. Performing static stretching and flexibility exercises are most at the very end of your workout.
If you want to become a fitter, stronger, better snowboarder this winter then it is important to train using the latest exercise science.
If you incorporate all of these components into your snowboarding training workouts then you are setting yourself up to enhance your snowboarding performance.
My name is Clayton Beatty and since 2008 I have helped thousands of snow and surf sports athletes with my online fitness training programs. I have made it my mission to help everyday snowboarders like you get functionally fit and strong using the latest exercise science, so that you can be ready to ride hard all over the mountain this season as soon as the fresh snow hits!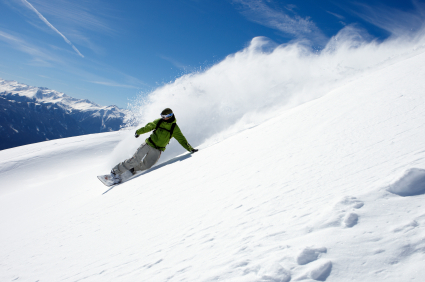 Basically I will teach you step-by-step how to train like a pro at home or the gym so you can enhance your snowboarding performance and enjoy the snow all season long.
For those of you that are interested, I am a Qualified Exercise Scientist with a Bachelor of Science (Human Movement) and I am a Member of Exercise and Sports Science Australia (ESSA).
I like to keep up to date with the latest functional training and exercise science and pass that training information on to my clients. All you have to do is download the snowboarding training workouts and follow along step-by-step! Most fitness programs created by fitness trainers are designed for bodybuilders not athletes. Generally these programs are generic in nature and do not tailor to the specific needs of the athlete.
Total Snowboarding Fitness is your complete strength and conditioning plan for this snow season. Our snowboarding exercise program comes with 8 weeks worth of workouts broken into a 2 phase snowboard training program to help you enhance your snowboarding fitness and boost your riding performance. These online videos show demonstrations of all the functional training exercises in the Total Snowboarding Fitness program.
This will also help to ensure you don't injure yourself by performing an exercise the wrong way.
You can start with as little as 2-3 workouts per week, with each snowboarding workout taking around 45 minutes. Once you are into a good routine, you can build on that and do some extra snowboarding workouts, but of course that depends on how much time you have, and how much time is spent out snowboarding. You will find that in the beginning 2-3 snowboard workouts per week is enough to make a significant difference to your snowboarding fitness. I'm so confident that this program will deliver amazing results that I am willing to give you your money back if you are not completely satisfied. Download the program and read through all the information and use the programs and if you are not 100% satisfied you can keep the whole package. The Total Snowboarding Fitness comes as a downloadable PDF manuals and online videos which can be viewed on PC or Mac.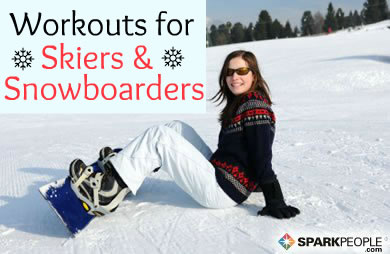 The program I have set predominantly around your exercises and the results are a resounding success. All the exercises are targeted for a specific snowboard purpose, as opposed to traditional weight lifting which is a total waste of time. I found your website and for the last month have been doing the core body strength exercises and have really noticed a difference and feel.
For example there are corrective exercises to improve the movement at your hips, which is a common problem as many people have a tendency to move more from their lumbar spine instead of their hips increasing the risk of lower back injury. This can be done after the functional strength training part of your snowboarding workout, or depending on time you may choose to split it up and do it on a different day, alternating days between functional strength and cardio. This includes including a dynamic warmup, functional strength training, energy system training and stretching & flexibility exercises.
I definitely want Total Snowboarding Fitness for only $47 NOW so I can enhance my snowboarding performance. I have now revised my program to include some of your techniques and expect to have more stability on the end of long runs, less injuries and 100% more fun on my rare but essential snowboarding holidays. This is the first time I purposely trained for snowboarding and this allowed me to ride stronger every time I hit the snow.
In addition, as snowboarding requires a lot of rotational movements, you need to train both rotational stability and rotational power. Static stretching can also be done everyday and anytime of the day (not just with exercise). By performing glute activation exercises you can turn on the muscles so that they will used correctly when needed.