Place all soup ingredients (chicken through cilantro) in a large crock pot and stir briefly to combine.
I followed the recipe for the most part except doubling all the spices and substituting pintos for black beans (we're anti-black bean in my house).
You could easily just use some premade taco seasoning or your own combination of delicious spices (chipotle powder, for instance) to make the soup all your own. Add in most of the remaining spice mix, holding back a bit until you're sure the soup needs it. After that, throw in two or three tablespoons of tomato paste, just to give the background of the soup a little dimension. Now just bring the whole sordid mess to a boil, then reduce the heat and simmer for thirty minutes or so. Ladle the soup into bowls, making sure to get plenty of chunks (chicken, veggies, beans, tortilla strips) in each bowl.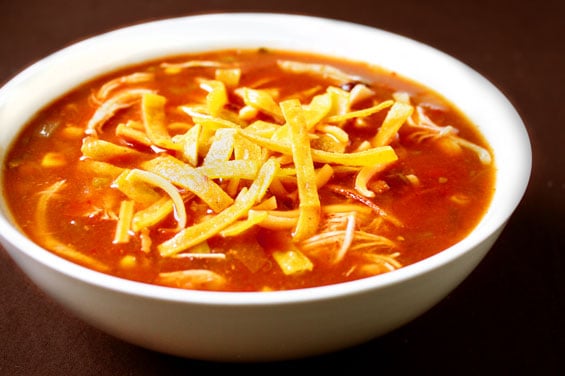 I'm not much of a tortilla soup fan, but I think this recipe has made a convert of me. When I went to make it again, I got confused and used a similarly-named recipe from a different site – it just wasn't the same! Can) Rotel Tomatoes And Green Chilies32 ounces, fluid Low Sodium Chicken Stock3 Tablespoons Tomato Paste4 cups Hot Water2 cans (15 Oz.
This'll provide a lovely flavor and add additional spice, which makes for such a delicious soup. As the soup continues to cook over the next thirty minutes or so, the cornmeal will give the soup a little heft, as well as a lovely hint of a corn flavor.
Drizzle 1 tablespoon olive oil on chicken breasts, then sprinkle a small amount of spice mix on both sides.
Place and low and cook for 6-8 hours (or 3-4 on high, I used a combination.) Remove chicken to a plate.
Stir to combine, then add shredded chicken and stir.Pour in Rotel, chicken stock, tomato paste, water, and black beans. Thanks!Reply Blender Babes says July 14, 2015 at 1:04 am Thank you for your comment Eric!
Make the Best Vegetable Broth (or Chicken, Beef, Fish) at Home Hangover Helper Smoothie from The Blender Girl Smoothies Book 5 Best Foods to Eat to Conquer Cold and Flu Season!