Today, Lara Ferroni shows us how to make a smooth and creamy nacho cheese dip and pickled jalapenos in a flash. While I never had a real fast food worker experience as a kid, I did work for several years at the local movie theater, where in addition to an inordinate amount of popcorn, we made a lot of movie theater nachos. This nacho cheese sauce, made with far less scary ingredients, is based on the Chile con Queso recipe in Real Snacks, but with a bit of turmeric thrown in to give it that classic cheese sauce color. My husband and teen boys love that nasty jarred cheese sauce or even the stuff that you can get from a convenience store 8shudders* and I HATE when they eat it. I made this for a Bachelor Finale party with half sharp cheddar and half pepper jack cheese. Add the cream, ½ cup of the buttermilk and cheese and stir to until the cheese melts.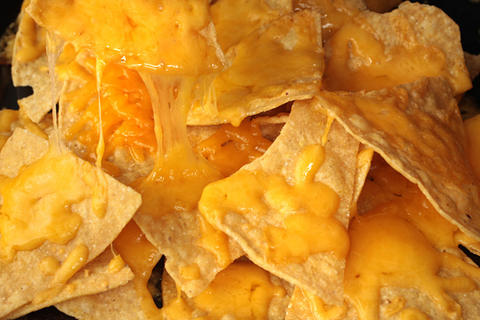 When the cheese is completely melted and the mixture smooth in consistency, the nacho cheese sauce is ready to serve. Those bags of pre-shredded cheese often have additives in them and you won't get a creamy result. In place of the traditional tortilla chips, I used homemade crispy sweet potato chips with smoked sea salt. Add 2 tbsp of water and whisk until the cheese looks smooth and creamy again (adding moisture should restore that creamy smooth texture). I will definitely make again but use a milder cheese as is was a bit too strong for my kids.
I will be using it on Nacho's and broccoli and anything and everything else that you can put cheese sauce on!
There was nothing nacho-y about the cheese itself -- that effect was created by pouring a bit of the pickling brine from the equally large cans of pickled jalapenos, after first scraping off some weird oily black stuff off the top.
As gross as it was to see how that nacho cheese was made, it still kind of tasted good, and there have been more than a few times that I craved the velvety spicy cheese alongside my chips. Serve with chips and pickled jalapenos.You can make this sauce a day ahead and keep it in a sealed jar.