While the cheese is still flexible with parchment paper still attached, bend the cheese over a round object to give it a taco shell shape.
The smaller in diameter the object is, the closer to a normal taco shell shape you will have.
Use this to make tacos, with normal fillings such as taco seasoned meat, lettuce, tomatoes, cheese, and sour cream, or you can also make smaller version of these shells to serve as low carb chips.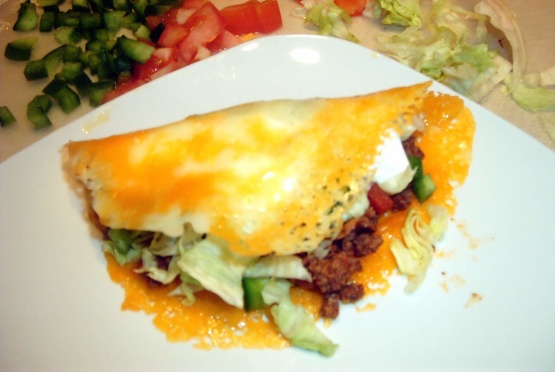 Now, odds are you're going to have more meat and veggies than will fit in your shells, so you can either get another package of provolone to make twice as many shells, or you can do what I did and make taco salads!!!! I didn't use this yet as a taco shell, instead I filled it with braunschweiger and mustard and ate it like a sandwich.