NOTE: It turns out that you can use a full 8 ounces of Monterey jack cheese and still have the same number of carbs per serving.
In a very large skillet or Dutch oven, brown the ground beef with the onion, garlic and mushrooms. Once the meat is cooked and transferred to the casserole, you can prepare the mushroom soup in the same skillet.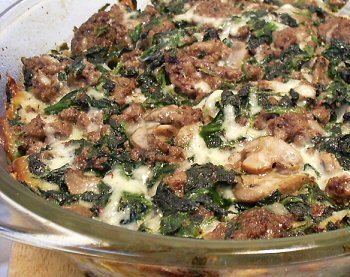 Actually, the original recipe called for Monterey jack cheese, which might be creamier and has fewer carbs than mozzarella. Prepare the mushroom soup and stir into meat and vegetable mixture along with the cheese; adjust the seasoning if necessary. I was tempted to add some garlic, but I think the mushroom flavor probably comes through better with just salt and pepper.