With summer comes more time for family and relaxation, but don't forget to sneak in some fitness too. The kids are out of school, which means later nights and lazier mornings — but make sure that getting off the couch is a priority every day.
Pull your kids away from the video games and turn off the television to get the whole family up and moving this summer. I love this creative culinary idea… A summer dessert plate with blueberries, watermelon and feta cheese.  Sweet, salty, tart, yummy, patriotic goodness! I hope these tips help you have a fun, healthy and guilt-free summer.  Please let me know how I can help you make more informed, empowered nutritional, exercise and wellness choices any time of the year.  Make this your best and brightest, healthiest summer ever!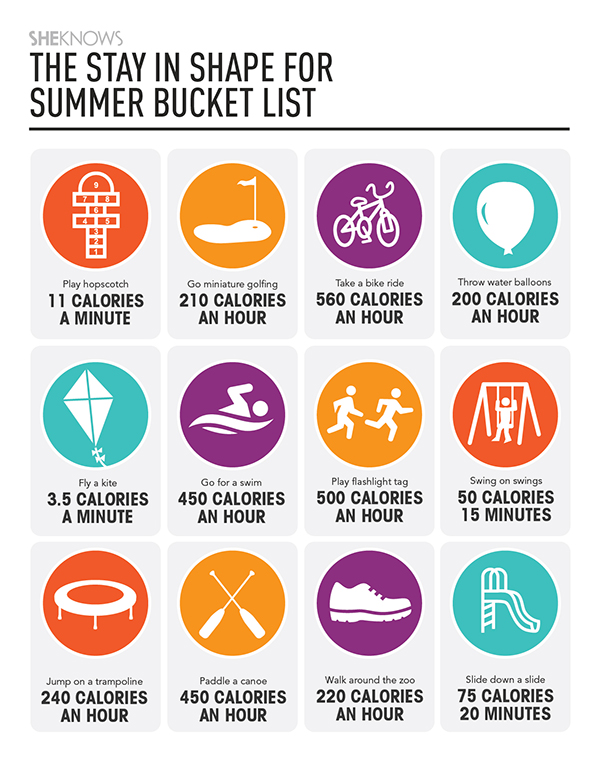 We've created a cheat sheet of fun ideas to help you burn a few extra calories while having fun with the family. Work out, go for a long walk with your dog, ride your bike to the store, garden, do some yoga or take one of my fitness classes!
Print it out and stick it to the refrigerator to remind you to get out and enjoy your days!
Drink 2 glasses of water for every glass of alcohol you consume so you don't wake up zonked the next day!
Don't get so desperate for a meal on your road trip that you pick up a spare tire for lunch!
You know why!  Watermelon is my go-to summer dessert!  Three, limit alcohol, soda and juice – they're liquid sugar with calories your brain thinks should get stored as belly fat! Five, when you eat out, ask for a to-go container so you can put half your meal away for the next day's lunch.