If you've been reading my blog for more than a week, you've likely picked up on the fact that boot camp and functional workouts are my absolute favorite.
I've shared more than a few boot camp workouts on the blog and thought a post with a bunch of them in one place might be a good resource for those of you who want to be able to find them easily in the future.
I put the Sweat it out Bootcamp into my app Seconds Pro and each spot where you put run, I sprint from one end of my living room to the other for the 30 seconds. I love bootcamp style workouts, too and really like that all of these are in one place for me to find!! Today began with a 10-minute elliptical warm up before I took myself through a boot camp workout. This morning I taught a boot camp class at the gym that had people jumping all over the place and working up a sweat.
The last group exercise class I attended was a Yoga class, and before then a boot camp class. When I left today's workout, I knew I wanted to share what I could remember from it with you guys this afternoon since a number of you seemed to enjoy the boot camp workout I shared last Wednesday. Well, I ended up increasing the duration of today's boot camp workout to make this 60-minute intense boot camp workout.
I love the way they jump from one exercise to the next, leaving me ridiculously sweaty and breathless in no time at all. I completed the following exercises for one minute before resting and grabbing a sip of water and going through all of it again.
The class is a 55-minute class, but the workout portion usually takes around 40 minutes since we spend time warming up, cooling down and learning the exercises in each station of the boot camp.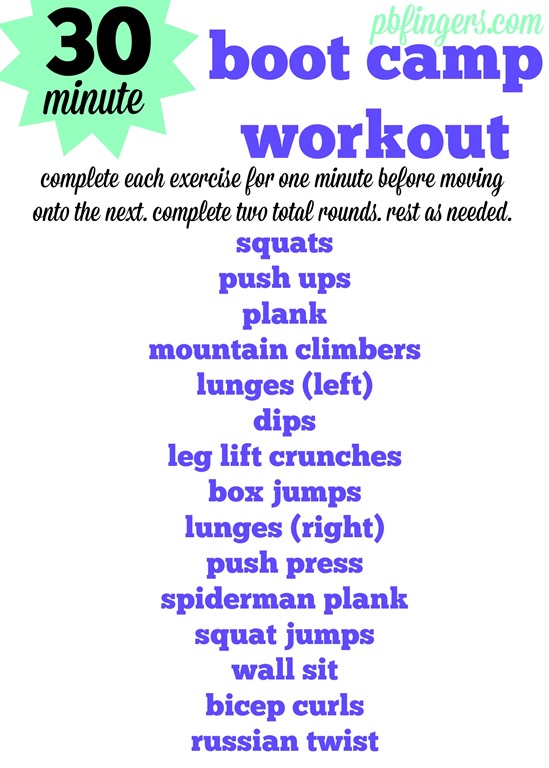 You will likely finish all of the exercises in each station before three minutes are up, so simply repeat the exercises over and over again until three minutes are over.
Many boot camp workouts can be done with little to no equipment or the most basic exercise equipment like dumbbells and bands, making them ideal for at-home workouts. Circuit-style bootcamp workouts are a great way to get in a quick, sweaty session for sure!
And last night I had intramural volleyball for my sorority which counts as a group exercise kind of…haha I am so sore today!