Desktop users: right click on the image and choose "save image as" or "set as desktop background".
The Zybez Runescape Community is making a tracker to track its community members during the Bonus Experience Weekend.
If you're looking for tips, tricks, and training advice, head over to Questions and post a topic. Players no longer need to use real-world currency to purchase items from the official RuneScape store. In addition to merchandise, Bonds can be traded in for RuneScape membership or used as a donation to partner charities such as WWF and Oxfam. Zybez will be rewarding the top 3 people who gain the most Overall experience with 3, 2, and 1 bond(s) for 1st, 2nd, and 3rd. On behalf of all the staff of Zybez, we would like to wish you the happiest of holidays and a Merry Christmas!
This event is a freestyle RuneScape screenshot competition meaning all types of RuneScape screenshots are permitted. The Great Guard Invasion is the largest event in RuneScape with hundreds of people that parade around RuneScape wearing guard uniforms. Fixed the various planks to walk onto ships for those who are using the minimum detail graphics settings. The elite Karamja Achievement Diary gloves now work properly with the ladder to the gem mine in Shilo Village.
Due to the supernatural disturbances in the charm sprite hunting area, players should note that the wolves, bears and giant spiders that used to roam this area have migrated. In addition to such traditional methods, cash-conscious players can now use RuneScape Bonds to acquire a range of t-shirts that pay homage to the game.
Players can even use their Bonds to purchase their entry to the annual RuneFest fan festival on Saturday 3rd October at Tobacco Dock in London. For the ones who gain the most XP in a particular skill, you will be rewarded with Exclusive membership and a custom banner to use in your signature. You are welcome to modify the screenshot with digital manipulation as long as the screenshot remains the main focus.
This is to avoid you accidentally being removed from my friends list when i make space for new people. Come and see your favorite Zybez Radio DJs and join in numerous activities with prizes being handed out throughout the event!
The tracker is set to overall experience, but can be narrowed down to look at gains from each individual skill. Further items, including god-symbol emblazoned caps, hoodies and more will be rolled out in phases. Approximately 50 percent of attendees this year have used Bonds to buy their ticket for the event, compared with 40 percent in 2014.
It can be a funny joke, an interesting glitch, an impressive landscape, an epic encounter, or a humble moment.
For more information about the party and other festive activities going on with the radio, check the links below.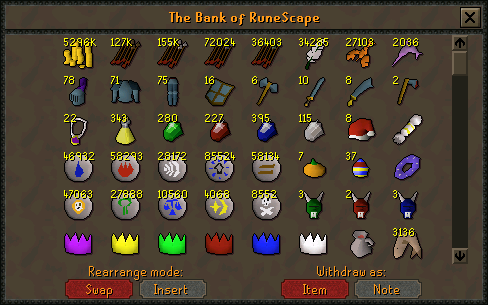 When the tracker expires, a topic will be posted showing the top three gainers from each category [each skill + overall gains]. Runner-ups will also be rewarded with Exclusive membership but will not receive a signature. Adjusted the shield reward from Conquest (Void deflector) so it's clearly visible in lower detail graphics settings. Hosted by the Zybez Events Team, this brand-new event will be sure to make you very rich indeed! Combat-X consists of several teams all battling it out to create the most money in monster drops over a one-week period.
The Tree Gnome Stronghold's swamp has had a ground tile re-coloured to match the surrounding area. All players, regardless of combat or experience, are welcome for this (possibly) once in a lifetime experience! Re-enforced some of the walls between the Mining Guild and Falador's east bank to better combat subsidence.
Scoped versions of the maple and magic longbow now have strings in their pullback animation. Adjusted the various level bound versions of vambraces as their colours were slightly wrong.
The Myths of the White Lands and Swept Away quests now report the correct number of Quest Points that a player will receive upon completing them. Supreme Commander Bisi will now take into account the events that happened during Forgiveness of a Chaos Dwarf. Adjusted the Watchtower quest's logic so that players who've completed it can always enter Gu'Tanoth. Changed some chat in In Search of the Myreque to make a bit more sense when chatting to Curpile Fyod. Fixed an issue where free players who'd completed Love Story couldn't progress with one of the Lumbridge Achievement Diary tasks.
Adjusted the script for the various spells found on the Lumbridge Achievement Diary reward (explorer's ring), so that it continues to work and the interface doesn't close after the first couple of casts.
The Karamja Achievement diary correctly checks for members when travelling by boat to the island.
Diango's holiday items interface now has a scrollbar to allow players to see more than 48 items.
Some blocking has been removed from around the prayer altar in the Zamorak church west of Goblin Village.
The explorer's ring's High- and Low-level Alchemy and Superheat Item spells now use a different interface to prevent confusion while alching.
The various coloured dragon leathers can now be found more easily on the Grand Exchange ("d-leather" expanded to "dragon leather"). Allowed some types of meat to be sold for a slightly higher price on the Grand Exchange, including spit-roasted meats. Explained why you can't make flat packs with Chef's Delight from your POH kitchen in more detail.
Ensured a fairly even distribution of cut-able cacti in the desert, for all your water needs. Fixed an engine problem where the player is apparently following someone when they clearly aren't. Fixed a problem that should mean the previous bank tab should open the next time you access your bank.
The law and nature staves from Dungeoneering now properly count when making various POH tablets.
Some of the new challenge rooms within the occult theme didn't get randomly assigned to free-players in the previous three themes. Corrected a problem with some of the combat code used by Lexicus Runewright and his book barrage. Adjusted tooltips that appear when hovering over icons, so as to avoid covering the icon up that you may wish to click. Corrected the colours of the grimy and clean versions of some of the herbs found in Daemonheim. It should now be clearer that the swordfish gloves from Fist of Guthix will not offer protection when picking belladonna, for example. Adjusted the Quest Journal for A Void Dance to give you the correct info about the elite black knights. Allow players to continue in the While Guthix Sleeps quest if they disconnected during a specific cutscene.
Corrected information in the skill guide about the recent Treasure Trail bows, and on the Knowledge Base about the composite bows. Fixed an issue that could cause the directional arrow for elite trails to spin wildly, which isn't particularly helpful. The Group Gatestone Teleport spell now lights up correctly when you have the runes to cast it. Adjusted the costs of runes in Dungeoneering and increased the rate at which you craft them.
Various ranger headwear including the Saggitarian coif had the wrong models on chatheads when worn.
Charms have had their config cost reduced to prevent them being kept over other more useful items. Updated raw jubbly on the Grand Exchange so that jubbly hunters can get a better price for their catch. Added a message to the Assist System to let you know when a player can next assist if they've hit the experience cap already.
This affects the God Wars Dungeon NPCs, creatures in the Dagannoth area and various other NPCs.