Published 28.04.2014 | Author :
admin

| Category : Money Online
Wednesday's Halftime Report was looking like a rather humdrum, forgettable affair a€¦ until Judge knocked viewers' socks off by inviting CNBC megafox Seema Mody to the table to talk yuan devaluation. Seema delivered a nice recap and mentioned purported Chinese concerns about not wanting to destabilize the global economy but honestly talked too fast for us to keep up. A lot of the folks on CNBC's Fast Money and Halftime Report tend to shy away from discussing politics. O'Leary said he landed in Hyannis 10 minutes after Trump and "was talking to the guys in the airport" and found they're all voting for Trump, presumably because they fear baggage handling being outsourced to Vietnam under the TPP.
Stephen Weiss curiously said he's going to be "neutral" in the presidential politics conversation. Kevin O'Leary claimed that mom and pop farms around Champaign-Urbana are paying gobs to the government in estate taxes when someone dies at their million-dollar enterprises. Jon Najarian said it's a "false premise" to say, as James Stewart apparently did, that the gravy train of ESPN earnings are over. Kevin O'Leary actually suggested Iger should do to ESPN what Jeff Immelt did to his GE Capital unit.
Judge's opening topic on Wednesday's Halftime, whether banks are now a buy, seemed a certain snoozer. Kevin O'Leary on Wednesday's Halftime scoffed at fashion stocks and said they just bring volatility to your portfolio. Scott Nations told Jackie DeAngelis that the only thing keeping crude over 40 is Venezuela and Libya. Doc said "luckily" (Drink) he started buying YELP when there was unusual activity, though he took some profits Wednesday. Judge near the end of a rollicking Halftime Report on Tuesday said Carl Icahn tweeted that Trump gave a "great speech" in Detroit. That sort of started the eye-rolling around here, but Judge managed to elicit some reasonable commentary from Icahn, who insisted Trump is "exactly right on" about the economy because productivity, er, capital spending, is at a low for an economy not in recession. Carl hinted that this election is basically going to be like Ross Perot in 1992, a referendum on how screwed do employed people feel. The only problem with that is that the other end of the rhetoric tends to be a bit, um unbridled, which prompted Judge to ask Icahn if he has "started to question" his own support for Trump.
At least one person on Tuesday's Halftime panel has revealed contributing to Trump and attending an event.
What we do doubt is the government's interest in shutting down this company, given that it didn't seem to care until a rich guy made a big short-selling presentation, and after that, only mildly. So Herbalife has apparently exerted some kind of Jedi Mind Trick over government, the Internet, the legal system and Wall Street. Maybe the problem for Ackman and Fichthorn is that they haven't been able to reach all of Carl Icahn's Archie Bunkers out there.
Judge asked Fichthorn why he quietly financed the movie when everyone would think Ackman was behind it. He shrugged off the 60something price of HLF and curiously said, "I think stocks largely are decoupled from their fundamentals, but the fundamentals at Herbalife are still fine, right?
More interesting than the recycled Herbalife conversation on Tuesday's Halftime was John Fichthorn's description of a company we'd hardly heard of, Primerica. Jim Lebenthal on Tuesday's Halftime Report said he's long DIS and thinks the bad news, a year old, is priced in.
Joe Terranova stressed that it's a story about all the financials and not just a banking story.
Perhaps trying to rebound from a Brexit forecast bungle (that was basically correct in the long run), Joe Terranova on Tuesday's Halftime said he "fully" expects the Fed at Jackson Hole to telegraph a 25-basis-point hike in September. Stephanie Link curiously said "we gotta get through earnings first," even though it seems earnings season has gone well. Fichthorn said automotive is in "kind of the beginning of a, of a down cycle." He said KMX and HOG are most at-risk. Jim Lebenthal admitted he's long GM and said the valuation would only be relevant if there's a recession coming.
We thought, given that he was speaking during the Halftime Report, that Donald Trump would complain about Tesla disclosure and identify some unusual options activity. Nearly the entire hour Monday was turned over to Trump's speech to the Detroit Economic Club, but Judge was able to squeeze in a few words from his obviously overstocked panel.
Jim Lebenthal said he sees a lot of pro-growth measures in Trump's platform, but "I've got one big problem with it. John Harwood curiously said Trump's deficit of 8, 9, 10 points is "a very large margin in American presidential politics," news to those who remember Jimmy Carter +33, Bill Clinton +30 or even Mike Dukakis +17. Ben Laidler, dubbed "the biggest bear on the Street," cited "economic policy uncertainty" around the world for his market cautiousness on Friday's Halftime Report. Josh Brown grumbled that "we keep hearing this thing about manufacturing is is, you know the underlying data is not- it's not coming back, guys.
Friday's Halftime opened with a panelist cheerleading session as everyone gushed about tech stocks and FANG (at least the first 2 and last letter; if you drop the 3rd letter, which some seem inclined to do, it becomes a much different acronym).
Jon Najarian said GPRO is up 27% for the last month and predicted the tech run keeps going.
Judge asked Doc why Doc doesn't own AAPL when Judge already knows the answer (there wasn't heavy option activity). John Spallanzani suggested people were looking at AAPL in the low 90s because it's a bull market, and people are looking for discounted stocks to buy. Doc trumpeted how great the online brokers and life insurers did Friday and pointed out which ones were a "great opportunity" to buy prior to Friday, for those able to do retro trades. We think Josh Brown said "the vicissitudes of fashion" in stating he doesn't endorse COH or KORS.
Josh Brown bought BMY "immediately, right on the open." Brown said maybe non-pros don't understand, "Risk actually goes down as a stock plunges like this.
Scott Nations told Jackie DeAngelis that gasoline was actually up Friday, so it was the dollar leaning on crude. Doc actually got Fast-Fired on his dreadful FEYE call buy but contended he saved himself gobs of money by using a spread. Joe Terranova on Thursday's non-Ackman-is-the-greatest-stock-market-genius-of-all-time portion of the Halftime Report asked Steve Liesman how the Fed restores lost credibility. In the minutes of Thursday's Halftime Report in which they weren't talking about the greatest corporate investment in the history of corporate investments, Jon Najarian cracked open the door a bit on an apparent issue with Square. Judge for some reason, like those "Price is Right" games where people affix 3 prices to 3 items and then have to switch them around, forced all the panelists to rank Nike, Under Armour and adidas in the order of gold, silver, bronze. Dane Leone of BTIG said biotech is in the "early stages" of recovery, so you want to pick the clear leader, which is CELG, which he gave a $138 target.
Doc really didn't say much of anything about PWR except it had a bad miss and weak guidance. Evidently, anyone who sells a stock at a profit gets the first 11 minutes of the Halftime Report.
Judge said he spoke to Ackman prior to the program (not sure what prevented Bill from going on-air again) and that Bill reported making $2.6 billion on Canadian Pacific, which Ackman called a "great example" of shareholder activism. Kate Kelly, apparently assigned to the desk to play the bad cop on this day, said the timing is helpful for Bill because Pershing Square is down 19% through July. Our government decided "there's enough bad publicity about this; we better say something or else we might look asleep at the switch like 2008 or Enron" but otherwise declined to co-sponsor a rich guy's stock market gambit.
Doc said PSX, because he likes the stock and Buffett likes the stock (and Judge pointed out Ackman was called "Baby Buffett" by Forbes).
Judge's hyperbole at the top of the program seems to be an overreaction to Bill's carping on Monday, May 2, that despite the fact Judge conducted a first-class interview, "You list our worst investments.
The good news from this dubious segment is the implication that Bill still has Judge on speed dial and presumably will make further contact with the program. Extending a recent dubious trend, Judge's opening on Wednesday's Halftime Report was so useless, we virtually fell asleep (and should've).
The hook was supposedly whether the "smart money" naysayers are correct in predicting correction.
Weiss credited Joe Terranova for touting PSX; Joe mentioned adding it to his Halftime Portfolio a few weeks ago. Jeff Kilburg said the anemic GDP number "chop-blocked" the dollar, but he expects it to resume its upward bias. Steve Weiss knocked the "poor corporate governance" (Drink) of TSLA-SCTY and said it's "lunacy" to think of Tesla buyers picking up some solar panels. Weiss said HLF "mildly avoided being deemed a pyramid scheme" and called the stock a short.
Jon Najarian on Wednesday's Halftime said KATE had "just a nightmare," but he put on a longer-term spread because of the shellacking. Stephen Weiss said hospital stocks just can't get out of their own way and suggested managed care instead.
Weiss said he likes NBIX and explained how some drug companies have "mortgaged the future" by reaching arrangements with big-cap pharma. Tirrell said Read thinks both parties believe in the "inherent" (sic) (Drink) innovation of the pharmaceutical industry. Tirrell turned the tables on Stephanie Link, asking Link if she wants to be in LLY ahead of Alzheimer's drug data. Pete Najarian said the dividend is the "most interesting" thing about STX and a reason to own it. But everyone on Monday's Halftime Report seemed to think it's not the time to jump into oil equities. But now, Joe said he needs to see "further liquidation on the equity side" in the energy and materials space. Joe indicated energy is more of a long-term play and not a good trade for the next couple of months. Stephen Weiss opted to offer viewers of Monday's Halftime Report a public service Trade School.
Weiss said you have to divide biotech into "emerging biotech" and "mature biotech." (Which saved Pete Najarian from having to say, "The biotechs!
Weiss you can't own the "emerging" names unless you're a pro, then he pointed out he's long SRPT and likes the sector (presumably the "mature" variety). Josh Brown said Judge's "round-trip" claim of GE is "much ado about nothing," given that the stock's covered about a whole dollar and a half.
Dana Telsey said LB in 3-5 years will be "stronger than it is today." Telsey also mentioned "bralettes" (the WSJ recently did a great feature explaining the bra scene). Pete Najarian said Telsey likes LULU and TJX, and the "only problem" he has with those is that they're around 52-week highs. In an opening that simply refused to end, Judge handed over Monday's Halftime to another Kevin O'Leary dividend speech. O'Leary offered that "at the end of the day" (Drink) (4 times) (seriously), dividends are the mother's milk of stock market returns. Meanwhile, Steve "risk-off" Weiss said the hunt for yield continues, and the 10-year can reach 1%. Josh Brown on Friday's Halftime said each of the FANGs has something "idiosyncratic" going for it. Jim Lebenthal said, "I really don't believe that FANG is a useful acronym anymore," stating NFLX should "obviously" be taken out of the mix.
Josh Brown suggested DDD NVDA as a replacement for NFLX partly because of "virtual reality" (snicker) and was allowed to talk up this concept for several minutes during the program. Terreson predicted $60 a barrel by end of 2017 and suggested the "abundant" bad news is already in the stocks.
Josh Brown backed XOM and CVX and called those names a "smart place" for investors seeking total return. Meg Tirrell, who's letting the hair grow long, explained on Friday's Halftime why MCRB was taking a hit. Jim Lebenthal said the biotech rally "doesn't seem to be lasting." But Josh Brown said buyers are "back in control" in the biotech space. Jim Lebenthal said you want to stay out of stocks that are having a "troubled merger" such as CI. Judge on Thursday's Halftime for some reason tried to push a very reluctant panel into discussing Ford; no one was the least bit interested, and the crucial opening minutes were about as exciting as the 4th quarter of a Tampa Bay Buccaneers preseason game.
Joe Terranova said "peak autos are here" but told Judge that's not what would take the market down. Pete Najarian said it's "way overplayed" that Ford is "a great read-through" on the economy. Judge on Thursday's Halftime brought back Rich Greenfield so that Greenfield could explain his (snicker) downgrade of Facebook last Friday.
Greenfield admitted he missed the "blowout" quarter but, seeing the stock come in since Wednesday's aftermarket, "I think there is really a fear of decelerating growth in the back half of this year" and especially 2017. Joe Terranova said the one thing people are underestimating about FB is its international potential. Jon Najarian on Thursday's Halftime Report reiterated how he called AMZN a sell into Prime Day but said he now thinks they'll knock the earnings out of the park.
Joe Terranova said he's "rather apathetic" toward GOOG's direction but said he'd be "more inclined" to look at AMZN, FB or even NFLX.
The talk of the Halftime Report was (Zzzzzz) AAPL, but it was FB dominating the opening of Wednesday's 5 p.m. Karen Finerman though said the stock has "a ways to run" and that FB at 131 with the quarterly update is better than 122 without Wednesday's info. Defying gravity, Pete Najarian on Wednesday's Halftime said Apple service revenues are starting to "slide up" (sic).
Kevin O'Leary said "the services number is getting interesting" and then claimed the "kicker" to the AAPL story is the possibility of Trump allowing it to repatriate (snicker) at 10%.
Later, he piled on, calling AAPL a "huge laggard in technology" and pointing to its hardware slide as not meriting the term "staple.""You don't see those kind of drops in product sales in staples.
Gillis had to defend his recent negative AAPL opinion, telling Judge from the floor of the NYSE, "absolutely I do not regret making that call" and shrugging off Apple's "typical" quarterly move. Josh Brown said "I don't understand" how Weiss could argue AAPL is not a "staple." But Weiss got a chance later on for the same debate with Tavis McCourt.
Judge on Wednesday's Halftime brought in CNBC superfox Meg Tirrell, who's letting her hair grow long, to lead the interview with Kadmon CEO Harlan Waksal, who insisted "the present is what is important," not whatever Sam Waksal did back when. Judge said the company has an "enormous amount of debt" and "enormous rate of cash burn" and asked Waksal how he can assure investors. We couldn't figure out why anyone should get excited about 1) the stock or 2) the interview; Waksal said "it's hard for me to know" why the stock was slumping Wednesday. Doc said X has had a "phenomenal" run, and he laments not keeping it longer in his Halftime Portfolio. Judge decided to shake up Tuesday's Halftime with one of the toughest gets on CNBC: Dick Fuld Jim Cramer. Jim Cramer started off saying there's a "weird restaurant ennui" going on, likely the first time we've heard "ennui" on the program. Pete Najarian affirmed he's got MCD calls and admitted he "probably should be cutting them off" but nevertheless insisted there's "something to hang your hat on" in the report. Joe Terranova said the restaurant space isn't bad if you're in DPZ, but if you're in TXRH or NDLS, you're having a rough day. Steph Link mentioned LULU and said "the easy money's been made in this group" but said NKE is probably the most appealing of the bunch. Joe said he likes the direction of UA inventories, and he's OK with taking a shot at the stock in the mid-30s. Atul Lele, a Halftime Report guest on the same program as Jim Cramer, predicted the Fed would be "more aggressively" raising rates (snicker) than the market thinks. Pete Najarian and Jim Cramer praised Steve Wynn's stock buy months ago when WYNN rolled over. Scott Nations said Morgan Stanley's $35 crude call is "pretty optimistic," but the direction's right. Joe Terranova said the problem in oil is that everyone is looking for the "home run trade," while the "easy money is over." Joe predicted Brent will begin to outdo WTI, which will help refiners. Judge began Monday's Halftime Report with a fresh update on whether the Hillary Clinton tweet permanently destroyed biotech stocks. Les Funtleyder said biotech historically is "battered down by Democratic administrations, only to run a lot afterwards." But he did caution that biotech is sensitive to rising rates (snicker). Pete Najarian on Monday's Halftime said September 130 calls in MCD were popular, and he bought the calls. Stephanie Link said MDLZ might get HSY, which would be good, and if not, might get gobbled up by KHC. Judge referred to "Nordstroms" (sic) (Drink) and then handed off the subject of retail to Pete, who said virtually nothing.
Ross Levinsohn claimed Yahoo is a "scaled player that's an alternative, uh, to Google and Facebook that, that really is focused on premium content" (snicker). He claims he didn't watch anything that was all over prime-time cable television this week?
The president's press conference with Mexico's president ate up nearly all of the Halftime Report, but Judge did manage to squeeze in a few moments on Facebook and Rich Greenfield's downgrade to neutral.
Greenfield said, "I think expectations is really the issue here." Which is what he or anyone could say about 7,000 stocks.
Sechan added that the fear factor is fueling stocks; "When we stop worrying, we stop rallying. Josh Brown said he "absolutely" thinks a GPRO earnings beat could happen, and if so, that's your opportunity to exit. Josh Brown explained how Italian mom & pops could vent their wrath in an Italian referendum that could cause a selloff. Judge on Wednesday first said the Dow had hit "16-8" before correcting himself, then got tripped up over what NHTSA stands for. Have Pershing Square staffers found a replacement 'fun little activity' now that HLF has settled? But Guy Adami suggested the multiples may not be any higher if certain bank entities don't have the backing of the overall company's balance sheet. The Halftime show didn't feature Doc bragging about scalping NFLX from the Monday afterhours "whoosh" featured a tired refrain of Netflix headwinds. Kevin O'Leary said it's "very disturbing" that Netflix is talking about spending $6 billion on new content. Ross Levinsohn is a likable and capable fellow who should be running something really big right now. But when it comes to opining on the worth and future of Yahoo, something he's asked to do about quarterly on CNBC's Halftime Report, you'd be more likely to get a pointed opinion from Dwayne "The Rock" Johnson. Levinsohn did predict on Monday's Halftime that TWTR won't be a public company in 24 months.
Once we saw in Monday's afterhours that NFLX was plunging, we intended to bet some folks that the first thing Doc will say on Tuesday's Halftime is that he bought NFLX Monday afternoon on the "whoosh" and has already scalped the big gains.
Judge entertained a lengthy discussion on Friday's Halftime about the Herbalife settlement in which, curiously enough, Bill's dream seemed to remain very much alive.
Robert Chapman, for example, said he doesn't think there's "any question" that the FTC agrees with Ackman.
Ramey said the part of the company under the most scrutiny is not the bulk of sales, but the restrictions could hurt earnings. Nearly everyone on the program suggested the stock's not very tempting now in either direction but could be down the road. Ackman didn't dial in but did release a statement late in the hour: "We congratulate the FTC for allocating a large amount of resources toward validating our potentially lucrative short positions enforcing the law that will lead to protections for consumers," said Ackman, who hasn't addressed the lack of consumer protection from VRX buying drug patents and then jacking up the prices. But no one besides Ackman seems to think that shutting this company down should be an urgent priority of the U.S. Before Ackman's Sohn presentation, people on CNBC's Halftime Report occasionally recommended HLF. The message seems to be that if you're megarich, you can influence otherwise unmotivated government officials to carry some water for your latest stock-market gambit.
A couple years from now (sigh), Pershing Square will post videos claiming Herbalife isn't doing what it's required to be doing under the injunction, and the FTC won't confirm or deny whether it's reopened the investigation. Surely, this long-running government inquiry has better served poor Americans than Bill Ackman.
Let's say Bill Ackman posted video of all the people lining up to play all of these state and national lotteries and all the comments those people make and showed the stats of how probably less than 1% of them actually profit from the lottery system over time. Ackman dialed in to Thursday's Halftime Report for 23 minutes and uncorked a jaw-dropping embarrassment. Thursday, he did use the term at least twice — but with notable qualifiers (and none of them involved the purported Sullivan & Cromwell opinion that Carl Icahn shot down a couple years ago).
When it came to Valeant, the company that made just one mistake and otherwise does everything right with all these great unrealized assets, Ackman sounded sympathetic toward a rather dubious CEO.
So we are to believe that Mike Pearson really believes in Valeant but sold 4 million shares on July 1 to meet an immediate $97 million tax bill? Pete Najarian wondered, "Where is the discipline?," apparently referring to Ackman's obvious lack of an exit strategy in VRX. As sorry as Ackman's defense of VRX was, we haven't heard a better trading theory on the stock than Jon Najarian's point a day ago that the big sellers are probably out for the short term.
In the non-Ackman portion of Thursday's Halftime, Pete Najarian seemed to think stocks haven't really merited their stunning new highs. Pete suggested that if NFLX does great in international subscriber growth, it might produce some surprisingly great numbers.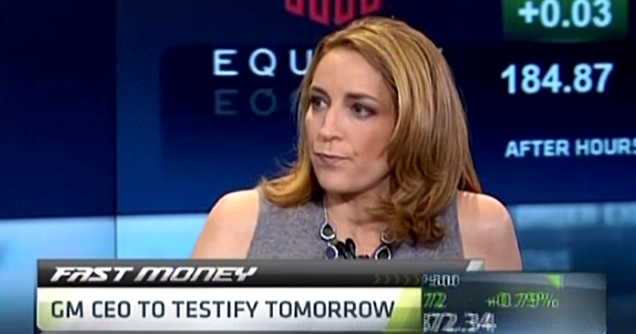 Weiss curiously claimed, "Buying an IPO from a quality underwriter is a riskless trade." Nobody challenged that. Josh curiously opined that Pearson's price doesn't matter much; "Your lifestyle is not different if you're 300 million vs. Finally, Judge turned to Doc, the only one who actually decided to consider the trade here. Doc's almost certainly right, at least in the short term; if you hear that a big holder is already out, that's generally a good sign. Jon Najarian said he's been short C puts at 40 or 42.50 because it always seems to bounce back. Professor Aswath Damodaran told Judge on Wednesday's Halftime there are "pathways" to TSLA being "worth a lot more," but he didn't answer Judge's question as to whether he changed his target from 250 to 220. Colin Langan said he looks at TSLA from a "fundamental perspective" (snicker), and he's "very cautious" at the moment.
Langan begged off Judge's question about Harvey Pitt's suggestion that Tesla might have to give back the money from the secondary.
Damodaran undoubtedly made Judge happy in stating, if he were Tesla, he would've reported the crash (Drink). Judge on Wednesday's Halftime tried to cross-promote interest in Cramer's show by asking the panel about Jim's bull call on CAT. Jim Iuorio told Jackie DeAngelis, "At the end of the day" (Drink), we'll start talking about higher U.S.
Joe Terranova, failing to mention "the new trade in energy," nat gas, said you're "investing" around crude and not trading it. Helen Zhu said Chinese policymakers are seeking an "L-shaped landing." Zhu said she's not looking for a surprise in either direction from China GDP. Judge on Tuesday's Halftime was still harping on Tesla's crash non-disclosure, this time with Harvey Pitt. Pitt said that after word finally got out, "Tesla's stock dropped precipitously," a sign it was viewed as "highly material" by investors. Meanwhile, O'Leary said he "took advantage" of Japanese auto stocks that got crushed post-Brexit.
We knew after O'Leary's comment that Joe would again mention "Toyota Motors (sic plural) (Drink)," and we weren't disappointed. Pete Najarian said of the airlines, "We all talk about valuation, and at some point you get tired of talking about that." Then he said "maybe" people are deciding they're too cheap.
In what has to be the premier call of 2016 on the Halftime Report, Jon Najarian on the day before the Brexit vote predicted "Leave" would win (see below). Pete Najarian said the money on the sidelines that was previously in the defensive names but then pulled out is now going into the more cyclical names. Jon Najarian stated, in one of the more tepid stock calls you'll hear, "I'm short puts on Citi," then pointed out how much airlines have taken off since Brexit. Kevin O'Leary seemed to doubt the merits of Hyperloop and chuckled over whatever lawsuit is going on there.
Stephanie Link first stated not where the stock is going but that "I was buying it under 700," then said this is a "game-changer" for the long term.
Viewers of Monday's Halftime Report were treated to a shock — Bob Peck actually downgraded TWTR.
It was only a lowering to neutral with an 18 target, but nevertheless "feels like a little bit of a throw in the towel," Judge said. For the last 2 years (notably not in recent months), this was CNBC's equivalent of Gilligan nearly getting off the island. Peck is a fine fellow, but this is an absolute bust, almost but not quite at the level of Bill Fleckenstein's monthly threat to restart his short fund (snicker). Pete Najarian helpfully opined that Peck thought some of Twitter's "efforts" were going to "maybe materialize" — and they haven't.
Stephanie Link turned up on Monday's Halftime Report to endorse ABT despite the fact it's had a good month. Judge told Link that "$860 billion (is) uh your AUM," but the TIAA website says it's only $639 billion. Sarat Sethi said there was a lot of selling of big oil months ago when people feared dividend cuts. Doc pointed out the strength in AMD and NVDA after others pounded the table for (Zzzzzz) CSCO, QCOM, etc. Judge made it sound like Theresa May was going to deliver the Gettysburg Address; she only talked for about a minute and a half. That prompted Pete Najarian to curiously say "the time to buy in" was the Monday after the Brexit vote.
Unfortunately, on that Monday, June 27, we PgDn'ed to the summary (see below) and found no record of Pete telling Halftime viewers to plunge into the market.
Furthermore, on Thursday, June 30, Pete maintained, "I don't think that everything- the dust has settled and everything is clear right now (Drink)," and at that point he was trumpeting buying volatility. Joe Terranova said Monday the question of why bond yields aren't rising is "almost unanswerable" but that the strategy is to "stick with winners," and 2016 is "somewhat similar" to 2007.
But June 30, Joe said the "environment of uncertainty" (Drink) will keep us in a "sideways market" (Double Drink). On Thursday, June 30, Jon Najarian said on the Halftime Report that "volume has been building" in WWAV options activity as the stock traded that day at 46. FBI Director James Comey took a decent amount of heat this week for his handling of the Hillary Clinton server matter. Duckworth could be heard early during the hour of Thursday's Halftime Report when you'd otherwise expect to see Judge, except CNBC honchos decided Comey's testimony deserved wall-to-wall coverage. Then Duckworth said she works to reduce veteran homelessness (not sure how that applies to Hillary's servers) — and then, reading a rather clumsy monologue, proceeded to ask Comey about government record-keeping. We checked a map and discovered Duckworth probably represents some of the fellows at the CME. Josh Brown said Friday, "I think you never lost the green light" to buy stocks, suggesting 1 jobs number doesn't change the world. Doc curiously referred back to the Friday after Brexit and said people in the afterhours that day weren't even seeking protection and were actually buying (not sure we heard that observation the Monday after).
Paul Richards opined, "This was the day you had to get right." We're not really sure why that's the case. Josh Brown said TWTR has "probably double-bottomed" (which means it's in Greater Fool Mode). Sorta out of nowhere, Doc said David Cameron and others did a "terrible job" of making their case to stay. Silver Wheaton chief Randy Smallwood said he feels "very confident about the continued flight to safety" (on a day the S&P rose 32 points). Jim Iuorio was caught doing the Shields & Yarnell routine, while Jeff Kilburg, highly adept at handling these situations, suggested crude will hold a 45-50 range. Josh Brown said he sold CHD (nobody chuckled this time) in his Halftime Portfolio and added TTC — which, for those veteran viewers, was an original "junior ag trade" from Eric Bolling. Carter Worth told Tuesday's Fast Money that a big year in stocks with "this kind of little complacency" is very unusual, and the "presumption" (that's a fancy way of saying his "guess") is that it won't continue, or at least the success of buy-and-hold won't continue. Finally, Worth pointed to historical stats showing the 1st 5 days of January generally dictate how the month goes, and the month generally dictates how the year goes, so, "As January goes, so goes the market," Worth said. Tuesday's Fast Money, like the Halftime Report, asked for traders' best and worst picks of the year (surely an objective and well-vetted exercise), and the curious thing was that we barely knew about any of them.
That's one we do remember, except it seems that he's been saying that for a lot longer than November, and it never really registered on our radar. Tim Seymour declared with way too much detail that he recommended IBN in April, and "I was totally wrong," but couldn't resist tossing in that he got a recent pop out of it.
Brian Kelly said he botched buying gold (that one we remember) and profited from DXJ (that's another one we remember).
Jim Lebenthal revealed, "I was long volatility," which we didn't know, and said his best move was WGO, which we only knew because he said the same thing at Halftime. Brian Kelly, who made a good call Monday on buying TWTR on sentiment, sounded a little hesitant on Tuesday's Fast Money in advising viewers to stay long the name but keep raising the stop, as the shares are volatile.
Tim Seymour went to the Walter Energy well again, admitting he could've made that his year-end dog pick of last year. Brian Kelly reaffirmed that he's calling for a PXD short, originally a good trade that soon will be in face-ripped-off land.
We understand it's a New Year's Eve program and that we should expect (especially the way things are going now) to see whiskey distributors in costumes pouring drinks for Fast Money panelists, as was the case courtesy of Nicholas Pollacchi on Tuesday, but when the NBC reporter referred to the "'70s icon Blondie" being a "she," we kinda figured it was time to switch over to Chris Matthews or Eric Bolling or whoever else is on.
Applebee's maestro Zane Tankel (gee whiz, how many times has CNBC quoted the prices of Times Square restaurants this week??) visited the Nasdaq to say that Applebee's sold out its $375 tickets, in which customers get a meal, a deejay and a bathroom, 2 days earlier. Tim Seymour said DIN is not expensive, not unexpected with the guest in the studio, but that he likes MCD the best. His move was nothing more than a technical decision, yet he justified it with all kinds of purported fundamentals that are a pipe dream from realizing a $34 billion market cap. Doc went on to claim that Jack Dorsey joining the DIS board is somehow going to open the floodgates to revenue, which brought needed skepticism from Stephen Weiss.
In the 2nd-most interesting stock discussion of Tuesday's Halftime Report, Jon Najarian revealed he was buying TGT, in part because there's no such thing as bad publicity. Anthony Grisanti told Tuesday's glitch-prone Halftime Report that "I still think gold has another leg down," and was backed up by Brian Stutland, who said the technicals in gold aren't lining up so great, and pointed to a $400 range.
Jackie DeAngelis, in the span of about a 2-minute segment, lost microphone capabilities, necessitating Judge stepping in. Later, Sheila Dharmarajan reported that gold miners took it on the chin this year, and her connection covered about 3 octaves during this beleaguered production. Speaking of gold, Kate Kelly said John Paulson did well in 2013 despite his golden albatross. Judge asked panelists on Tuesday's Halftime Report to recall their best and worst trades of the year. Najarian tried to claim "there are so many" regrets in his 2013 ledger, but KMX was a notable bust.
Stephen Weiss said long airlines and short JCP worked for him, and "clearly Halcon" (that's the Floyd Trade) was his worst setback. Simon Baker really only got to talk about the winner, GRPN, which was his Final Trade, while Jim Lebenthal said small caps were great and that he came up big with WGO. Jon Najarian, who brought his A game (even if his TWTR argument was dopey) to Tuesday's Halftime Report, called NFLX "a little frothy," though he said $400 is possible if Carl Icahn sticks around.
As Steve Weiss congratulated Judge about his Dan Loeb-HTZ report, Najarian said he took off 75% of his HTZ position because the gain was so big, but that everything's going in Hertz's favor right now.
Squire explained that he still likes Valeant, but seemed flustered when asked by Stephen Weiss how many positions his fund has; "we have about 38," he said.
Jim Lebenthal called BBY "still cheap." Simon Baker agreed, but Stephen Weiss said "the best days are behind" this stock.
Simon Baker called HPQ "completely a turnaround story" that might include (oh joy) 3-D printing, then asked Stephen Weiss about it.
Weiss somehow tried to claim he was right about his embarrassingly bad ongoing condemnation of AKS in the fall, a call that was accurate only until mid-summer. Simon Baker said he's "negative Kors and negative Coach." Stephen Weiss urged viewers to sell COH. Guy Adami told Acampora that he agrees that stocks aren't in a bubble, but the same could be said of 2007, and this time according to Adami it's the Fed in the bubble, so couldn't this get really nasty. In the most interesting moment of Monday's Fast Money, Brian Kelly called TWTR "a great buy" at 60, using 54 as your stop.
Brian Sozzi, given a crack at Fast Money on Monday, brought the necessary soundbites for a bearish call on WMT, calling it an "absolute loser stock" in 2014 on margin and inventory-buildup concerns. Tim Seymour, who on Monday had something to say about everything including (inaccurately) his own commentary, called WMT "very very cheap" and said he likes it on a bunch of relative valuations.
Guy Adami said you won't get "obliterated" being long WMT, but he doesn't see a whole lot of upside. Hunter Keay visited the Nasdaq and, in a very impressive dissemination of airline-industry fundamentals, argued that the multiples on airline stocks are still low, which tells him there's still a "lot of skepticism" baked in the stocks. Monday's Halftime Report, guest-hosted by Melissa Lee, prompted panelists in what unfortunately is getting to be a very tired exercise to declare their favorite and least favorite stocks for 2014. Simon Baker made the correct call, which is that the secular tailwinds in social media should continue to lift YELP and FB. Josh Brown said he'd be selling old tech, which he thinks has run its course, but he still likes solar and thinks it's early in the story.
Jon Najarian clumsily tried to explain that DeSanctis doesn't like small-cap utilities, but that Najarian does like SO, but it's not a small-cap. Andres Garcia-Amaya said he likes domestic European companies, in particular retail and industrial names in Spain, and in general, financials and industrials, because of "pent-up demand," a term he said twice. Reminded of this catastrophic call on Monday's Halftime Report, Baker accused guest host Mel Lee of "really some smart editing going on," then admitted, "I gotta tip my hat to Mr. Jon Najarian decided on Monday's Halftime Report to make a bull call on WYNN, for no apparent reason. Doc's first argument was Steve Wynn, "the man is a winner," before mentioning online gambling, World Series of Poker and China. Brown, who got to opine about everything Monday, said CROX is "not my kind of thing," but he likes NKE. Larry McDonald contended that Republicans will use energy to force Democrats toward the center in 2014, making coal a promising play. If you're like so many Americans this fortnight, chances are you're going to drop into a movie theater and catch one of several Oscar contenders now playing. All 3 films sadly suggest there's an endless pool of financial suckers waiting to be duped. There's a profound theme between the victims and the offenders in all 3 films: These people are bored. If it hadn't been for a chance viewing of Friday's Power Lunch, it would've taken us longer to realize exactly how good-looking CNBC's Sara Eisen is. Of course we were aware of Eisen's hiring and, admittedly, kind of shrugged, as it seems like CNBC introduces a new pretty face every fortnight, and it becomes a challenge keeping track of who's where (except in the case of Kelly Evans, who's everywhere, all the time).
Carter Worth opined that TWTR's downgrade shouldn't have moved the stock 13% and that the stock in just the last few days (it took a moment to figure out he was talking about one week) put together as well-formed of a head-and-shoulders top as Worth finds possible, and so he thinks the stock will test the mid-50s. Steve Grasso said everyone expects a pullback, but it's "probably not gonna happen" until maybe February or March. Josh Brown said he's not crazy about e-cigarette-related equities, but he does like the concept. INSY chief Michael Babich, in kind of an abrupt transition, demonstrated the usefulness of the Fentanyl Sublingual Spray that goes under the tongue.
As for the 10-year, Brown said, "mid-year we're easily at 3 and a quarter," and 3A? at the end of the year.
Meanwhile, Enis Taner, who hasn't been on the show in ages, for some reason was enlisted to dial in from Turkey, where he's "seeing signs of fracturing" among the ruling elite and doesn't recommend buying the dip. Josh Brown helpfully said that what's going on there could be something, or might be nothing. Jon Najarian said the trade he likes is actually an S&P pullback, or the 181 puts on the SPY vs. Devoid of ideas or subject matter, Judge asked panelists at the top of Friday's Halftime Report to opine on interest rates' effect on the stock market.
Josh Brown said (Drink) that rising rates are generally good, provided it's not "too far too fast" (Double Drink). Stephen Weiss shrugged off rate concerns and asserted, "I continue to be very long equities," predicting a "20% year next year" in stocks. Weiss said we're getting the "generational move" out of bonds but that it's happening very slowly. Josh Brown grumbled that people are fighting yesteryear's stock-market battles by being entrenched in utilities and defensives.
Dan Greenhaus told Judge that Judge wouldn't remember him saying this, because Halftime has plenty of guests, but that Greenhaus said "repeatedly" on CNBC that "I think this is a nonsense discussion" about fearing higher rates. Devoid of ideas, Judge had panelists on Friday's Halftime Report re-recite previous commentary on TWTR.
Jim Lebenthal made no mention of his suddenly dubious call of a day earlier that TWTR is "probably not going down" before year-end because no one wants the taxable gain. Dan Greenhaus, a fine CNBC personality who had little to offer this program, insisted, "Valuation certainly matters, it just may not in the short term," whatever that means. In a surprise to utterly no one (at least about one of the ticker symobls), Gene Munster on Friday's Halftime Report revealed that his top 3 stock picks for 2014 are AAPL, EBAY and ANGI.
Asked to choose V or MA or something else, Jon Najarian said "something else," in the security space, not the most helpful call. Josh Brown claimed shippers are in the "top of the 1st inning." The Moochmeister, who referred to Brown as "Scott," claimed "the leverage here is just too much" and that management is not shareholder-friendly. Thursday's Fast Money, in which viewers were treated to Jon Najarian and Jim Lebenthal saying the same things they said at Halftime, took a crack at quite possibly The Most Amazing Stock of 2013 (and no, it's not TSLA). Gordon Johnson, whose bearishness on solar in the last year has been a spectacular bust, questioned if China is going to pull the rug out from under the solar space with lack of support for the sector. Jon Najarian said on Thursday's Fast Money, just as he said at Halftime, that Mike Lazaridis sold below a 5% BBRY position "so that he can quietly exit" entirely. Guy Adami said he thinks TM has value, but "something's wrong here with the stock," if you told him a couple months ago where the yen and S&P were going, he "would've said 150 easy" for TM.
Guy Adami said, "I think the rails still make sense," while Gordon Johnson likes CSX and NSC.
Guest Bryan Gildenberg declared on Thursday's Fast Money that AMZN is no longer a holiday novelty, but "part of the fabric" of how people shop nowadays.
Gildenberg also had the foresight to suggest that gift cards are becoming a staple, but retailers have to wait to recognize the revenue.
Johnson asserted that Chinese commodity demand is slowing, so he's shorting X, JOY and RIO.
Guy Adami said NUAN is OK but "not nearly as easy as it was before" when he was recommending it every night for the tiniest of bounces. In a constructive opening feature on Thursday's Halftime Report, it was Stephen Weiss who made the most compelling case. Weiss argued bullishly for AMZN, UPS and FDX, as well as TGT, given the news at the end of this holiday season.
Weiss shrugged off the package-delay story for UPS, stating "everybody knows about this." He also called TGT a "great opportunity" after the data breach. Jim Lebenthal cooked up a goofy bear thesis on shippers that (if it were actually realistic) is about a decade late, opining, "Now we're getting to the point where the government might actually notice, 'Hey there's 2 main shipping companies out there.' That's a duopoly. Jon Najarian plowed through this gobbledygook albeit with a goofy example, stating "the government doesn't care" because it let XM and Sirius become a monopoly (as if that's the same thing). Najarian disagreed with Weiss on UPS, predicting, "in January, this stock will be down" and that he likes FDX better.
The Japan trade, as a CNBC talking point, continues to maintain traction at year-end, as Stephen Weiss and Josh Brown both endorsed it on Thursday's Halftime Report.
Brown said there's more left to the DXJ, and while that was his Final Trade, he even suggested ramping that up a bit with the "small-cap version" of it, DXJS.
Jim Lebenthal, undergoing a problematic showing on Thursday's Halftime Report, tried to change his luck in the bull-bear debates.
Jon Najarian said he agrees with the bearish case, stressing, "2014's gonna be all about Virginia Rometty," and he wasn't talking about getting the green jacket at Augusta. Josh Brown suggested there's enough "pent-up demand" (Drink) in the sector to keep it going. Mel ushered Doc through a sedentary workout in Adam Zickerman's "Inform" fitness truck in which Manhattanites pay $95 for a 20-minute session.
Josh Brown said TMUS and Softbank is an "event-driven kind of thing" and that TMUS is not a name most people need to be involved with. So it comes as a pleasant surprise to learn this week that Patty Edwards reported being carded at Safeway. Steve Grasso revealed on Monday's Fast Money that he's all-momentum, all-the-time on TWTR, explaining he bought Monday at 61.23. But before he could finish his point, Josh Brown (who appeared on the Halftime Report as well, guess Ritholtz Wealth Management only needs 1 principal around at a time) cut in to repeat for the 6th or 7th time that he owns TWTR but "I don't have a full position" and wish it had traded into the 30s so he could buy more. Bob Peck, who burst onto the Halftime Report weeks ago because of his savviness at quickly establishing a $50 TWTR target before the IPO, reiterated on Monday's Fast Money that "We initiated with a $50 target," then rationalized his Dec. Peck said it's been "sort of leaking out there" that FB is having a good quarter, and by the way, they've got (ding-ding-ding) "Instagram" (Drink). It was another big day for stocks, but it's also 2 days before Christmas, so we weren't surprised to see Monday's Fast Money take it light. Unfortunately, just as we feared, Fast Money gave a longer look to the useless AAPL-CHL deal than Judge wisely saw fit to entertain at Halftime. Missy's opening exchange with Kelly Evans this time included a Sesame Street pop quiz, which later surfaced when Josh Brown did a bizarre comparison of today's stock market to Bert and Ernie, and Steve Grasso and Guy Adami struck the pose. Steve Grasso said if you've been long small or mid-caps, "I would lock in something," there could be a selloff in January or February. Brown asserted that there have been zero 20-year periods over the last 90 years in which stocks have lost money.
Some lucky gent is going to spend the holidays with Melissa Lee, who not only wore lovely green on Monday but looked sharp in her black coat, black boots and black bag in her mall footage, and gets to meet the relatives, go shopping with Mel, looking up those Michael Kors handbags, etc. Monday's Halftime Report had a couple of drinks go-rounds on housing, with the panel fairly well split.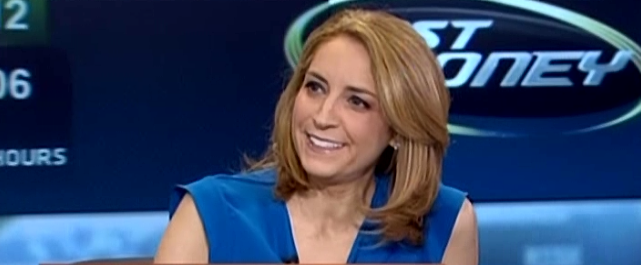 Mike Murphy later argued the bull case for KBH, citing "CEO comments" about a strong environment for next year. Josh Brown said, "I don't mean to be a jerk," but with KBH, "fundamentally and technically, there's nothing to like about it." Brown said the shares got a "muppet upgrade" and that 16 is major support and if it breaches that, even 12 or 13 is possible. We were afraid over the weekend that we'd be spending all day Monday listening to the China Mobile story (and in fact when Fast Money rolls around, we still might), but Judge wisely kept the banter to a minimum on the Halftime Report, as Mike Murphy suggested AAPL can find the low 600s and Jon Najarian said the news "certainly does" remove the roadblock to 600.
Najarian predicted a "very strong move in the first quarter of 2014," then in an unusual call suggested DCM as well.
He told the panel that China at 7% isn't China at 12%, and his expectations for gold are modest: "We think there will be a bounce," but only a $1,250 target for 2014. Josh Brown actually claimed that GM is a "$50 stock masquerading as a $40 stock," and made it his Final Trade. Stephanie Link likes DEO, Josh Brown likes STZ, Mike Murphy likes BUD and Jon Najarian endorses BFB and BEAM and likes the addition of the Sonoma-Cutrer label. Guy Adami said, wrongly, on Friday's Fast Money that the market has "literally shrugged off" everything that's been thrown at it (not quite literally actually), but he found it interesting that TLT was up, and even made it his Final Trade.
Melissa Lee actually claimed, with a curiously sad pout of a look that was kinda cute, that "We have a road map now" with BBRY.
That prompted a debate between Guy Adami and Tim Seymour as to whether BBRY should be shorted.
We've been wondering recently, given the ongoing slide in CNBC ratings across the board and the demise of Money in Motion, whether the golden goose of Options Action is feeling any pinch. The changeover from Fast Money to Options Action, as you can see on Friday afternoons, is hardly a big deal. Jim Lebenthal, who hated everything Friday, was the bear, saying HPQ has a history of "not integrating well" with other companies and is not drawing the hot engineers. Anthony Grisanti said on Friday's Halftime Report that "I still think we have 30 more dollars to the downside" in gold. Josh Brown said that one issue with gold is that "it's not convincingly a good inflation hedge." Jon Najarian though suggested gold could get a lift in 2014 from "less supply" (which is assuming the miners get a clue) (But remember, Steve Grasso says that when the spot price goes up, the miners outperform, so he's got GDX). Lebenthal suggested a more defensive industrial portfolio for 2014 consisting of CAT, BP, MPC, GLW (shocked that anyone would pick that one) and NSC. Mary Ann Bartels revealed she has a "very positive outlook going into 2014" and sees S&P 2,000. Bartels also said she likes the auto play, in the form of an acronym, "TEAM USA." We're guessing one of those is Tesla or Toyota or Tata, but we're stumped about the rest.
Anthony Scaramucci contended, "I do think 2014's gonna be a strong year," and was dubbed a "sober adult" by Jim Lebenthal for his realistic outlook for the Fed, only to mention that he and Judge weren't terribly sober the other night. Jon Najarian crowed about his 2014 Playbook picks (it's not 2014 yet) and how well HAL and BHI did on Friday.
Bartels pointed to baby boomer trades for boomers who are healthy, such as travel and cruise lines, and the screen graphic showed the most important one that she didn't mention, gambling. Scaramucci said at one point, "The biggest risk for the Fled (sic) is deflationary risk," and also had a semi-hilarious mike drop. Melissa Otto, who is cute, said she thinks the Japan trade has "got some legs" through Q1, and "we like the high-end space," including, of course, SoftBank, insisting Alibaba doesn't really matter.
Judge recapped some Lee Cooperman picks and even brought up the "small p," which is what viewers took during Lee's 10-minute speech yesterday. Josh Brown said he'd take LNKD over FB and TWTR in 2014, and Jon Najarian reiterated that he'd be switching out of TWTR into FB.
Jon Najarian said Thorsten Heins was OK but not as good as John Chen, "he didn't have the same outside respect that this gentleman has." Josh Brown, if we understood him correctly, said to fade the short-covering rallies in the stock. It's a fair point, but far more complicated than that, because if Doc is suggesting that backup tight ends for Wyoming and Hofstra should be paid a salary, then higher education is cooked. We didn't realize that using one's credit card at a major retailer amounts to putting your financial security at stake. It never ceases to amaze how, every year around this time, folks on CNBC will talk about Amazon like it were twerking, that is, something they first heard about 3 months ago. Tim Seymour indicated on Thursday's Fast Money he realizes that "this secular shift is alive and well" into online shopping. The beginning of Thursday's Fast Money at the Palisades Mall (think that got enough publicity from this??) featured the next Maria supposedly Kelly Evans and Melissa Lee undergoing an extremely clumsy transition (see, they're trying to expose Evans as much as possible by giving her unnecessary lead-ins into other shows) about what they're shopping for.
We'll just say, if you can manage to do your Christmas shopping with either of these 2 young women, you've hit the jackpot. After that, it was Karen Finerman who reigned over Thursday's show in a devastating, 12-car-pileup black ensemble. Tim Seymour struggled mightily to produce statistics about the typical age of Chinese luxury shoppers.
In what proved to be a really bad idea (Melloy, anyone?), Lee summoned Corinna Freedman to opine on NKE.
Not only was the connection severely delayed, we couldn't figure out what Freedman was talking about or in some cases even understand the words because of the static, except she did say adidas was a better pure play on Western Europe. Tim Seymour on Thursday's Fast Money predicted gold would test 1,100, and he said that's where he'd buy. Guy Adami suggested (again) that when the miners start to re-hedge, that'll be the time to buy. Nearly as bad as the idea to dial up Corinna Freedman, Thursday's Fast Money enlisted Melissa Lee to interview Palisades Mall shoppers, who, um, let's be honest, aren't exactly schooled at soundbites. Judge welcomed an all-star crew of celebrity stock-picking guests to Thursday's Halftime Report, none more garrulous than Lee Cooperman. Amid an "at the end of the day," it seemed like Lee was first rattling off 3 things about something, then 2 things about something, then 5 stocks (and you know we really can't handle lists longer than 3, really even ones longer than 2). Lee likes SD, an old Halftime pick, plus S, Monitise, Qualicorp and SUNE, a couple of those likely being old picks as well.
Rob Sechan, who didn't get much airtime this time and might've wondered why he made this commitment, contended, "We might have a digestion period" in the 2014 stock market. Thursday brought the first Halftime appearance of CNBC's latest Bloomberg hire, Sara Eisen.
The picture above had nothing to do with Thursday's Halftime Report and actually occurred during Power Lunch, but aren't you glad it's there.
Tim Seymour as usual twisted this into nothing, suggesting, "Go for the places that have been most under pressure," such as RSX or EWZ, a pair of wretched dogs. RJ Reynolds' Stephanie Cordisco called Vuse a "game-changing" product on Wednesday's Fast Money and told the gang "we expect to see some level of cannibalization" of regular cigarettes.
Tim Seymour claimed "the growth here is unbelievable" and said LO has the most upside, a point echoed by Guy Adami. Karen Finerman (sigh) said she likes GM (Drink), but this time pointed out it somehow has 10% short interest. Guy Adami said he likes MHK, but "Today's not the day you go chase this thing." Tim Seymour said KBH is holdable for a few days. Guy Adami said LNKD bounced off a key level but cautioned that "ITG's been very good" and should be taken seriously. Guy Adami said there's still upside in NUAN, a comment we'll probably hear every day for weeks.
Finerman, hung out to dry for no reason by Mel Lee, who expected more on the discussion of AMC, frankly shrugged, "I have missed it," then tried to liken LGF to a movie-theater play. Derrick Wood said ORCL had a good report but that the operating margins are the "one thing" that stands out. We would've asked, for a 50th birthday gift, a chance to entertain Mel in that dynamite sleek leather top she wore Wednesday (Do NOT go saying that), but mostly what Guy received was a Wax Vac. Glen Kacher told Judge on Wednesday's Halftime Report that he re-established his AAPL position "several weeks ago" apparently because Apple is getting into the video-game business. Given that Fleck's enthusiasm level seems a bit low, he may want to give John Fichthorn a call. Fichthorn made a good argument against DDD, saying the printers are selling, but not so much the gunk.
Much later in the program, Mike Murphy said he's examining the "2nd-tier homebuilders" and said he's "looking to buy" HOV (but apparently hasn't done it yet).
Brian Stutland said the notion of 10-year yields soaring on the Fed is "too obvious," unless there's a major move. Doc, trying to be cordial, then told Fleck he thinks they might agree that the Fed hasn't been able to control inflation like it wants to. But then Guy, explaining "I'm not in the chase camp here" in WDC, said it's important to point out that he's been wrong for 8-9 dollars in that name. Jon Hilsenrath found a clever way on Tuesday's Fast Money to avoid getting hung out to dry on a taper position, saying, "I wouldn't go out on a limb and say it's definitely gonna happen" in December, but that there's a greater possibility of December than there was in September. Anthony Scaramucci contended, "We're not gonna have a taper," and he thinks dividend stocks will do better than the consensus thinks. Adami said of CELG, "I still love the name," and he thinks AGCO can be owned with a 55 stop.
In a tiresome go-round on what to do if you win Mega Millions, Tim Seymour said to buy CLNE, Anthony Scaramucci said to buy GOOG, Brian Kelly said FSLR and Guy Adami said GE. CNBC's gorjus Seema Mody re-reported the vitamin-report news, but it didn't squelch enthusiasm for so-called nutrition names.
Pete Najarian, who brilliantly picked KFN on Friday for his 2014 challenge portfolio, lamented that the deal came in 2013 and couldn't resist a weak joke. Najarian touted big pharma and said CSCO April 21 calls were hot; CSCO was his Final Trade.
Anthony Grisanti thinks gold can test 1,170 "no matter what the Fed does." Jim Iuorio said there's a greater chance for taper Wednesday than the market thinks and that it could nail gold.
Paul Richards said, "I think we're gonna see QE2 from the Japanese as soon as January the 22nd," and dollar yen to 112.
Steve Grasso admitted on Monday's Fast Money that "I'm a momentum trader," so even though TWTR's selloff is kind of natural, he had to take profits. But maybe that's a good thing, as Guy Adami contended that Monday was the day that momentum came out of TWTR. Karen Finerman said that while Bill Ackman has some puts going in the (snicker) HLF-officially-dubbed-pyramid-scheme trade, "We don't know also how long he has for this trade to work out." Guy Adami said it wouldn't surprise him if Carl Icahn plays HLF long and then shorts it once Ackman is out. Dennis Gartman told Monday's Fast Money that the Fed only changes policy with an eye on keeping it that way long-term, and they don't want to back Yellen into a corner, so "I think they'll go ahead and defer" at this meeting.
Silver Standard (SSRI) chief John Smith refused to say silver is bottoming, but he didn't refuse to say, "I think we're in that bottom region," a term we'd never heard before.
Smith blamed QE for depressing silver; "once we get that noise out of the system," fundamental growth will return, he claimed. Guy Adami at the top of the show during a discussion of favorite industrials suggested the former parent company with a curious assessment: "Now that GE diver- sort of diversified themselves," Adami said, it's getting more like HON, but doesn't he really mean "undiversified," or have we simply been drinking too much? Pete Najarian likes BA, Karen Finerman likes GM and Dan Nathan suggested keeping an eye on the "pretty erratic behavior" in XLP. Karen Finerman affirmed she's long GNC and said, "I hope that it doesn't react too badly" to the story about doubts being cast on vitamins. Karen Finerman (Wharton '87) is the CEO and co-founder of Metropolitan Capital Advisors, a New York-based hedge fund that strives to maximize investor returns using a value-oriented opportunistic approach.
This is a volunteer-run website and is not managed by the Wharton School of the University of Pennsylvania. She may be able to get people on the phonea€"who wouldn't want to awkwardly try to "see how she's doing" but actually getting people to part with their money nowadays.
Like with every other fund, however, things aren't looking pretty for Metropolitan Capital from what we can tell. Fichthorn conceded the sector is "cheap" but claimed that after rising $10,000 over 10 years, car prices are going down. According to the disclosures listed for Spallanzani during the program, he owns calls in basically everything.
Fast Money crew got a whole show's pay for delivering a Final Trade as more than 50 minutes were preempted by a presidential press conference, which sacrificed a pair of great outfits and hairstyles from Missy Lee and Karen Finerman. But he admitted Jana has already been an activist in the name, and that Ackman hasn't dabbled in that space before.
But Pete Najarian said "quite frankly" the most impressive thing about TSLA is how "Teflon" the stock is. 1 financial advisor, Andy Chase of Morgan Stanley Private Wealth, must be a big deal, because Tuesday he got even more time on the Halftime Report than Bill Ackman generally enjoys. Joe Terranova said a lot of KR analysts are throwing in the towel, which is when you want to buy.
Steve Liesman countered that according to the WSJ, neither candidate is talking about that. Doc said repatriation "proposals" (snicker) could either be a big positive or big negative. Brian Stutland, whose name was misspelled in the graphic, said he thinks gold hit a "brick wall" in the morning, but he'd buy around 1,310 or 1,320 and watch it go to 1,400.
On the Halftime Report, Pete Najarian (who did double duty) actually mentioned the "VR" element (snicker) of FB. Jim Iuorio said he's got a 38 target and is building his thesis on a possible Fed tightening in September.
Mark Schoenebaum, given the opening of the program, did not say VRX is the Rodney Dangerfield of stocks but touted BIIB, explained what's going on with CELG and GILD, then lukewarmly endorsed PFE in the big pharma space. Bob Peck, who accelerated Ross Levinsohn's TWTR-buyout timeline to possibly sometime in 2017, said he couldn't discuss ratings but did take his NFLX target down to 110.
We sort of have the feeling Levinsohn might've made the same forecast at least 12 months ago, but we don't have the inclination or wherewithal to look it up. Chapman said he doubts Carl Icahn will increase his stake and only got the 35% provision in case the shares got hammered Friday.
But he used a strange example, Arthur Andersen, pointing out that the entire company, a venerable name for decades, was sacrificed merely because of the actions of people in one office. What possibly was on Ackman's agenda Thursday (short of a meeting with Trump's VP committee in which he would've been given the runaround anyway) that was more important than this session on CNBC? Fast Money as Karen took the opposite approach of Najarian, stating she's "sort of thinking of initiating" a short position in VRX. Doc wasn't interested; Josh Brown said CAT actually looks a little better technically than DE but isn't really his kinda Shackburger. He threw in an "at the end of the day" (Drink) when Stephanie Link asked why not RTN instead.
They're going to start engaging those non-logged-in users, they're going to dominate the World Cup, they're going to dump Dick Costolo, Google needs to buy 'em, it's a "unique property," etc. Guy Adami, in a rarity, implied that DIN has gotten over its skis and didn't blatantly endorse it. Kelly reported that the average hedge fund was up 8% in 2013, but that the Glenview "Opportunity" (the screen said "Opportunities") fund was the big winner at 97%.
New Land ushering in the new year on the Halftime Report this week, but if nothing else, it's allowed Jim Lebenthal to get a workout. Stephen Weiss called the CEO "phenomenal," while Jim Lebenthal said people should "take it with a grain of salt" when jets have battery fires. Jim Lebenthal said if you're gonna go short WMT, you should pick a name like "a Dick's to go long" (sic entire quoted phrase) in a pairs trade. He would've made it a perfect call by pointing out the Nasdaq Composite only needs 23% for an all-time high. 30 finally figured out the first-class airfare guarantee that Simon Baker gave Stephen Weiss in August, something in which readers of this page have been well-versed since the moment it happened. McDonald conceded to Stephen Weiss that China remains a "question mark" but asserted 3 times that a breakout in natural gas is bullish for coal. A more sensitive way of showing it is to suggest they are willingly overpaying for something intangible: Fantasy. Wherever they came from, however they got there, they need something more than their daily routine. Josh Brown said "I like VAW," Jim Lebenthal predicted $70 crude, and Steve Grasso said to get long ANF at 30, which isn't a contrarian trade at all. Brown said he doesn't see "a 2nd round until March," and at that point it would perhaps be another $10 billion.
He said CHL is the short-term AAPL catalyst, but the real catalyst is the new-product cycle that will pose a headwind by late 2014.
And whatever happened to the guy selling IPOs in Arian Foster's tracking stock of future earnings. Kallo provided an indifferent expression as though he had no use for this question whatsoever and offered that "module prices have come down dramatically," helping demand.
Jim Lebenthal curiously said he likes TK and "Navios Marine (sic)," which we thought was Navios Maritime. Tim Seymour said to not sell the news, and Josh Brown concurred that you should let the stock ride.
Steve Grasso predicted retail investors will plunge back into the name, because "they're gonna be loaded up with Apple products" under the Christmas tree, a point which Missy Lee wisely noted could've been said a year ago. Josh Brown said he thinks KORS finds $100 next year but concedes it's volatile and could see the $70s. Jon Najarian said, "I still like Volkswagen the best," because it's launching all hybrids in Europe. Anytime that occurs, that's a great deal for CNBC; it's as if someone tells Warhol he'll commission $5 million for a Farrah portrait, and then Warhol can figure out that he just needs to spend less than $5 million on the production to make a profit. The expense is in retaining the separate Options Action crew as contributors, meaning that host Melissa Lee spends the Friday afternoon hour with 7 total panelists rather than 4 (a few times one might overlap). Unfortunately, recently we've been bogged down a bit (you should see what CNBCfix HQ looks like (check that you better not), so regrettably we weren't able to telegraph Guy Adami's 50th. Judge rightly questioned if it really was a video-game thesis that got Kacher back into the stock. Fleck didn't agree that they might agree on that because he thinks inflation as reported is not adequately measured. Pete Najarian said Bob Peck raised his TWTR price target while downgrading it, always a neat trick. Dan Nathan told a Foot Locker shorter to keep a tight stop because it looks ready for a breakout. She started last month at Metropolitan Capital Advisors, a Manhattan hedge fund run by CNBC Fast Money panelist Karen Finerman, whose husband, Lawrence Golub, is one of Eliot Spitzera€™s longtime friends and contributors.
Josh Brown questioned, "At the end of the day' (Triple Drink), what's to like about MU when it can't control its market. Nobody at least on the Halftime Report or this page is suggesting he's a bad guy or a lousy investor. Jim Lebenthal knocked White's "here comes the sun" suggestion but said he's in the stock because "it generates a ton of cash." Josh Brown said he's long but doesn't need it to go to 185.
Terreson didn't really answer that question but said he thought early in the year that refiner estimates were too high and still sorta thinks that, though some valuations have gotten interesting. As this page pointed out (see below), he just didn't unambiguously declare that it actually is, and he qualified his description of the term, which seems a backpedal from the initial Ira Sohn presentation. I just feel like, uh, you guys are doing a very good job helping him make money on his portfolio.
A few will be busts, but (if we had any money) we'd gladly do the buying on Weiss' sells and Najarian's NFLX.
Baggini chuckled and said the question involved a "whole gambit (sic) of things here" (when he likely meant "gamut").
Simon Baker said coal is an appealing space because few people are in it and mentioned the KOL. That this revelation may occur while checking one's watch during one of these pictures feels, in fact, somewhat ironic.
As long as we're tallying the scorecard (sigh, this always leads to trouble), let's include beautiful skin, beautiful hair, beautiful figure, and stunning, elegant attire crowned by necklace on Friday.
So before it sounds like we've entered the deep end of the TV-watching pool already, know that we'll reserve opinions on Eisen's TV performance until we've had a chance to see her a lot more often and can witness firsthand how she deals with a Mohamed El-Erian "It's like this, for 4 reasons" type of interview.
Seymour said to forget it, there's "unlimited risk to the upside," which frankly isn't true; BBRY is not going to $100 or even $20. Thanks for delivering for the viewers each episode, and for occasionally giving the critics something to carp about.
But DDD bull Josh Brown said the consumer sales aren't the real issue here, and Fichthorn's short case is the same one made 100% ago in the stock, which quite honestly is a point that helps neither side.
New Land said, "The turn is evident for a name like Vitamin Shoppe (VSI)," but Pete Najarian likes GNC better. Wall Spitzer, 50, was a high-powered corporate attorney before her husband entered politics, in 1994.
If you make a national presentation out of at least 3 investments, and all turn out to be awful, one of which involves a company that piles on debt with the goal of raising drug prices to pay it off a€¦ what's a TV host supposed to do, pat you on the back? Karen Finerman downplayed SBUX's competitive threat to SODA and pointed to huge short interest.