It's not surprising that social media is becoming more and more a driver of new website visitors. In November 2012, search traffic accounted for almost 42% of traffic while social referrals were at just over 11%.
While search is pretty much flat (that 6 percent drop is easily regained in a few months' time), the interesting part is that social is catching up.
To learn more about how you can use social media to drive more visitors to your website and how to turn those visitors into leads, download our latest eBook, The Ultimate Inbound Marketing Guide: How To Add An Inbound Marketing Program To Your Business In Just 30 Days. In fact, some clients are now getting more traffic from social media than from organic search.
In November 2013, search traffic had slipped a few percentage points while social referrals had more than doubled. Referrals from the top 5 social media platforms more than doubled (growing 111% year-over-year)!
And this isn't just because internet users typically stick to one search engine, but use multiple social networks. You are going to need to know how many visitors are coming to your site from social and from search, but more importantly, how many leads you are getting from social versus search. If your social sites aren't up to par, these visitors may be thinking about doing business with your competitor.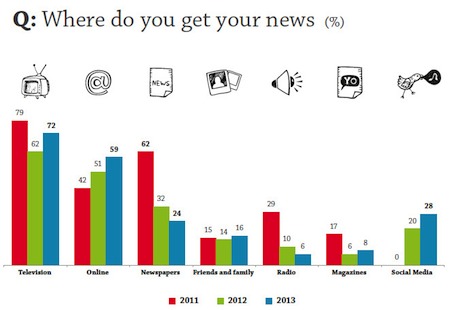 The above report on traffic sources further validates that people are finding your business on social media, and if your corporate sites are lacking, your prospects are going to head over to your competitors instead. Besides seeing an increase in social traffic, we are also seeing more leads from social than from search. If you have educational offers on your website that are not on your social sites, you are definitely missing opportunities to drive leads.