The London's Poverty Profile website uses cookies to give you the best possible experience. The labour market recovery in London, which has been led by the growth in self-employment, has gathered pace since 2012 with recent growth in the number of employees. The latest ONS statistics show that employment in London is continuing to recover from the recession. This trend has implications for Universal Credit which assumes that self-employed individuals earn at least what someone would if they worked full-time at the minimum wage. The 2013 London's Poverty Profile report showed the impact of the recession on employment in London was smaller and shorter than the for the of the UK. The recent growth in employee jobs in London suggests a more comprehensive recovery in the labour market is taking place so underemployment among the self-employed may fall as well.
London's Poverty Profile has been created by one of the London's largest charitable funders, Trust for London, and the independent think tank, New Policy Institute. However, real incomes among the self-employed have been falling at a faster rate than employee real incomes. The number of jobs in London fell in 2008 and early 2009, recovering to pre-recession levels by mid-2010.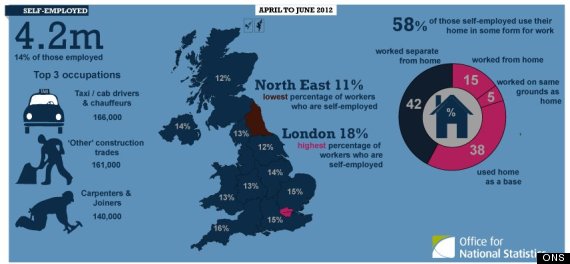 In terms of the distribution of hours worked self-employed workers in London tend to be concentrated more around the extremes. Data from the ONS shows that as self-employment was growing in London, the real incomes of the self-employed were falling considerably. Given that 30% of self-employed Londoners work part-time and median income has fallen, this could mean that under Universal Credit many self-employed people would be entitled to less than employees with the same earnings.
But now that over half of people in poverty in London live in a working family and that close to a fifth of London's workforce is self-employed this cannot be taken for granted. This puts the labour market recovery in context, with half of Londoners in poverty coming from working families and one fifth of workers now self-employed. But the fall would have been much more severe had it not been for the growth in self-employment. But despite this recent trend, the substantial growth in self-employment and simultaneous falls in employee numbers in the early years of recession has caused an overall shift in the proportion of the workforce that is self-employed. Almost 30% of self-employed people in London work over 45 hours per week (higher than any other UK region), compared to 22% of employees. Between 2007 and 2010, median self-employed incomes fell by a third (34%) in London, more than double the fall for the UK as a whole (at 16%).
The growth in self-employment in London and the simultaneous fall in self-employed incomes shows that hardship resulting from the recession was different in London, but perhaps no less severe. As with employment figures, which during the darkest period of the recession were inflated by an upsurge in those forced by redundancy into self-employment, there was some suggestion a rise in self-employment (self-employed people are counted as running a business) was dragging the new business figures up. Indeed, the number of employees only grew above 2008 levels in mid-2012, whilst self-employment figures have been consistently above the 2008 level. At the other end of the scale 30% of self-employed people in London work part-time compared to 21% of employees. ONS hypothesise that this is due to underemployment among the self-employed, with growth in number of self-employed workers but not in the amount of work to go around. Both the overall proportion of the workforce that is self-employed and its growth was higher in London than any other UK region. Meanwhile real employee earnings do not appear to have fallen to the same degree - in 2010 they were at much the same level as they were in 2007 in London and the UK as whole - though the data does not allow a direct comparison with self-employment.