The Labor Department's monthly jobs report showed another small drop in unemployment for people with disabilities, marking the second straight month the rate stayed below 13%. Reuters correspondent Lucia Mutikani's article about the DOL report said the total number of jobs was a bit of a pleasant surprise. Those employment sectors where people with disabilities typically find employment were among the ones making significant gains, including retail (52,600 jobs), business support services (43,000), and temporary workers (18,000).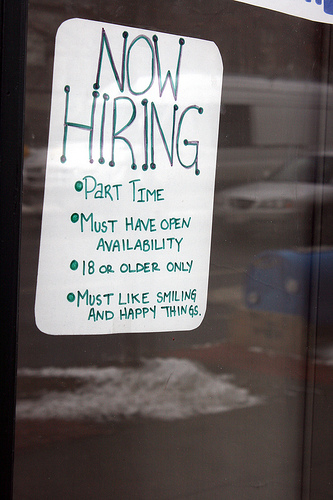 The 12.7% figure was actually the lowest since April, but the 146,000 new jobs created in November was a significant improvement over the 69,000 added back in the spring. His story in advance of the Friday jobs report showed the "employment services" growth accounted for 12.5% of the 46,600 jobs gained in Arizona over the past year. This growth has occurred throughout the year, and many of the temp jobs created have been in information technology, administrative and office work, and project management.
Optimism was high at this time last year as well, when the unemployment rate for people with disabilities was plummeting and the Labor Department's Office of Federal Contract Compliance Program had just proposed new guidelines for tracking the recruiting and hiring of these individuals for companies seeking government contracts.