Marketing Management as a profession is the adult sibling of its relatives, marketing and management. Students studying for a Marketing Management major will be trained in all the basics of marketing, including product development, packaging, selling and promotion. Luckily, there are some scholarship incentives for future marketing managers to keep you happy along the way. The CUNA Marketing and Business Development Council offers members the CMBDC Scholarship for travel expenses to attend its conference.
This award is for members of the association who are working full-time at a credit union in business or marketing.
The George Wasserman Distinguished Award in Marketing Management is offered by the McIntire School of Commerce at the University of Virginia. At the junction of Marketing and Management there is typically an area of specialization further on in the student's education. For example, Northwood University in Michigan offers specializations in Fashion Marketing and Management and Automotive Marketing and Management as well of dozens of scholarships. As a future marketing manager, you will also want to be sure to contact the marketing and business management departments of your college to check out any other scholarships for this field of study. For marketing, sales, and promotions management positions, some employers prefer a bachelor's or master's degree in business administration with an emphasis on marketing. The number of sales and marketing manager jobs is expected to increase nationally by 57,000 (12%) by 2016.
5 Smart Ways for Managers to Improve Time Management As a manager, your time is at a premium and there is never enough. Why IT Managers Should Consider Leadership Development and Education IT management is more than technical knowledge. Why IT Managers Should Develop Their Soft Skills Enhancing soft skills such as teamwork, communication and problem solving can set IT managers apart from others who lack people skills. Workplace Bullying and the Role of Human Resources Management Only 2% of employees who reported being bullied where happy with the company's response. Understanding Marketing Strategy A sound marketing strategy goes beyond ads and promotions. Marketing is a fast-moving field, and in the past several years, the industry has faced economic challenges and technological advances that required marketing managers to shift their approaches to promoting products and services.
Segments of the marketing industry are ramping up to keep pace with new technology and consumer preferences.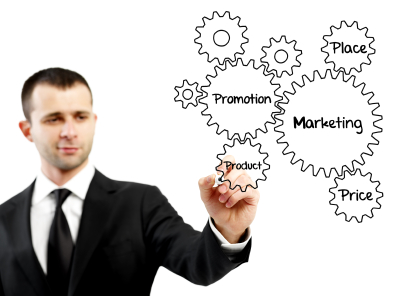 Employment for marketing managers is projected to grow 14% nationwide through 2020, keeping pace with the growth rate across all occupations, according to data published by the U.S. Marketing professionals wear a number of hats to support an organization's sales and profitability goals. Marketing managers are generally responsible for planning and supervising programs that increase awareness of a company's products and services, with the goal of increasing market share and boosting the bottom line. Integrating marketing communications, establishing and protecting the organizational brand, and executing marketing initiatives are also common duties of marketing managers. Marketing managers often hire and supervise marketing staff, such as SEO specialists, data analysts, graphic designers and social media managers. The ability to influence what drives consumer behavior helps make marketing an exciting and rewarding career choice. Most mid- to upper-level marketing positions require a bachelor's degree, and some require experience in sales, promotions, advertising or marketing, according to the BLS.
An understanding of business fundamentals and expertise in proven marketing strategies are considered essentials for success. Corporate-based tuition reimbursement programs may be available to help aspiring marketing leaders attain an advanced degree or professional certificate. According to data published by the BLS, marketing managers earned a median annual wage of more than $116,000 in 2011, an increase of almost $4,000 over the previous year. For individuals inspired by the prospect of working in a fast-paced environment on the leading edge of business and technology, a career in marketing management may be a great fit. The title necessitates that the candidate must be multi-talented: they must be skilled at dealing with people internally as a manager as well as knowing what appeals to people externally as a marketer. Applicants must demonstrate enthusiasm for the field, financial need, and willing interest in pursuing marketing in the banking and credit union realm. Kim Advertising Management Scholarship is awarded to an upper-level student who exhibits demonstrated academic and extracurricular accomplishment. It is one of five marketing scholarships offered to students studying in the field, including a couple marketing resarch scholarships and the Bonnie Silvertongue Memorial Marketing Scholarship. The recipient will be an outstanding student who synthesizes both marketing and management concepts or sales and management concepts and is actively pursuing the professional field. Their partnership with the Sales and Marketing Executives of Birmingham may also lead to future funding and fellowship opportunities for graduates of the school.
Many offer general scholarships and grants for both departments, as well as providing their own unique options for self-made degree programs and a special two-pronged major like marketing management.
For this reason, it is important to be very specific in your intentions to be a marketing manager.
Courses in business law, management, economics, accounting, finance, mathematics, and statistics are advantageous. Successfully leading a business' marketing functions to drive sales, create customer loyalty and expand market share requires both technical skills and broad-based knowledge. The up-and-coming specialties, some of which did not exist just a few years ago, include search engine optimization (SEO), interactive marketing and community development.
Many employers prefer candidates with a degree in marketing or advertising, but general business degrees may also be acceptable.
Individuals seeking educational programs that offer a combination of functional knowledge and specialized skills can consider the University of Florida's Executive Certificate in Business Essentials with an emphasis in Marketing Management, which is offered 100% online. But marketing is more than just crafting clever campaigns; it requires an understanding of media and the market, your customer, competitors and effective communication.
Successful marketing managers at the top of their company will have a significant amount of experience in the industry, but they start like anyone else at the undergraduate level.
You should expect that the companies of potential employers will require anyone with serious interests in management to earn a graduate degree, so be prepared to go all the way with this academic pursuit. Since marketing and management positions are all extremely competitive, the synthesis of these two fields is accordingly so.
Students should contact the department of Marketing Chair at Clarion for more information. Learning the best use of new tools, channels and resources, understanding the ever-shifting needs of consumers and meeting stakeholder demands for return on investment (ROI) are daily challenges for marketing managers.
Marketing managers may collaborate with the executive team to establish goals and then develop marketing strategies to support them.
Combining bottom-line business fundamentals with the principals of marketing can lead to professional opportunities in this ever-changing field. In large, multi-product firms, they oversee regional and local sales managers and their staffs.