Teachers continue to get pummeled as state and local governments digest budget cuts for fiscal 2012, which began in July in most states. Posted in Express Jobs, Government jobs, Islamabad, Management And Administration, Shipping And Logistics. State and local government spending has already declined over the past 18 months, dampening growth and hiringAs Congress bickers over how to cut the deficit, some economists warn that cuts too deep too soon would endanger the recovery. While the nation added 103,000 jobs last month, public schools lost 24,400 positions -- the most of any category.
School districts didn't have the funds to hire back as many employees as in past years.The loss of government jobs continues to weigh heavily on the nation's economy. Some 181,000 local workers and 63,000 of their state peers were let go last year as the economic downturn continued to wreak havoc on government budgets. Without the headwind created by the state and local governments, the recovery would look significantly stronger.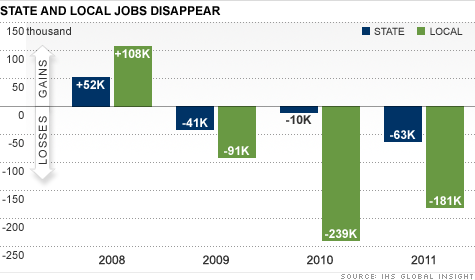 Postal Service, which is on the brink of insolvency.State and local workers have seen their numbers dwindle throughout the Great Recession. The objection is not that state and local governments should have done more to stimulate the economy than they had in, say, 2009. Some 656,000 have been laid off since their employment peak in mid-2008 as governments try to cope with plummeting tax revenues, according to Greg Daco, principal U.S. In his jobs proposal, unveiled last month, he included $30 million to stem the crush of teacher layoffs. So they are still feeling the pain of the housing collapse.Some 14,000 local workers got pink slips in December, the same number as in November and 5,000 more than in October. The weakening national economy has prompted several states to lower their revenue forecasts, which means more budget reductions could be on the way.Education will likely continue to bear the brunt of the cuts, especially since school districts make up 60% of local payrolls.
Here's a chart showing job growth with and without the impact of state and local government cuts: You can see that the jobs picture looks better if you exclude the effect of state and local government layoffs.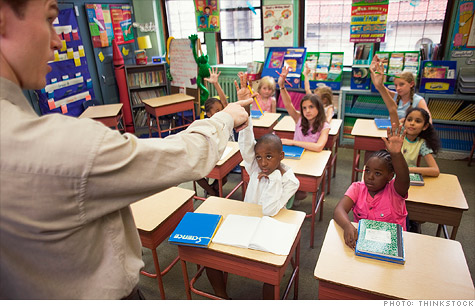 The only real outlier was October 2010, when state and local governments added 31,000 jobs. Remember, all of these benefits to the economy would have come merely if state and local governments didn't cut jobs or spending -- not if they had hired or had increased spending compared to 2009 levels. To be sure, budget troubles are forcing state and local austerity, but if the federal government were able to stop their bleeding, then the recovery would be proceeding with greater strength.
The additional money and jobs in the economy would help to stimulate a higher rate of growth going forward as well, which means we'll miss the impact of this lost economic activity in quarters to come as well.
If things would look better absent state and local governments, then the picture of just the private sector plus the federal government must look better than what we've been seeing.