You can use these operators in conjunction with standard keyword search terms in the people search box.
With LinkedIn's advanced search operators, you can search by current title, past title, title (current or past), current company, past company, company (current or past), school, country, zip code radius, industry, interested in, and recency of joining LinkedIn. Similar to setting up search agents on job boards such as Monster, Careerbuilder and Dice, you can configure searches to capture and notify you of results of people who have recently joined LinkedIn. It's not surprising that I am not connected to many of these people, as they just joined LinkedIn. After you run the search, you can save it so that you can be notified on a weekly basis of all new profiles created on LinkedIn of people who live within 100 miles of Mountain View, CA. I must say I am surprised at how many people aren't even aware of the ability to save 3 searches with a free account. If you wanted to, you could even target people who joined LinkedIn in the last day (joined:d), or even since your last login (joined:login)!
For example, here is a search for all of the people who have joined LinkedIn in the past day that mention Java on their profile. Catching recently updated profiles would be a nice feature – pointing in many cases to people thinking of starting a job hunt.
It seems that LinkedIn has abandoned the advanced language, the main reason, I am guessing, being that different levels (facets) of search have since become available to different levels of accounts.
Eric – I haven't found an operator to search by last update, although you know I will be looking to accomplish that task. I came across the issue of needing a certain skill (Microstrategy) but needing to avoid the company MicroStrategy because of false positives on LinkedIn.
Matthew, your use of -ccompany should not work in Bing, or at least not be processed properly, because ccompany is a LinkedIn advanced operator, so I am not sure what Bing is doing with it. Within a given company's profile in LinkedIn, there is a host of newly hired individuals. To the best of my knowledge, it's not documented that LinkedIn supports the minus sign as the NOT operator, but it definitely works.
As far as I can tell, the list of operators Glen is presenting here is not linked to from the site any more.
Also, not sure whether we can search for multiple companies with OR using this method – my search results failed.
While convenient, I'm not so interested in hints that someone might be looking for a job, because you can recruit anyone, regardless, IMO.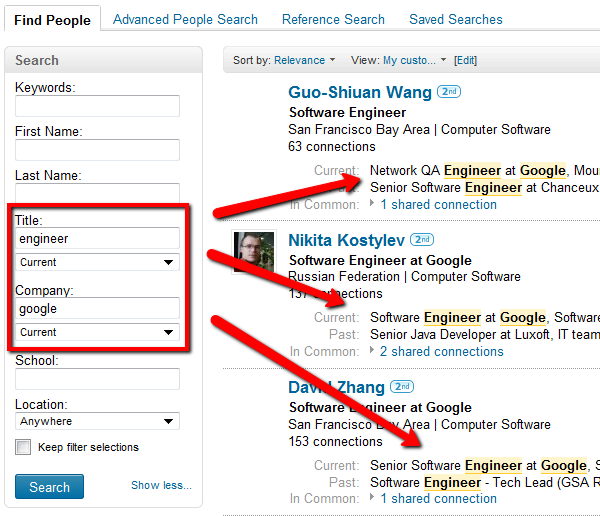 While convenient, I'm not so interested in hints that someone might be looking for a job, because you can recruit anyone, regardless, IMO. For example, here is a result of someone who works at Microstrategy currently, and the result is returned because the company name is 5 words away.
Interestingly, the above search allows past but not current employees of Microstrategy to show up in results. I am going to try strings with the other LinkedIn Advanced Operators to see if any of those work positively as well. With a free account, I can search for their public profiles using Bing to discover their names and identify them, or you can apply your favorite unpublished technique to do the same thing. I am very interested when someone adds new data to their profile, changes to a different city, or starts and new job. I could save a search and see only the new profiles that have been modified since yesterday.