LinkedIn launched a job search app Thursday that is available to iOS users in the United States. When you've found a job that interests you, either click the blue Apply button or click Save. If an image of a globe appears on the Apply button, the app will take you to the company's website to apply. Finally, the notification center alerts you when someone has viewed your application or when a new job that matches your saved searches is added, and tracks when job posts are soon expiring. All of your activity in the app is private and will not be shared with your network, according to LinkedIn. Some of these features are available on the mobile version of its website and in its main mobile app, but not all.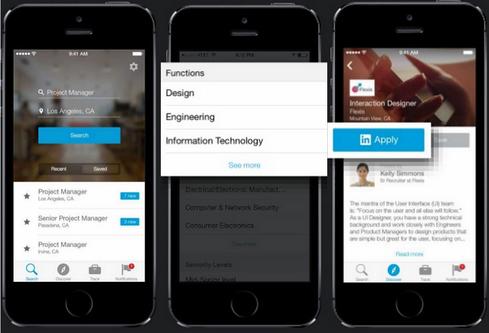 Really surprised that a company of LinkedIn's stature would release a significant app like this as iOS-only when Android's smartphone market share is over 50%. The app lets you search for and filter jobs, save jobs that interest you, learn more about a company, and apply for a position using the information in your LinkedIn profile. You can track all your viewed and saved jobs -- plus the ones you've applied for -- by tapping the Track button at the bottom. Otherwise, the app will use the information in your LinkedIn profile to apply for the job, which you can edit on-screen. The app will push these notifications to your phone, which you can turn off in the app's settings. Seems handy to have a place to easily access saved jobs and check up on the status of your application.
You can search for jobs, browse recommended jobs, save and track jobs you've applied to, and clear your notifications. Other search filters let you drill deeper based on industry, job function, seniority level, and more, LinkedIn says.