They were controlling the play, they were constantly in the Tampa Bay end of the ice, and they were generating a number of chances.
And then they did a complete 180 in the second period, failed on a couple of power plays, couldn't sustain any pressure in the Tampa Bay end, and had a couple of defensive breakdowns that resulted in a pair of Lightning goals. After failing to score on the second of those attempts Valtteri Filppula scored scored his third goal of the playoffs to give Tampa Bay the lead.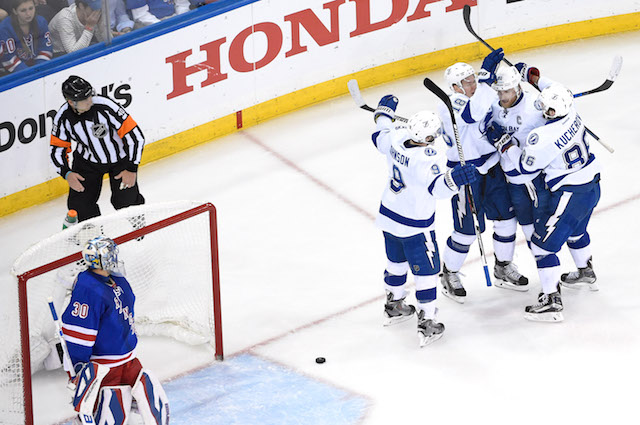 Steven Stamkos added a power play goal for Tampa Bay later in the period to pretty much put the game out of reach.Three things we learned1. After giving up 10 goals over the previous two games, Bishop stopped all 26 shots he faced on Sunday to record his second shutout of the playoffs to help Tampa Bay take a 3-2 lead in the series.
He wasn't tested a ton on Sunday thanks to a defensive clinic by his teammates, but he made the stops he needed to make including a couple of stops on odd-man rushes and all of the Tampa Bay penalty kill situations.2.
Ryan Callahan didn't get the goal that his coach Jon Cooper thought that he was probably going to get in Game 5, but it didn't matter for the Lightning because their other big guys were able to step up again.