20.07.2016
Like the XT10, the XT11 benefits from Klarus's dual button tail switch for complete one-hand control and lightening-fast access to strobe.
Performance: The XM-L LED delivers a lot of bright light (600 ANSI lumens) and is an efficient performer due to the digitally regulated output, which maintains constant brightness.
Protection: Reverse polarity protection circuit protects against incorrect insertion of batteries. Tactical: A stainless steel crenellated bezel at the front is removable and coloured filters can be screwed securely in its place. When light is on, press the Mode switch (secondary tail cap switch) to cycle through High-Med-Low modes.
It uses a powerful Cree XM-L U2 LED, uses an orange peel (OP) reflector for a smooth beam profile, and outputs a maximum 600 ANSI lumens.
Springs at the head and tail of the flashlight protect the battery and maintain constant connection. The dual-button system provides complete, one-handed control over light modes and instant access to strobe. As we can see from the images, the tactical flashlight features portable, low-profile design, and comes with a super bright LED light with a lifespan of up to 50,000 hours that supports up to 600 ANSI Lumens output in order to provide you enough illumination in the dark. A stainless steel strike bezel is included, which can be unscrewed and removed for attaching accessories, such as coloured filters for hunting, military use, map reading, etc.
The removable clip allows the torch to be clipped onto webbing, a tactical vest or Police stab vest.
The ED10 remote pressure switch is also compatible with the XT11, for remote activation when gun mounted.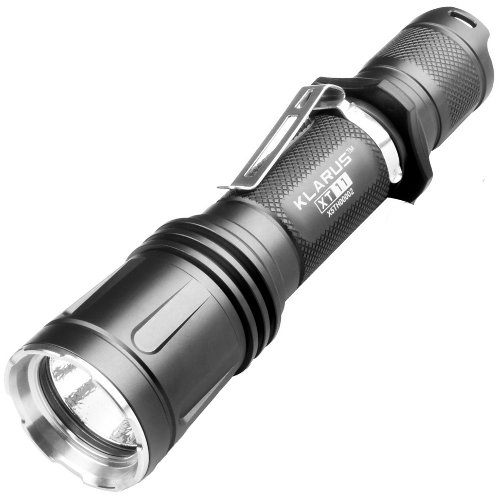 Apart from that, the tactical flashlight also features 1 tactical strobe and 3 lighting mode including 600 ANSI lumens, 150 lumens and 10 lumens, and is powered by 2x CR123A or 1x 18650. Springs at the head and tail of the flashlight ensure no loss of contact, even with gun recoil.