Some of the roughly 2,000 people who walked at Assiniboine Park on Sunday morning as part of the Telus Walk to Cure Diabetes.
The Telus Walk to Cure Diabetes and Scavenger Hunt was held at Assiniboine Park on Sunday morning. The nationwide event aims to raise a total of $8 million in pledges and donations for JDRF, a charity that raises money toward Type 1 diabetes research. The research has made a huge difference for those living with Type 1 diabetes, said Darrin Davis, a national board member with JDRF.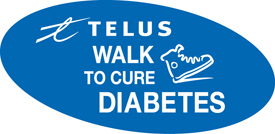 A Winnipeg woman with terminal brain cancer is fighting for her life a€" and to make it to the Tragically Hip concert Fridaya€" after her diagnosis recently took a turn for the worse.
Walk chair Katie Francis said the goal was to raise $30,000 with proceeds going towards type 1 diabetes (T1D) research. She said the issue is a personal one for her considering her 11 year old son Braeden was first diagnosed with T1D when he was just five years old.
Similar walks took place at approximately 70 sites across Canada along with six other countries.
You are using an outdated version of Internet Explorer!Some features are disabled or may not work properly.