We are so thrilled to see that Kate has finally beat the hyperemesis gravidarum that was keeping her behind closed doors during the first trimester of her second pregnancy. Now that she is feeling better, Kate had plenty of reasons to get all dolled up and join her husband, Prince William, and the rest of the royal family in welcoming the President of Singapore to Buckingham Palace on Oct. The Duchess flashed a beautiful smile at palace onlookers while looking fabulous in a grey Alexander McQueen dress and Jane Taylor headpiece, which she accessorized with a Jenny Packham clutch. Hopefully, this is not the last time we are graced with Kate's glowing presence during her second pregnancy! Just one day before surprising the world with her first appearance, Kate joined her husband, Prince William, in announcing a very exciting Royal Baby update. The happy couple finally revealed their second baby's due date, which is in April 2015! Tell us, HollywoodLifers — What do YOU think about Kate finally stepping out during her second pregnancy? Even though the royal ceremony for Remembrance Day is a somber event, Kate brought along a bit of her pregnancy glow as she stood on a balcony on Sunday, Nov. The expectant mom stood next to her husband's step-mom, Camilla, Duchess of Cornwall, and watched over the ceremony as Queen Elizabeth II laid a poppy wreath on a memorial. Even though she was behind a balcony wall, the top of Kate's baby bump was prominent underneath her black wool coat. As she nears the halfway mark of her pregnancy, it's clear that Kate won't be able to keep her bump covered up for much longer! Once Kate made her first appearance after falling ill for the first three months of her pregnancy, she joined her husband, Prince William, 32, for some downtime in Scotland. Now that things have calmed down, William should be able to focus on training for his new job as an ambulance pilot.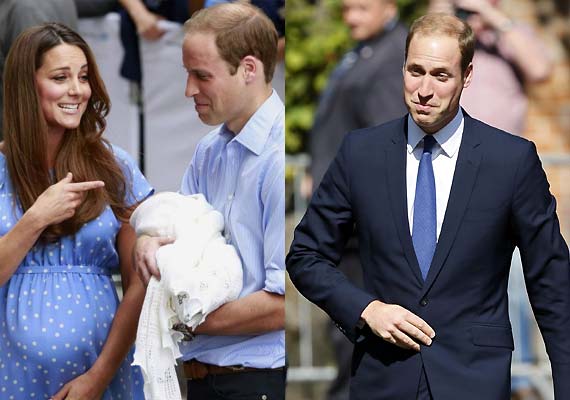 What do YOU think, HollyMoms — Are you happy to see Kate is back to normal after her morning sickness? So Kate Middleton has finally learned a few tricks to handle her pregnancy with the second baby.
The Duchess of Cambridge had a pretty tight schedule during her visit in the Big Apple, with a reporter estimating that she shook hands with around 60 people in 30 minutes. It's a good thing that she still manages to have a time of relaxation with her family to replenish her energy. Kate Middleton is such an admirable personality, and she resembles the heart of the late Princess Diana.
In Kate's first public appearance since announcing her second pregnancy, she looked stunning in a plaid coat dress and a pretty ponytail.
Kate looked happy and healthy as she and husband Prince William welcomed the President of Singapore to Buckingham Palace on Oct. The Duchess of Cambridge presented two awards at the BBC sports event, including the main sports personality of the year award. The awards ceremony was held at one of the Olympic venues in South London, and is one of several sports events the Duchess attended in 2012.
After canceling a number of appearances due to her morning sickness, Kate Middleton has made her first public appearance since sharing the news of her second pregnancy. She used to suffer severe morning sickness, but she seems to have overcome it already as she is often seen on-the-go for a lot of engagements. Courtesy of Queen Elizabeth, Kate Middleton and Prince William went for a honeymoon in Mustique, together with 18 mos. It's really been like their own little romantic getaway, because they can go for long walks on the beach alone or sit and read side by side or go for a swim.
The Inquistr reported that if the second baby is a girl, the Duchess, as influenced by Prince William would name her baby Diana to honor the memories of the loving mother. Though she's battling morning sickness during her pregnancy, she looked glowing and gorgeous in London on Oct. Adding a little bit to hot water helps to repair skin, prevent nausea, and helps relieves cold symptoms.
6, Kate was released from the hospital, and she and her husband Prince William emerged smiling and waving to well-wishers — and Kate looked flawless as always. She and William were both ambassadors to the British Olympic and Paralympic teams during the London Olympics in the summer, and were familiar faces at many of the events.
The Duchess will attend the event in response to a longstanding invitation from the BBC," the St.
9, she joined her step-mother-in-law, Camilla-Parker Bowles, 67, to celebrate Remembrance Day in honor of the fallen armed forces of Great Britain. It's been the most alone time they have had together in a really long time," a Royal Family insider told Life & Style Magazine. It also marked her first appearance since her three-day stay at the hospital for morning sickness.