Good grief, I used to take pieces of timber in there to be turned, and buy turned spindles from him 25 years ago when I had a workshop on Pitfield Street! I think it's amazing that in his service book from the war that it says Wood Machinist…and that its still a passion he grew to love! I met a gentleman in Harvest, AL, in response to a friend of ours that helped us find a source for wood shavings.
As a novice turner, I'm astounded by the skill and patience of anyone who can turn art from blocks of wood. Being a wood turner my self I stand in aw of this lovely trades man he is an inspiration to anyone who would like to follow in his footsteps.
If you were to stop and press your face against the glass, peering further into the depths of the gloom, you would see a shower of wood chips flying magically into the air, illuminated by a single light, and falling like snow into the shadowy interior of the workshop where wood turner Maurice Franklin, who was born upstairs above the shop in 1920, has been working at his lathe since 1933 when he began his apprenticeship. And then, as he placed the final spindle on the stack, Maurice looked up in surprise to see us standing there and a transformation came upon him, as with a twirl he removed his overall and cap, sending a shower of wood chips fluttering. I've spoken to a few wood turners before and I always get inspired by their passion for their work. I have been a wood shop teacher for 35 years and a wood wooker as a student from a youth for 10-12 yars before that.
Now at ninety-one years old, being in semi-retirement, Maurice comes in a few days each week, driving down from North Finchley in the early hours to work from four or five, until eight or nine in the morning, whenever he fancies exercising his remarkable talent at wood turning.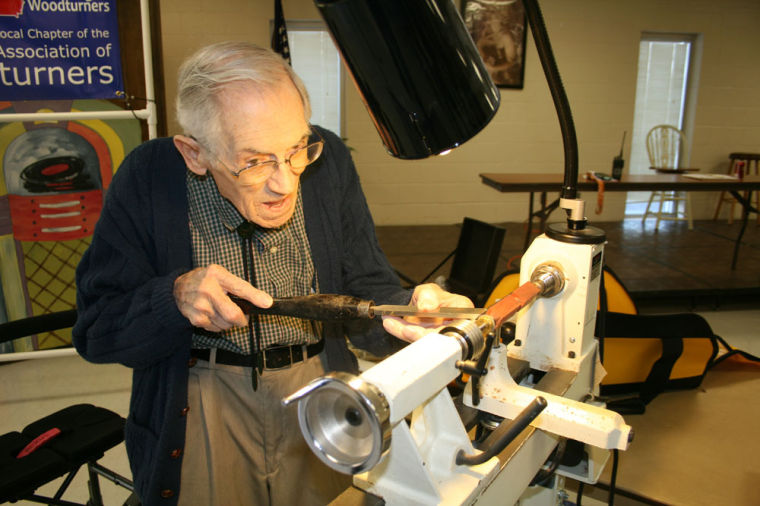 The wood turner that we saw hunched over the lathe a moment before was no more and Maurice stood at his full height with his arms outstretched, assuming a relaxed posture with easy grace, as he greeted us with a placid smile. Sure enough, the wood chips were flying, accompanied by the purr of the motor that powered the lathe, and hunched over it was a figure in a blue jacket and black cap, liberally scattered with chips and sawdust.