Day 1: We removed the cabinet doors (including drawerfronts) and hardware (including hinges), applied wood filler to cracks and hardware holes, let everything dry for a few hours, lightly sanded the putty spots by hand, and refilled them with a second layer of wood filler wherever necessary. I drove to my nearest ASCP stockist (you have to get it from licensed stockists) and bought one quart of Pure White for the uppers and one quart of Graphite for the lowers. The thought of having to make a distinct line in that grout between gray and black made me want to hurl. We also realized that using a small piece of scrap wood would shift all of the handles a smidge closer to the edge of the door, which we realized we liked best (after holding the handle in various places on the template).
Then John drilled a small pilot hole first (to make sure he was going straight into our marked dot and ensure the wood wouldn't crack or splinter). If you want an amazingly smooth painted finish that requires minimal skill and little to no sanding AND you don't want a distressed look- just go get some Benjamin Moore Advanced Paint.
We love the way the satin nickel looks with our stainless appliances (and we think the soft gray backsplash will only add to the fun.
Benjamin Moore Advance paint actually came recommended by a few pro cabinet painters that we know. Speaking of the paint, we used Benjamin Moore's Advance paint in Cloud Cover in a satin finish (it's a soft tonal taupey-gray color, so it's not quite as bright as our glacier white counters for a subtle layered look). Using high quality primer and good self-leveling paint helps hide a lot although it doesn't guarantee 100% invisible grain (we don't see any evidence of grain on the oak cabinets in the office but do see a hint of it on the kitchen cabinets, so it probably just depends how much grain your cabinets have to begin with). We don't mind painted wood that looks like painted wood though, so a little grain is ok with us, as long as the paint is nice and even and glossy.
A contrasting kitchen island and a contrasting natural texture like a butcher block counter top or natural wood beams on the ceiling.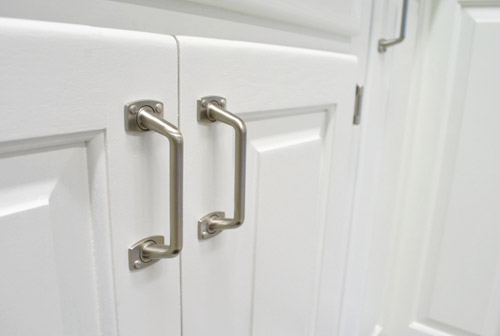 But then I took a look at the grout on my tiled kitchen counter top and saw BLACK not Graphite.
We used it on our office cabinets a few months back (which still look great after Clara has beat on them relentlessly with wooden fruit) so it's safe to say that we've been extremely happy with it.