Here is the problem: Just about anyone on the planet who teaches carving recommends between a half dozen to a dozen tools to start out with but nobody agrees on WHICH half dozen or dozen tools to start with.
We also stock a York set from Ashley Iles, which contain similar but not the exact tools than the Pye set and is perfectly good set of tools to start with. We don't have an axe to grind on which tools to get so we give a 10% discount on 6 or more on Ashley Iles tools bought at the same time. During the first weeks of class, as your teacher is teaching a wide variety of cuts and holds and you get your first hopefully broad range of assignments you will be using the entire set of tools the teacher recommended. A suggestion: If you get a mess of tools all at one go - from any vendor - even if they come sort of sharp they probably won't be classroom ready sharp. If you are not studying with a teacher and you are learning from a book getting the tools as you need them, or making up your own set is what we recommend.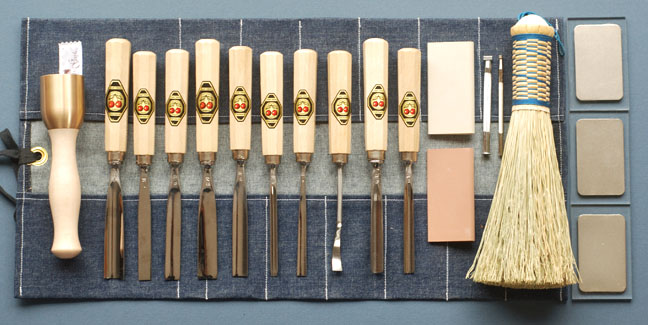 Wood carving tool sets spare the beginning carver the problem of having to choose individual tools. Pye's seven piece set from Auriou, which I mention above - has very little overlap with the tools I needed for the exercises. You can learn and do amazing things with one tool, or two, or whatever works with your budget.
As a professional iron monger I do want you to buy tools, lots of tools, and from my company, not from the guy down the street.
Also, teachers as a group would much rather their students start out with the same tools each time so that students can easily follow along with the examples and exercises that the teacher assigns. Incidentally if you are studying lettercarving or doing bigger or smaller stuff the basic sets aren't for you anyway.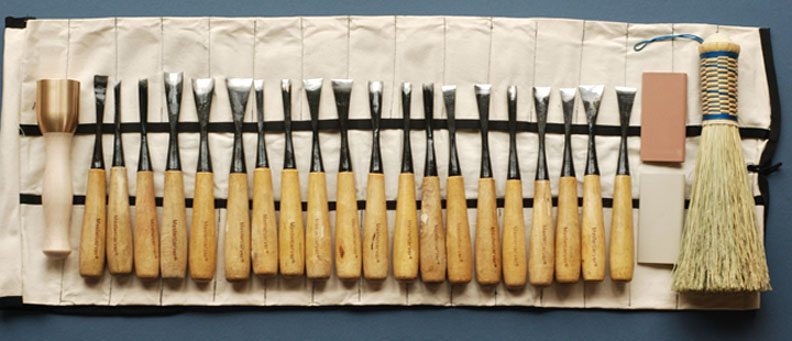 As you figure out what you like to carve you will also begin to figure out which tools you need.
But, that being said, if I don't sell you the right tools, especially when you are starting out, then we will lose you as a customer, and of course we earn roughly the same amount of money no matter what you buy so it is in everyone's interest that when asked (and this happens on a daily basis) we recommend the right stuff. More large tools, more small tools, Full sets of sweeps because you are doing lots of curves. The reason is that being a beginner it better to first sharpen the first few tools from start to finish, get them working correctly, work on your sharpening skill, correct any problems, and then sharpen the rest when you know what you are doing.