Here we wanted to see how a layer of old weathered fence wood would look over the pine structure.  We were excited to see that it really tied in all to colors of the stone wall. The first thing that we needed to do was, anchor a ledger board on the wall with bolts into the concrete wall. As for the wedge bolt, as you tighten the wedge bolt, it creates tension automatically and wedges the bolt snug within the mortar.
Below is the ledger board with two small anchor bolts in place to get it level.  Once I had it leveled, I drilled the holes for all the other bolts.
Now that all the holes where drilled and the bolts in place,  I just had to tighten the nuts with a ratchet.
We decided to stain it gray, incase any portion of the pine it showed through the joints of the weathered wood.  The images below show the sequence of the weathered wood installation.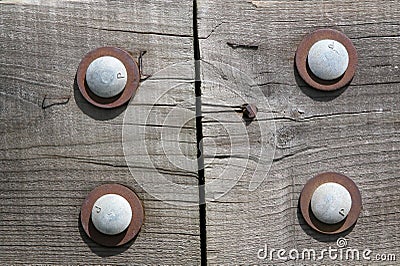 This is how we decided to miter and wrap the corners.  We didn't have enough wood to cover the top and bottom, but you don't really see those very much (especially since it is stained to a similar grayish color)  and it makes the top easier to dust without getting slivers!