Sheep: if you see three or more sheep, it might be worth killing them to get the 3 blocks of Wool you need to make a bed. Place 3 blocks of Wood in the top section ("Ingredients") and 2 Wooden Planks below (in the "Fuel" slot).
You might want to use any remaining daylight to collect more wood, coal, or any other nearby resources.
You will probably want to use your Crafting Table to make better tools using Cobblestone instead of Wood Planks. Tip: Make sure you light your home well by placing plenty of torches, otherwise monsters may appear!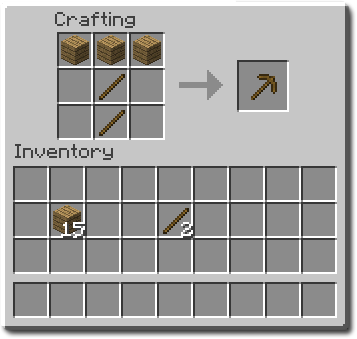 You will also want more wood (quicker to get now with your new axe!), maybe some leather for armour, and more.
Find out about the world of Minecraft, the mobs you'll meet, and how to craft items, enchant your gear, brew potions, and build with redstone. I think everyone should experience the terror of sheltering in a dark burrow overnight, but let's now see how to do things properly. Start by scouting out the area; you will need trees for wood, and you would really like to find some coal and some sheep.
Approach a tree, and punch it (by holding down the left mouse button) until a chunk of wood breaks off.
Make sure your home is well-lit at all times - no corner should be more than 6 blocks from a torch. Use your furnace to make sand into glass; you can read more about furnaces and efficient use of fuel first if you like.
The game Minecraft, and all trademarks and copyrights associated with it, belong to Mojang AB.