For months I've wanted to convert my handmade 7 x 4 foot sewing table into a drop-leaf table, simply because its massive size is sometimes more than I need in my 10 x 10 sewing studio. Because the table was built from a thick sheet of plywood, trim molding, and screw-on Ikea desk legs, it was easy to modify.
I measured the height between the table top and the floor, because the two drop-leaves needed to be shorter than that distance so that they did not bump the floor when folded down.
I had to get Ryan's help again to flip the table right-side up because it was super awkward now that the leaves were attached by hinges. In the spirit of total transparency, I will admit my frustration that the veneer top layer of the table splintered so much along each cut line.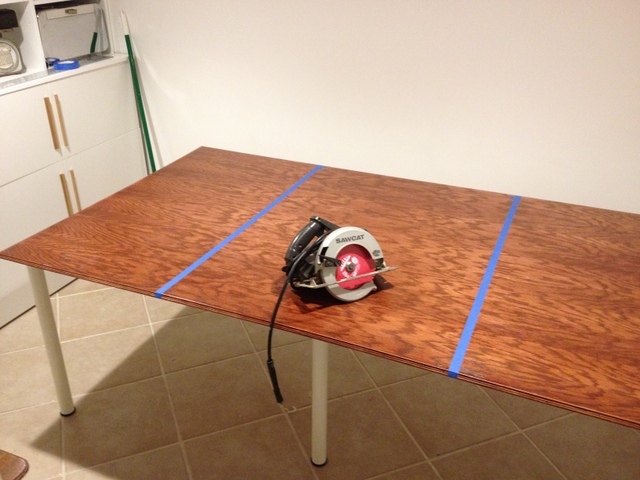 Given the picture of the tearout at the cut line I'm guessing you did the cut on the top side of the table. If you want to leave the legs on, you can attach the base of the leg onto a hinged square of wood so that they fold over the short underside of the leaf. With one leaf extended and one leaf dropped down, the table is the right size for my large cutting mat but small enough that I have a lot more room in the sewing studio. This handsome piece of furniture features a drop leaf that lifts to give you extra workspace. I wanted to keep it in case I had time to make another, but my husbands vehicle broke and we are in need of the money elsewhere right now.
Unlike table saws, skil saws rotate in a ccw direction causing tearout as the teeth move upward thru the venner.