The humble box joint is super strong, and simple to produce, provided you have the right jig for the job. The humble box joint (sometimes called a finger joint) is strong, attractive, and easy to cut using a sled or miter gauge on a tablesaw, outfitted with this simple jig. By cutting a series of fingers that interlock, you create a large amount of surface area for glue to adhere to, making for a super strong joint.
In order to be able to adjust your cut to perfection, I'd actually veer away from screwing the sub-fence to your sled or miter gauge, and opt for clamps instead. Strong, great-looking and quickly made, box joints are an especially good choice when you have a large number of items to produce.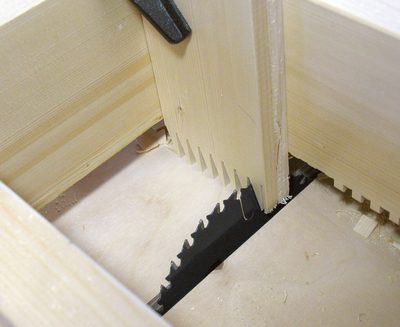 The key to executing the joint successfully, depends upon the precision with which your set your jig up.
This will allow you to move the sub-fence in minute amounts as you dial in for the perfect cut.
If the joint is loose when you dryfit it after cutting, chances are it will fail sometime in the near future, so be sure to take your time time when creating, and setting up the jig. The challenge is to cut pins and sockets that are virtually the same size, with paper-thin tolerances for fitting the joint. I'll show you how to build the jig and use its micro-adjust system to dial in perfect-fitting box joints.
I think box joints look best when the end pieces have full pins at the top and the bottom, so I always start with an end piece.
This problem also occurs if you want to reuse your jig to make box joints in thinner stock.