Handcrafted Wooden arch bridges and Japanese water Garden Bridges have been used for many centuries for things such as draw bridges, for spanning crevices, over creeks, koi ponds, gulleys and in fact anywhere to cross over low areas such as valleys, dips and depressions as well as water of course, even by the homeowner in his backyard. The Handcrafted wooden arch bridge is usually made of cedar, pine, douglas fir and a few places use the more durable and weather, insect and water resistant Western Red cedar or California Redwood. You should also make sure the bridge is made of weather and water resistant wood or sealed and stained, along with stainless steel hardware such as bolts, washer, nuts and screws.
You should try to find a bridge that is very easily assembled and only a few tools required.
Down through the ages the wooden arch bridge has brought joy, beauty and comfort to pond owners, homeowners, farmers, landscapers and many others who have an area that needs to be easily accessed.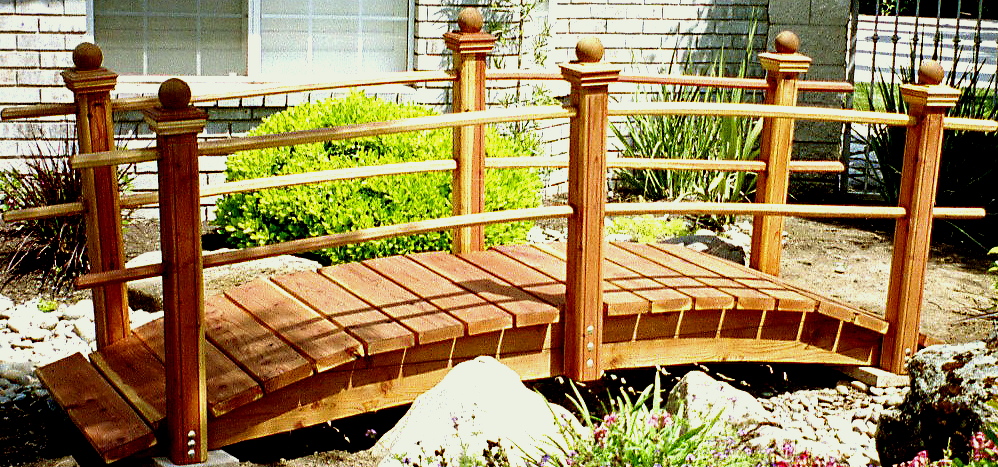 I appreciate each and every visitor and especially thankful to every one who has ordered one of my handcrafted Garden bridges.
Modern designs for Handcrafted Cedar and Redwood Garden bridges for Koi Ponds, landscaped yards.
When looking for a Pond or Garden bridge, you should know exactly how long the bridge will span.
I would be happy to build you a bridge of modern design or one styled from the early designers. I'm sure you have all seen those appealing pictures of Japanese water gardens all of which incorporate a Handcrafted arch bridge.
The New age of builders bring an exciting twist to an age old form of arched span bridges, Handcrafted garden bridges and Redwood Garden bridges.