Like recycling, re-utilizing or even reinventing storage solutions for Spices. And building our own DIY Spice Racks.
Rack retaining slats were pieces of pine left-over from ripping the cabinet door stiles and rails.
Our purpose was to keep the spices off the kitchen counter and still have them readily accessible. A temporary top piece was attached to square and secure the rack as the shelves and rack retainers were installed. I made a magnetic board that we hung inside a cabinet door, and all the spices are in little magnetic tins, it works great!
Organizing Spices in a way that it can be conveniently reached while cooking is very important.
Before building our straw-bale home, we lived in a stick and stucco "adobe look-alike" home with stock cabinets. After the grooves were cut, the bottom piece was ripped to be the same width as the sides and then was cut to length to fit inside the door rails and stiles.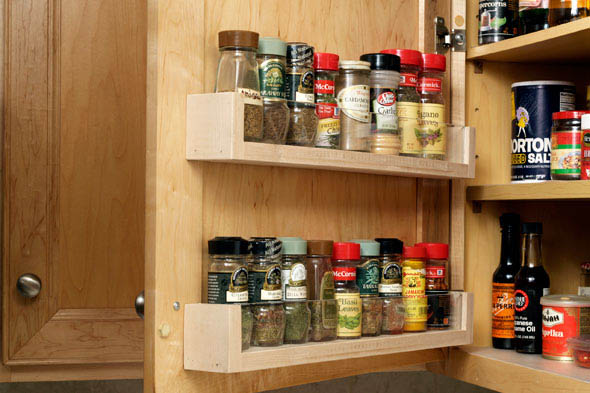 By fitting the rack inside the rails and stiles, we could use the inside of the door panel as the back of the cabinet, maximizing the space for spice jars. Works for me, since my drawers are deep, but I also like the spices in drawers that you showed. We set our cabinet shelving back to allow for easy door closure with a rack that was 3" deep. Thirty minutes of shopping, a $10 investment*, and 15 minutes of assembly later, I had my spice rack!
But then we got down to specifics, keeping in mind both my relative inexperience as a cabinet maker and the fact that I had a very small shop with only basic tools. I want to show you how you can take advantage of cabinet doors without ruining the kitchen's design.
I brainstormed up a tiny plan to lash some suitably deep and wide containers to some sort of grid that could then be zip-tied (cable-tied) around the back of the door.
The spice rack itself was built from scrap wood from the door construction, so total material costs were a couple dollars for scrap wood, a half-cup of Polyurethane, and a couple L-brackets.
Then it was easy to slide the shelves into the grooves, attach them with small brads and glue, and install the rack retainers.We removed the temporary top to facilitate taller canisters before installation. Here are 5 things I can recommend you to do:Fix a garbage can on inside one of your cabinets doors. You can buy a special can for the task or even fix some small can you already have.Make a DIY hidden grocery list chalkboard.
Such solution will free up drawer space and provide you an easy access to measuring cups and spoons.Put a spice rack inside one of your cabinets doors.