The Internet Crime Complaint Center (IC3), which began operation on May 8, 2000, as the Internet Fraud Complaint Center was established as a partnership between the National White Collar Crime Center (NW3C) and the Federal Bureau of Investigation (FBI) to serve as a vehicle to receive, process, and refer criminal complaints regarding the rapidly expanding arena of cyber crime. Overall, the "IC3 2008 Internet Crime Report" is the eighth annual compilation of information on complaints received and referred by IC3 to law enforcement or regulatory agencies for appropriate action. The report includes links to a number of useful resources for citizens that have been defrauded or encountered other issues via the Internet for which involvement of law enforcement may be productive.
For law enforcement and regulatory agencies at the federal, state, and local levels, IC3 provides a central referral mechanism for complaints involving Internet related crimes.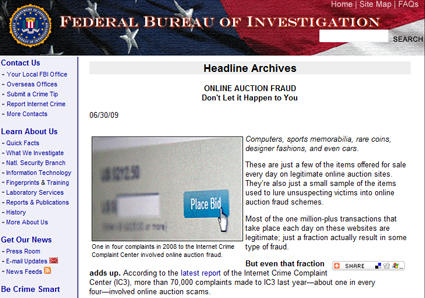 The results provide an examination of key characteristics of 1) complaints, 2) perpetrators, 3) complainants, 4) interaction between perpetrators and complainants, and 5) success stories involving complaints referred by IC3. Since its inception, IC3 has received complaints across a wide variety of cyber crime matters, including online fraud (in its many forms), intellectual property rights matters, computer intrusions (hacking), economic espionage (theft of trade secrets), child pornography, international money laundering, identity theft, and a growing list of additional criminal matters.
The results in this report are intended to enhance our general knowledge about the scope and prevalence of Internet crime in the United States.
This report does not represent all victims of Internet crime, or fraud in general, because it is derived solely from the people who filed a report with IC3.
In 2008 the IC3 saw an increase in several additional crimes that are exclusively related to the Internet, which include phishing, spoofing, and spam complaints, and have increased over the past year.