There's controversy, just like everything else nowadays of course, on whether the 5 W's is enough to keep you alive and the answer to that is obviously not.
They're not meant to be the end all conversation on wilderness survival like many armchair experts make them out to be, but instead you're supposed to take them for what they are – an easy way to remember some very important wilderness survival lessons. Bad: Wet areas, wet or rotten wood, barren places with little wood or only fast burning brush, and setups that make a wildfire likely or easy to start.
This is one of those times where your location dictates your actions, but chances are you will most likely use wood to build your survival shelter. For that reason you're going to need to find a location with ample wood that's suitable for shelter making. Even if you happen to be near an overhang or cave you can always use wood to make your shelter more comfortable. Pro Tip: If you do find yourself above the tree line on a mountain ridge or in the middle of an open desert you should keep moving.
Using 550 paracord or some DIY bushcraft cordage, you can lash branches and trees together or you may choose to build a tent-style shelter where the wood supports itself. If you were smart enough to bring one, a thermal reflective blanket can be used as a tarp to build a shelter or you can lay it on the ground to reflect your body heat. Good: Keep an eye out for changing weather, and find or build shelter before the weather gets bad.
Bad: Large open areas, windy hills and valleys, low dips in the elevation, under lone trees or dead trees, avalanche prone areas.
In warm weather you may not need much shelter at all but you may feel a chill at night, especially if you're sleeping on the ground. In cold weather you have to think about the weather at all times and never take it for granted.
Keeping an eye on the weather will help you predict issues ahead of time so you can be proactive instead of reactive.
Good: Setting up near average sized live trees in a thick-growth forest, looking up before picking a place to bed down for the night.
The term usually refers to dead trees or even large boulders that could fall without warning.
If you are in the way of a windowmaker you won't have time to react, especially if you're asleep. Having an encounter with bears, big cats, wolves, and moose are about the closest you'll ever come to needing a change of pants. If you're not paying attention or don't know what to look for you'll easily set up camp right in the middle of some large animals territory. Look for tracks, scat, and territorial markers of these animals and stay far far away.
Learn about the available game as well as dangerous animals indigenous to your area or any area you're visiting ahead of time so you will know what to look out for. Snakes, spiders, centipedes, or really anything that creeps, crawls, or slithers around are another problem. Some insects like mosquitoes, ticks, and gnats will be more of an irritating nuisance and the worst of course would be venomous creatures like snakes, spiders and scorpions. A good fire and some smoke will keep away many, if not most all, flying insects because they are programmed to avoid it, and you can also rub mud or certain plants on exposed skin to stop them from annoying you.
There are dozens of plants that can be used, wild onion, sagebrush, wormwood, and mugwort are good plant examples. If you're lost (or frogs are falling from the sky) and there is no water source nearby you will have to find civilization or some water source within 2-3 days.
Water you find in the wilderness will need to be purified before it's used. If you have a fireproof container, you can purify the water by boiling, but this doesn't remove chemicals and in fact concentrates them.
If you study up on the 5 W's of survival for the environment you plan to be in you'll be better prepared if you get lost or if the SHTF.
Pass it on, I believe once you learn something you should teach it to someone that doesn't know so they are better prepared and in that way the world becomes a better place. Without water in a survival situation, you run the risk of dehydration and other health complications after only a couple of days.
Us humans can survive about 3 hours without shelter, 3 days without water, and 3 weeks without food. You might have to use snow, rocks, metal, a cave, an old car… but 8 times out of 10 you'll have to use wood. If you're deep in a forest then you're good to go, but if you're above the tree line in the snow covered mountains or in the smack middle of the salt flats you'll have to look elsewhere. Those are some of the hardest places to survive and trying to shelter down in such a place will usually make your situation worse. The medium sized branches will be the main fuel on the fire, and the larger logs are for when you go to sleep or need to make a bed of coals for cooking.
It doesn't matter if you're in the desert, on top of a mountain, lost in the woods, or hiding under a dumpster from an alley full of zombies (any Walking Dead fans around here?) you will be dealing with the weather.
A 70F night feels colder than a 70F sunny day, mostly because cold air and water vapor in the air are sinking back down to the ground level and you don't have uv rays to heat your skin. You can't see what's going on inside of a dead tree and a few pushes with your hand doesn't equal the power of a gust of wind. It's practically life changing and there's nothing scarier than staring down a bear or knowing you're being hunted by a big cat. Don't sleep directly on the ground or near rocks or rotten wood and if you see signs of big predators make some quick bushcraft weapons, keep them handy, and get the hell out of dodge.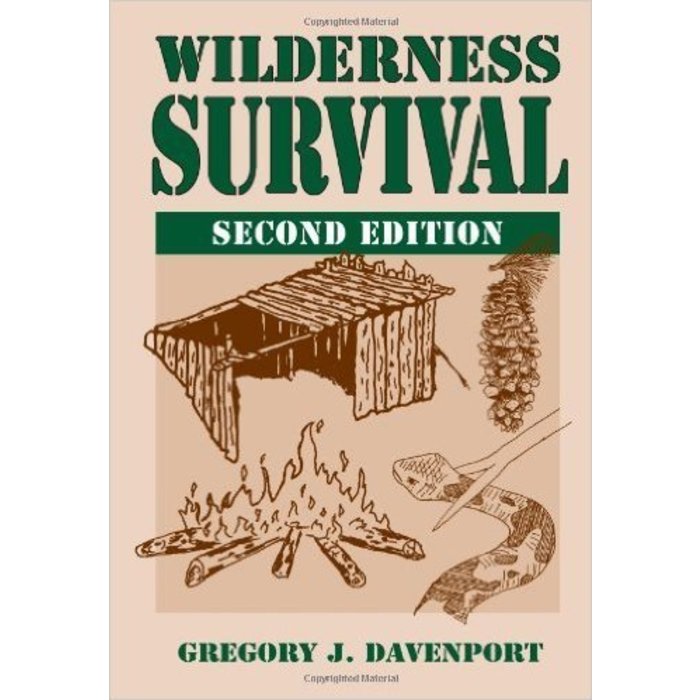 Make a point to know the location of the nearest water source, even if you don't plan to be anywhere near it, and have a way to collect and purify it. Having a lightweight and simple to use water filter such as a lifestraw or sawyer will purify the water of chemicals and bacteria. However, drinking contaminated water can often cause even more harm than drinking none at all. Growing up on a farm in West Texas, she's always had a passion for the outdoors and a self-sustaining lifestyle. It contains tools for survival as well as tools to help the user escape and evade hostile forces. It's a good idea to carry a small hatchet and a foldable saw in your bug out bag, that way you have options.
Before you go to bed throw a few large logs on the fire and it will smolder all night, otherwise you might wake up to nothing but ash and have to start all over again. If you need a certain tool but it broke or you forgot to pack it for instance, simply make a new one out of wood. If you have no shelter and thin clothes you'll be happy to see the warm sun come up the next day. Brings a coat and a change of pants (pants that zip off into shorts are awesome) with you and if possible find shelter at night. Build or bring a thoroughly insulated shelter that can block the wind and rain, and hold in heat from your body and a fire at the door.
You can also burn many plants or even animal dung to repel insects, much like a bushcraft citronella candle.
It's important to know how to purify water in the wilderness so that you always have access to clean, pure water no matter where you are. According to Unicef, some of the most common problems caused by contaminated water are diahhroea, arsenicosis, cholora, fluorosis, and Guinea worm disease. When she's not writing and editing for Survival Life, she can be found outside hiking, swimming, fishing, camping and kayaking. Wear loose clothing, bring a hat, drink as much water as you can spare, and try to do most of your work or traveling around dusk and dawn.
If you have a flashlight you should travel as long as possible at night and sleep in the shade during the day.