Google Maps (GM) on the web and Google Earth (GE) as a 3D interactive atlas software application are ideal tools for sharing geographical information in a simple way.
GE as a mass-market visualization product is definitely a new step in the evolution of mapping and GIS, especially in the way it can be used with a couple of mouse clicks by anybody not expert in cartography.
So this webpage is the MIS contribution to this unique method of information gathering to share detailed information in the marine domain waiting Google 3D Maps for Oceans (may be with Google Oceans as a product name, but name can change on its launch -probably on the 2nd of February, 2009-), the future release of the Google project under research to create visualization tools for marine data throughout the world and will enable users to navigate below the sea surface. Indeed, Google launched in 2007 an advisory group ('Google Oceans Advisory Council' with 18 elite members, consisting mainly of oceanographers) to discuss creating a 3D map of the oceans. So waiting this new software arrives, just , click on the different Placemarks links and you will be able to discover different marine data from your desktop.
Note : waiting the arrival of seafloor DTM in future versions of GE (3D ocean mapping is on a to-do list of possible future enhancements, according to Google Earth CTO Michael Jones's GIS day talk), all the geographical positions of the submarine cables are given in negative altitudes (depths). Note : originally, MIS has developed in 2006 some multi-resolution mosaicking tools to keep high resolution pictures of large areas in Google Earth. But we have choosen to not artificially overlap the different mosaïc tiles (cheating in the original positions of the edges in the goal to conserve a seamless vision). So Ortholittorale 2000 is another example demonstrating that GeoGarage is able to manage a colossal volume of imagery. These coastal low tide orthophotographies (different from those presented on the Geoportail french national geoportal) covering all the Atlantic and Channel French littoral area represents 31.34 Gb of MrSid compressed image data (322 Gb in GeoTIFF format). MIS has created some network links from the original file from Brest Metropole Océane.
MIS offers affordable web hosting solutions (GeoGarage) to allow easy and speedy visualization of large overlay areas such as very high resolution maps. So the user can access through Google viewers to all the range of NOAA raster maps, zooming in and out, panning in a continuous way for selecting the specified map scale automatically (so the appropriate map), by simply sliding the mouse roll. That's why MIS has developed the GeoGarage spatial image server solution which can also be associated to the Google Maps viewer : raster charts tiling solution, with hosting possibilities.
Our website is dedicated to any sailor or mariner who plans to study his next trip at sea, comfortably installed at home. Marine GeoGarage has figured out a way to overlay a complete set of nautical raster charts over Google Maps. Marine GeoGarage proposes a feature (without any Login process) where the user can drop waypoints and create custom routes but which can also be saved if the user asks for a free account.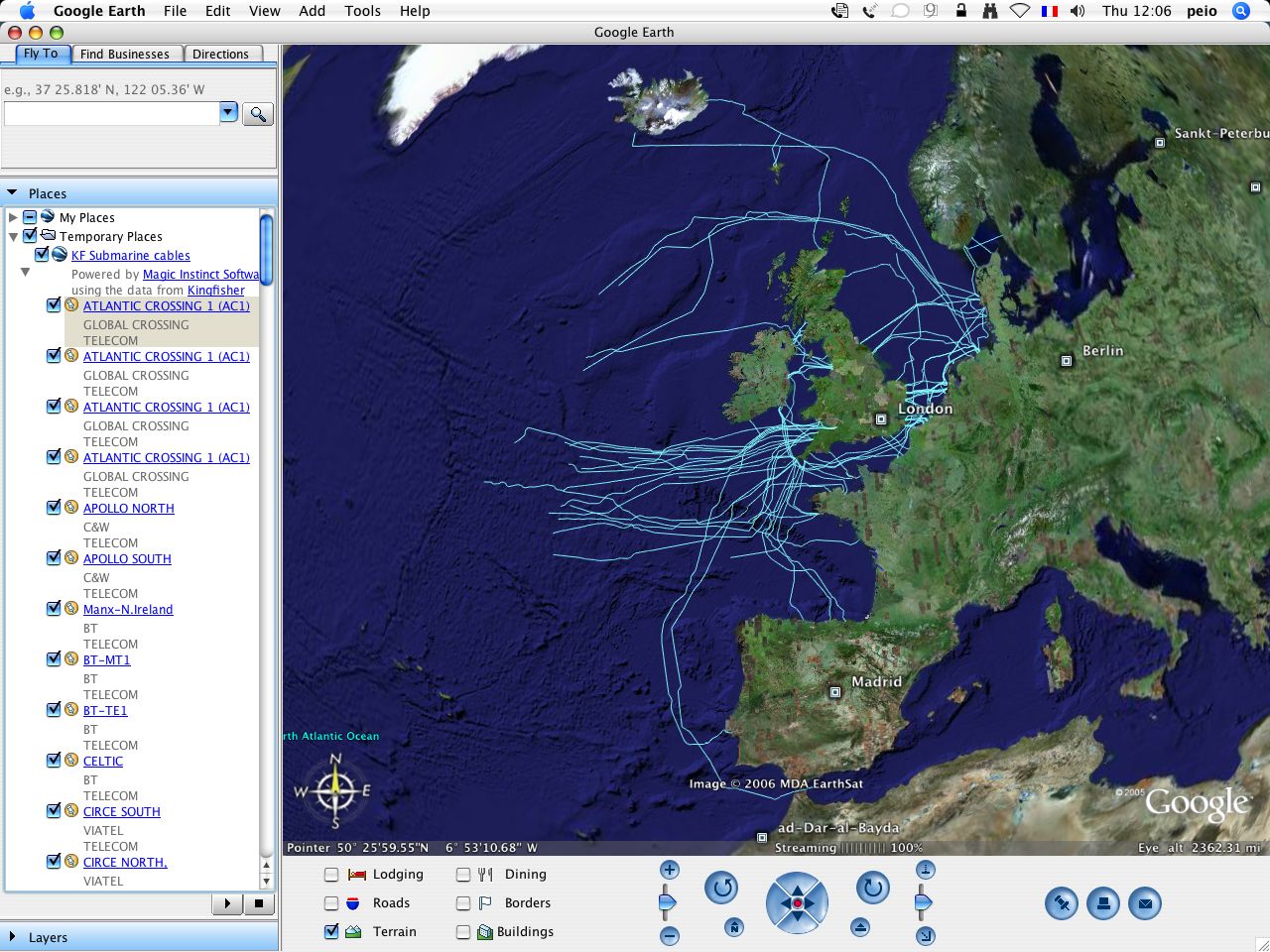 What is really cool about the site is that you can export out those saved routes and move them over directly to your Garmin GPS unit via the Garmin Communicator Plugin. Note : MIS has developed some georeferencing tools for Olex screenshots and for Olex user data. Bundle for weather data (Surface, SPC and NWS Convective Watches and Warnings, soundings, radar, satellite, hurricanes. Siguiendo la directiva europea de INSPIRE (INfrastructure for SPatial InfoRmation in Europe). GETFEATUREINFO Es una utilidad del servicio WMS proporciona información sobre la Referencia Catastral de la parcela que se identifica. NAVEGADORES Un WMS al ser un servicio y siempre lo tendremos que usar desde un navegador. La imagen siguiente muestra cartografía catastral superpuesta a una ortofoto del servidor WMS del Gobierno de La Rioja. La Dirección General de Catastro ha desarrollado una pasarela que permite visualizar el servicios de mapas WMS del Catastro sobre Google Earth.
UTMFlyer allows you to enter UTM coordinates, and go directly to that point in Google Earth. Choose the UTM zone and hemisphere (N or S) with the dropdowns, and the UTM coordinates, Easting and Northing separated by a comma. Determining the accuracy, reliability, validity, or appropriateness of any of the software or data written about in this blog for any uses is the sole responsibility of the reader, not the authors of the blog posts. Anteriormente habia hablado de como georeferenciar mapas en Google Earth, ahora veremos como hacemos lo mismo con una ortofoto. Google Earth solicita cuatro datos, los cuales corresponden a los centros de cada lado de la ortofoto (ver imagen inferior), muchos creen que el sistema tiene un margen de error puesto que las ortofotos de un mosaico no son una cuadricula cuyos bordes coinciden con un norte verdadero, mas bien son segmentos de meridianos y paralelos. Sin embargo no hay error en ello, pues Google Earth lo que solicita son esos cuatro limites de la ortofoto en formato de latitudes y longitudes, de modo que para ello sera necesario obtener las cuatro.
A pesar que puedes obtenerlas directamente con otros settings de microstation, ilustraremos este paso siempre. Puesto que Google Earth me solicita los datos en formato decimal, convierto los segundos a decimal dividiendolos entre sesenta, luego lo mismo con los minutos y los sumo. En la proxima intentaremos al inverso, descargar una imagen de Google Earth y crearle georeferencia.
La curva de nivel que se genera en Google Earth proviene del modelo digital SRTM, que por tener una alcance global, tiene una precision bastante mala para trabajos locales.
L'acqua per bere potete prenderla alla Fonte Nera, 10 min a piedi in direzione Chersogno - San Michele di Prazzo. Inoltre abbiamo allestito una palestra di arrampicata sulle pareti sottostanti a 10 min dal bivacco. In primo luogo mantenendo la struttura cosi com'e e cercando di lasciarla meglio di quanto l'avete trovata. Actually, about 28500 raster tiles (each with a size of 1 km2 and a resolution of 2000x2000 pixels, 50 cm GSD) have been downloaded from siglittoral website.
He makes it nicer modifying the satellite images to put transparency where there are no clouds (so the Earth comes through clearlier). Se pueden dividir en 2 tipos: las aplicaciones de software libre y las aplicaciones comerciales. So if you have your coordinates in UTM (Universal Transverse Mercator), you need to convert them to geographic first before using them in Google Earth. When valid coordinates are entered, the airplane logo will appear at the right – click on that, and Google Earth will go to that location.
And there's a bonus decimal degree to degree-minute-second converter (and back again). Abre Google Earth y ubicate mas o menos en el pais donde estara la ortofoto; supongo que tenias cerrado Google Earth pues consume mucho recurso.
Ahora intenta acercar el zoom a la zona, y veras la orto proyectada; una buena senal es que el recuadro tenga las proporciones de la imagen. Se permite reproducciones de este contenido, siempre y cuando sea un extracto inferior a un 10% del articulo y se cite la fuente.
Pueden ser navegadores totalmente genéricos o pertenecer a geoportales de IDE de organismos o instituciones.
There's a small utility that makes using UTM coordinates in Google Earth a lot easier.