Boxes are a great medium to demonstrate stunning wood grain and the turners mastery of technique. Because my vessels are turned quite thin (1- 4mm) the drying period is short, between 5 -14 days at room temperature. Much of my artwork is done using a Peter Child pyrographic pen to burn the image into the wood. Cellulose or Acrylic spray from a can is my preferred finishing material, and now I always try spraying a sample of wood with a small area of inked work to observe the reaction. The foot of the Green Man wassail bowl for instance is coloured using both yellow and green spirit stain up to the edge of the pyrography.
The Chiltern Forests are renowned for their Beech but it's Sycamore, an interloper of recent centuries, that I use for much of my turned work. Because the tree root design is burnt into the wood leaving a small channel a natural barrier is established and provides containment for the stain.
Not only is my timber from the 'greenwood' but I also turn it 'green' – working with 'wet' wood is both pleasurable and a challenge.
This worked very well but due to the delicate nature of the vessels they were not a commercial proposition, today I turn to a minimum of 1mm, a little more if the piece is to be carved.
Turning wood wet means there is much less dust and it being softer in it's unseasoned state waste removal is easier.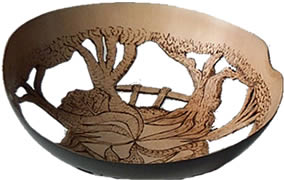 There is usually some distortion after a turned piece is dry but to me it is all part of mother natures character and imparts a stamp of individuality, I never make two pieces exactly the same.