It will be our pleasure to customize a large extremely rare solid rosewood single slab dining table similar to unique table piece you viewed on house of your interested dimensions of 300cm in length x 100cm in the center up (Live Edges) in width x around 10cm in thickness. This very unique table was constructed from a Single Slab of Rosewood which is an extremely rare wood. We have available to us a solid rosewood slab of over 3 meter in length we can customize your top with. Also as a second option we mainly create our clients tables in solid Thai Acacia wood slabs which we have in sotck at about 3 meter L x 1 meter in the center up to 1.30 meter at the ends( natural live edges) which is less costly.
Each table we tailor make to our worldwide clients specifics and are made to order. Our lead time to custom make your solid slab dining table is around 7 weeks upon receiving your deposit payment of 50% by tt bank transfer which will include plaining, sanding and finishing for both sides of your table top and construction and finishing for your legs. Our ex-factory price to create your 3 meter dining table in a rosewood slab is $11,000 USD in a natural lacquer finish and including two thick solid steel u-shape legs or in a solid acacia wood slab at 3 meter in length x 1 meter in the center up ( live edges) is $6,600 USD in a lacquer finisha dn including two solid steel u-shape legs. We work directly with our shipping company and will arrange and oversee all aspects of the shipping process which includes professional packing, wood crating for your table, transport and loading onto the vessel in Bangkok, all documentation for the Thailand side and full Insurance for your table to the arrival at Houston, Texas.
We allow nature to guide our hands, not only to inspire but also to dictate our creative process, making our tables a culmination of both natural beauty and human artistry.
Please let us know which wood type your are interested in and I will send you the shipping costs for your large 3 meter table top and leg set flat packed, wood crated and shipping costs including full insurance to Houston. Our direction in furniture design is a channel for exposing the miracle and beauty of the natural\ world by producing uniquely organic functional art. When sourcing for wood slabs we hand select and evaluate each individual piece by it's size, natural shape, thickness, color, characteristics of the grain, texture, figure and structural integrity. We look for slabs which have the most beautiful grain and natural characteristics because we feel that it's nature's art that can be seen and enjoyed everyday. We look for slabs which have the most beautiful grain and natural characteristics because we feel that it's nature's art that can be seen and enjoyed everyday. Thai Rosewood is of the most hard and slow growing woods in the world.
It takes a minimum of 400 years for a tree to grow to the size for us to get a slab of size for us to create tables with.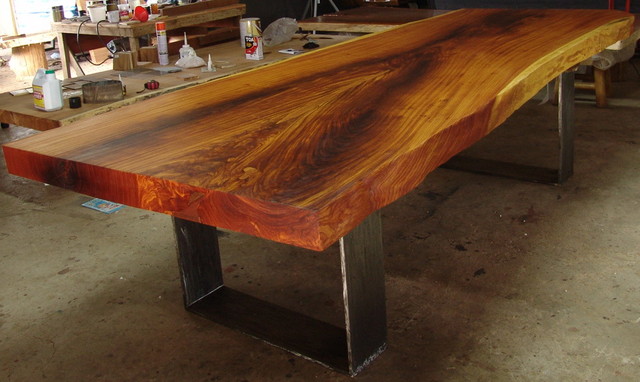 We are very passionate in each table we create and want to share each step of this passion with you. We customize each of our tables so please let me know your specific in sizes, finishing and leg type you are interested in for your dream table.