Just like any other building, a garden shed needs to be built on a firm set of foundations, especially if it's a larger shed. One of the best, and most cost effective bases for your wooden storage shed is actually paving slabs as these are cheap to buy and easy to lay – just ensure that the soil is levelled before putting them down.
Use tape or string and pegs to mark out the base of the shed – remember to add a surround – usually 50-100mm on each side.
Finally, place the battens across the slabs making sure they are central and coat them with a good quality wood preservative. This gives a staggered pattern which helps dissipate the load and avoids having lines of slabs rising up along their edges in the even of uneven weight distribution in the shed. Your base is ready and its time to move onto the next part of the project – actually putting the shed together.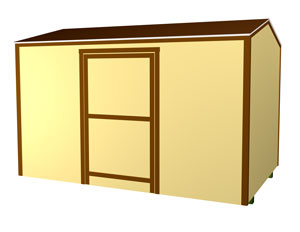 Making the base might not be the most exciting part of the project but it is one of the most important – get it right and the rest of the jigsaw will fall easily into place.