Hi,I've made a Jerry pulser (see circuit at the bottom of post) some time ago to revive dead car batteries and to use them for my first small windmill (not built yet). Noob,The caps marked C1 and C2 are to set the frquency and duration of pulse, and are of little to no concern in the charging aspect aside from their use to establish how often a pulse occurs and how long that pulse occurs respectively. Dave,No problem here with either the ?'s or anything else.I just had to spend most of the day, today, recoding a shopping cart setup to allow for some of those IE issues. On my desulfator circuts I use one 555 set up with the diodes on the timing side to give me adjustable duty cycle of 0 to 100 percent.
I empathize with you Roger as I am blind in one eye and have a little blind Pug dog that is totally blind but happy.
I have prototyped the above design can switch from tens of amps to as high as 200 amps (so far)with changing one jumper wire.
I think that I should point out that this first prototype is to prove out the direct drive concept. You may find that a larger cap or group of caps could run warmer than your group, and as you say - smaller is usually cheaper. If I read this correctly, you are using N type MosFets, which are easier to come by, and slightly more robust. I like the variable control of the 555 , so would like to borrow that bit of the design for my little unit.
Safety - The highest voltage on the board other than the primary of the transformer is <40 volts.
While cruising Ebay this evening, I found there are rather a lot of CPU coolers - very advanced cooling with fan for about ?1 each.
I'm going to mount an alloy wirewound resistor onto it and it can blow out the heat as a sort of fan heater. I would also recommend fitting a permanent voltmeter to your supply as I am constantly getting the DMM out !
Maybe a push to test switch would be good to switch out the charger and switch in the meter with a little relay ? Tucsonshooter, I've been using the 'standard' high power desulfator for awhile with some sucess.
My battery was down to about 11.5V (from self discharge after sitting for some time) when I started the desulfator last night.
FETs and the output diode [I am using two dual common cathode diodes which give me 4 parallel diodes] run cool. My question here is: has anyone tried the use of a center tapped transformer secondary circuit such as used on most of the cheaper regular battery charges? I needed more power since I am working on 1000+AH at a time so I am dealing with even worse snubbing issues than when using the smaller transformer. I am also using cables from an old battery charger but I have not seen the problem of waveform changing over the 4 foot distance. You just want to keep the primary flyback pulse from exceeding the MosFet voltage ratings by trimming the peak voltage down a tad.
Yes, if I put the scope probe on the positive of the battery bank I see as much negative swing as positive. Yeah, the IGBTs are rugged but do tend to run hot because their switching characteristics are those of a bipolar transistor. Could it be that the MosFet isn't being driven sufficiently so that it is able to switch without overheating? Have you scoped the gate drive pulses to verify that the signal is rising very rapidly to at least 10 Volts, then falling very rapidly to 0 Volts?
It's been a while since I looked at the waveform from the desulfator so I had to check it again to refresh my memory. In order to re-allocate that excess flyback energy in the primary I'd increase the number of turns in the secondary winding. It is important to control the pulse width of the MosFet pulse to avoid saturating the transformer primary. Regards as to why your big resistors are getting hot - Have you considered that they are wirewound resistors?
Try checking the waveform before and after any suspects and see if they are acting like chokes. On a good note, I'm using wirewound resistors to protect the timing side of things, and considering ferrite beads too.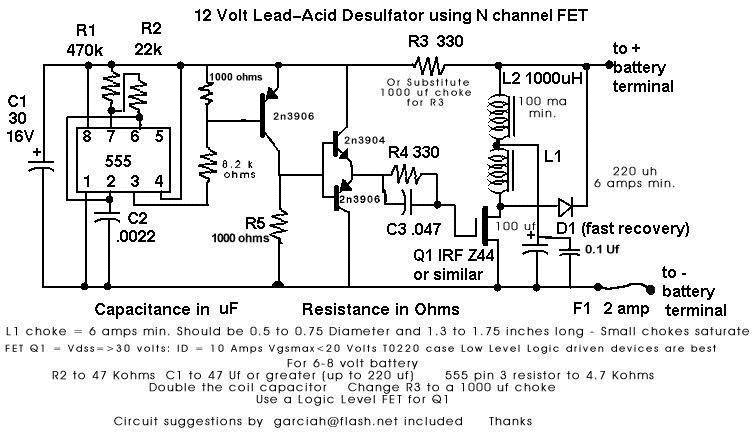 Estimated delivery dates - opens in a new window or tab include seller's handling time, origin ZIP Code, destination ZIP Code and time of acceptance and will depend on shipping service selected and receipt of cleared payment - opens in a new window or tab. International Shipping - items may be subject to customs processing depending on the item's declared value.
Your country's customs office can offer more details, or visit eBay's page on international trade. Customers wishing to cancel orders are advised that we require the cancelled goods to be returned to us and the customer will be expected to pay the cost of such postage. In the case of customers who wish to have additional postal services such as 'Internationally Signed For' or 'Airsure' we reserve the right to treat this as a seperate contract and will recover the costs of such services from any refund. By clicking Confirm bid, you commit to buy this item from the seller if you are the winning bidder. By clicking Confirm bid, you are committing to buy this item from the seller if you are the winning bidder and have read and agree to the Global Shipping Program terms and conditions - opens in a new window or tab. By clicking 1 Click Bid, you commit to buy this item from the seller if you're the winning bidder. I have driven small Fets directly from the output pin, but a better thing to do would be include a small transistor to up the signal to the gate. Small values in uF ratings will yield proportionally shorter duty cycles in both positions. This site is set up with frames, and in Safari the cart works perfectly from inside those frames.
I do think that I will need to use optocouplers or transistors to get the waveform to the supply voltage (30V) because I don't like the 555 working at those voltages.
Short pulses from a regular (high current) power supply?I might go for PICAXE to do that with the power from a wind turbine and get some sorth of MPPT routine in there. This is why I have limiting resistors between the rectifier and the cap bank to reduce the pulse current.
At the moment the trimmer pot and push switch are on the board, but will be on the outside of the load box soon, and I can calibrate the turn-off point more accurately as a dial setting. The snubber has fried twice and I really don't want to rewind the xformer (not to mention the safety issues). Looking more closely at your scope trace I'm curious about the 2 microsecond negative pulse. It is much more predictable than the old design and I don't have to fiddle around with a snubber. Packaging should be the same as what is found in a retail store, unless the item is handmade or was packaged by the manufacturer in non-retail packaging, such as an unprinted box or plastic bag. This does not affect remuneration relating to normal postal costs which will be refunded as required by the DSR's. Import charges previously quoted are subject to change if you increase you maximum bid amount. I have never worked with MOSFETs before, and they seem to hate static charges and strange voltages at the gate. On my Mac running Safari it looks fine, if not a triffle small.Editors, if this posting looks funky 'cause of my graphic delete it ASAP! A 10uF 25V electrolitic aluminum will give about .1 second to 1 second multivibrator function, with ther resistance shown, for more precise control use higher quality caps such as tantilum(sp?). This is not a new problem here.Which leads me to ask why someone on the server end, with a lot more computer smarts than I have can't come up with a program to auto resize things to fit the screen.
Trying this in IE results in forcing me to make new windows to pop up or rebuilding the entire site just for IE users. To protect the 555 from spikes I use a large filter cap and a 15v 5 watt zener across across the power supply to the chip. If this works well on my batteries I'll definitely invest in some IRFB3307s to clean up the final version. I only have an old ac coupled scope that only sweeps up to 100kHz so my current pulse is hard to measure, but I can see that it is working.
If you reside in an EU member state besides UK, import VAT on this purchase is not recoverable. If you had a set of equal rating P channel FETs this would eliminate the need for the feedback between the directional DC pulses.
Or are you just switching the source to connect and charge the battery on and off quickly?asheets:Ah, the watergas-circuit.
Clicking the add to cart button from within IE and those frames returns a null input and adds nothing. By the way are you flinging yourself from 100 foot sand dunes in that dune buggy or something with wings? I used timing and drive portions of my old desulfator and the 4 IRF740s on a small heat sink are just slightly warm to the touch, so at least I know it's handling significant current. My best guess on timing parameters is about 1kHz and a 10microsecond pulse (based more on calculation than measurement). That would make the system more responsive, but good P channel FETs seem hard to find for some reason, or not as readily available it seems. Well, it works for sending current through a battery with a high internal resistance, but, it doesn't use the internal resonance frequency (which needs: high and short current spikes like the ones from a capacitor).
I wonder if varibale caps would work?This beast can be fed any DC source up to the LM7805's rating. This gives me an output current pulse range from 100-200 amps to 20 amps, depending on the state of the battery.)2.
This allows for fairly concise pulse timing and rather high htrz with tiny caps at C1 & C2.
In all my circuits I use an IC sockets that way if I fry a 555 I just pop it out and put in a new one which happens seldom if ever. This circuit takes average power in and turns it into pulsed power and thus, must obey the above equasion.
These batteries are about 8 years old and were self discharging to < 10V in one day but I had already revived them to some extent with the old desulfator.
Back to the drive current issue in my dump load I run 5 irf 540's with a 555 output and in my 8 ft fluorescent light drivers I drive a single irf 640 at 18 Khz at 5 amps. I'm going to buy four N-channel MOSFETs, 200V, 30A and will be using 2 parallelled for both the cap charge and the cap discharge. They should produce much less heat (and deliver much more power to the battery.)The only battery it have not been able to bring back into service has been one that had a shorted cell. One can parrallel several FETs on a common heatsink and push serious amperage at some impressive voltage. I used it with several small windturbines based on steppers to build up a good charge in a gang of caps(source) and then pop my batery bank (drain) every so often.
If coupled to a big resonant coil some interesting effects can be created, or 6V DC could be pumped up to much higher pulses, similar to an old fashioned automotive ignition coil. I've also used it backfeeding the same battery bank.Anyway, if the image messed up the thread I'm really sorry. As far as transistors vs mosfets, give me the mosfets anyday they are tough and the price is right. I don't see the negative pulse with the traditional desulfator but there is a huge charging pulse width difference between the two circuits, 50 nanoseconds verses 10 microseconds.
I'm not aware of FETs so that would garantee if there are any disadvantages with it's impedance or frequency, the old IRF640 in parallel will handle.My version of 555 is 1k resistor + 1k pot that covers from 7 to 14 uS pulse. Good capacitors and resistors on the timing side of the 555 is important for precise operation. Other part is 30k resistor + 120k pot - about 940 to 4500 hz a little effecting by pulse width.I'm wondering about my wires to the battery. I won't argue that, but there are simple solutions to hours of programing and tweaking. In order to drive more FETs I would add a PNP(?) transitor to the output pin (#3) on 555#2. If the Supply is a big fast discharge source and good conductors are used one really stout FET could be driven by the 555 without an amplification transistor. A good FET should switch on with very low current requirement, but when you start adding more the issue becomes serious enough to consider the transistor solution.