A proportional brake controller senses when and how your tow vehicle brakes by means of an accelerometer or an internal inertia-based sensor. A time-delayed brake controller applies your trailer's brakes when the brake pedal in your tow vehicle is engaged.
A time-delayed brake controller doesn't rely on sensing the braking motions of the tow vehicle. Most time-delayed brake controllers can allow the brakes to pulse on and off when the hazard flashers are activated and the brake controller is set aggressively.
Braking performance: Time-delayed controls always send the same braking power to the trailer brakes.
Otherwise, you will need to run a wire from the brake connector location, underneath the vehicle, through the firewall, then to the desired brake control mounting location.
Ground (usually white): This wire is connected from the brake controller to any reliable ground location.
Brake switch (usually red): This wire can be found at the switch at the top of the brake pedal. If a custom wiring adapter is not available for your vehicle, then you'll have to install the brake controller with a universal wiring harness. Note: Vehicle manufacturers change wiring configurations regularly, so use a circuit tester to verify all connections. I found this list in a thread and thought it would be easier to locate in a search with a better title. To understand what causes the spark plug to fire we need a basic understanding of electricity. The power source does not create the electrons; it just supplies the power to push electrons into one end of the circuit and pull them back out the other end.
Any time you move a magnetic field moves past a coil of wire it induces electrical power into that coil.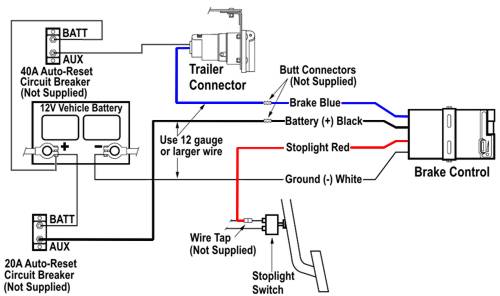 Electrical power is a balance between Volts (electrical pressure) and Amps (electrical current). When the magnetic field of the primary coil collapses, electrical power is generated in the secondary coil windings. Some vehicles with factory tow packages already have a wire for this connection, and it would run from under the dash to the rear of the vehicle.