With version 4 of its "drum sampler" included in both editions of Komplete 9 and available separately, what does Native Instruments propose to do ?
In 2001, Native Instruments introduced Battery to the market, a percussion sampler following in the footsteps of LoopAZoid, software created by NeXoft, which offered 48 tracks, 64 voices, 8 outs and other very appreciated functions, not the least one being the fact that it was free.
The software is sold for 199 euros (update, 99 euros), and is compatible with Mac and PC, Windows 7 and Mac OS 10.7, and available as a standalone or plug-in (including AAX native, but not, as of yet, RTAS). The installation includes the application, the plugs, the O&M Manuals, the Kits and samples. We're not going to redo a complete Battery test, since you can read the first version and the second version on Audiofanzine. The general layout has also been revised with the left hand side gaining some space by regrouping the Library, Files and Automation tabs. The file menu lets you navigate through the different storage areas in order to search and then import the new sounds (with pre-monitoring). The Battery's main force (and its main reason for being alive, lest we forget), is its editing capacity. Time Machine Pro has been added to Stretch, much better than before, which used to be the weak point of the software (and of Kontakt).
The Modulation tab offers two LFOs with four WAV forms each, synchronization, retriggering, etc., envelope modulation (from three to five segments with curve adjust), and 8 slots for destination and source routing, with intensity and reverse polarity adjust. The Setup page lets you adjust all the necessary parameters, from MIDI response to voice management, Midi Delay Humanize and an articulation motor automatically assigning a sound to Rolls, Flams, Shots, etc., with attack and decay adjust.
Let's move on to the editor where you can create your loops and the number of required layers, just by a drag and drop from the desk top or navigator (sample overlay within the same Cell responding to velocity ranges). For future owners of Komplete or its update version, Battery 4 is included in both (normal and Ultimate), so be happy. Now, what about if you don't have this type of software already? The Battery 4 plug-in will work fine with your present DAW. In short, even if this tool is, without a doubt, powerful, ergonomic with great sounds, it will quickly reach the above stated limits which will have to be overcome using other equivalent software packages, not necessarily able to do everything Battery 4 does.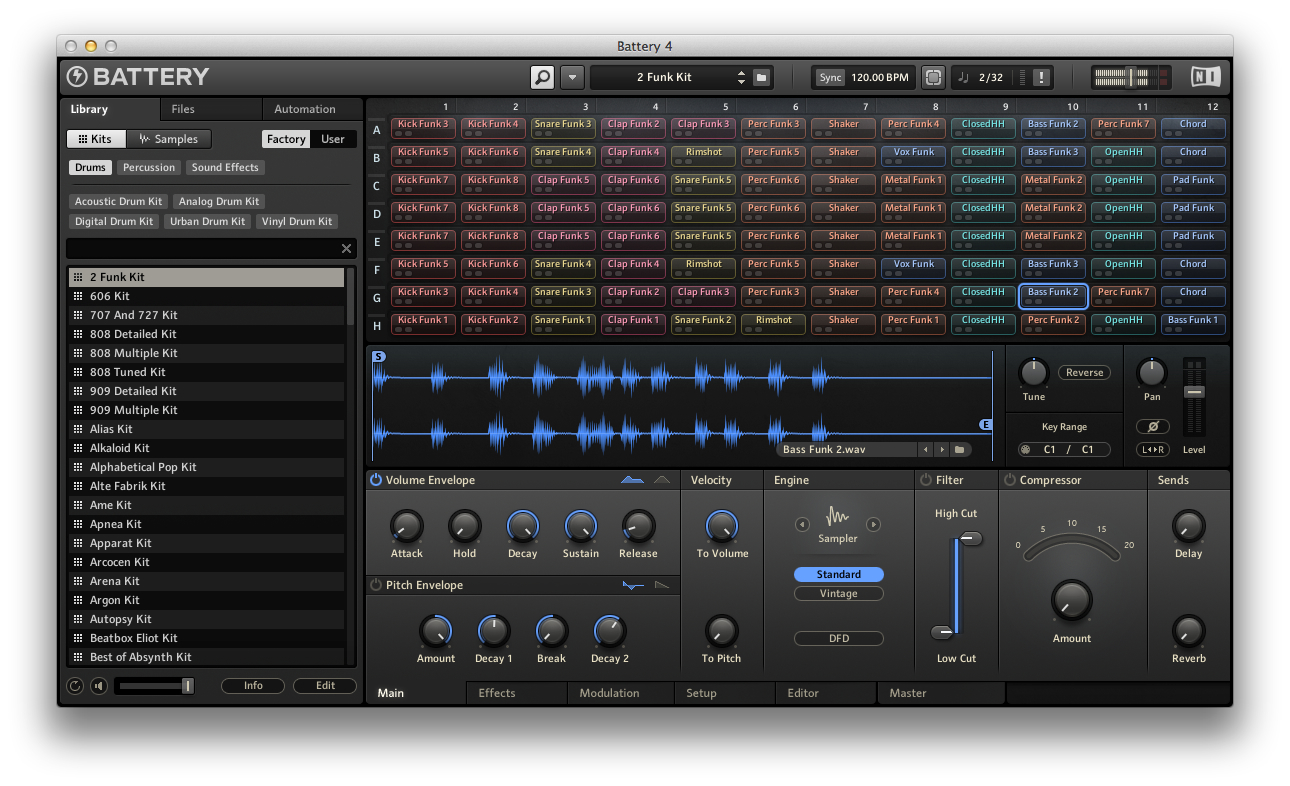 Battery began life at a time when Native Instruments didn't really deal in bundles but rather in dedicated software applications, each of which performing an independent task. All-access artist interviews, in-depth gear reviews, essential production tutorials and much more. MusicRadar is part of Future plc, an international media group and leading digital publisher.
You can download it directly from their site via a compressed 3Gb package which, once installed, will take up 4Gb of space on your hard disk. As updates have come along, editing has increased, and this holds true with the 4th edition. This is where we come to realize that the B4 doesn't always manage Slicing, a real disadvantage, plus the fact that it doesn't manage multiple sound file import and automatic mapping after transient acknowledgement.
It's been over a decade since Battery first appeared as a plug-in but, more tellingly, more than six years since Battery 3 was unveiled.
You can unsubscribe at any time and we'll never share your details without your permission.
We've come a long way since their first version with its 600mg but not quite the 12Gb from version 3. Its only because the colors can be found again in the editor (we'll see that later) that we're not totally lost within color codes (which are used to identify sample families, for example all kicks).
While there have been some solid tweaks since, there's been nothing significant enough to warrant the release of a new version."Does a company of this size need two dedicated drum engines? The software was compatible with Mac and PC, as a stand alone and a VST plug-in (VST2, DXi, Mas) and could import several different resolutions and formats (Wave and Aiff 8, 16, 24 and 32 bits in LM4 format, Akai S1000 and S3000, SoundFont, LoopAZoid and Reaktor).
The classification is very well done and saves a lot of time especially when you're looking for a precise sound for a precise type of music.
Delightfully, the answer is yes"Battery fans feared the worst when Native Instruments debuted Maschine in 2009.
The disappearance of the general Solo and Mute buttons poses no problem, since clicking on the top of the column or lane selects all the included Cells.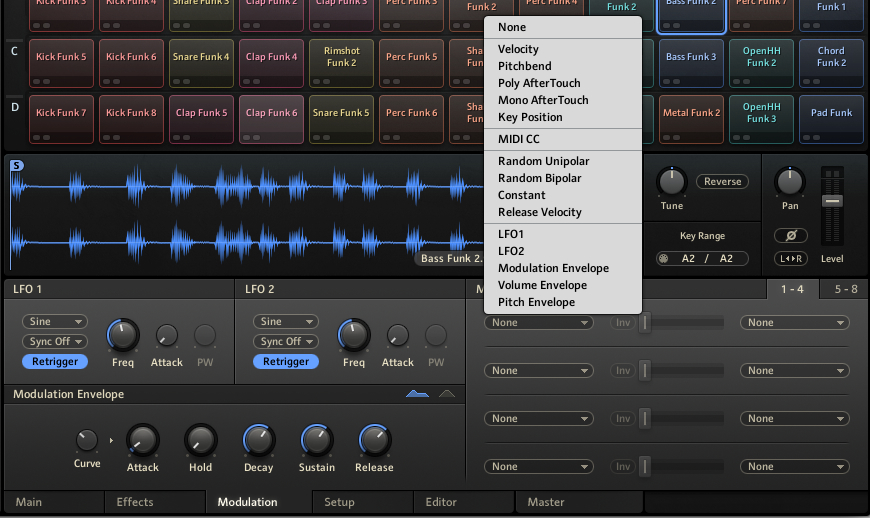 Of course it's available separately from that bundle, but with the landscape for virtual drum machines having changed so dramatically does Battery still rule the roost?Colour codingFrom a design point of view, there's no getting around the fact that Battery 3 has been showing its age for some time. Although its cell based matrix of drum pads remains a great approach to beat programming and sound triggering, the grey and green combination was never our favourite.Indeed, while colour-coding of pads was possible there was little continuity from one kit to the next. The only way to track down sounds was either to audition them or to squint hard at the interface.
Without a trace of light grey or green, the layout is now a slicker, darker affair.Colour coding is more straight-forward too, with preset kits now mostly showing kicks in red, snares in yellow, claps in pink, hats in light blue and so on. Below the matrix of pads in the upper surface, the middle of the GUI is dominated by the waveform display whose waveshapes match the colour of the pad you've selected for editing. Neatly, key parameters such as Tuning, Key Range, instant Reverse, Pan, Volume, Phase invert and L-R switching are available to the right. Mercifully, start and End flags on the waveform itself make selecting the active area of any sample straightforward.Assault and BatteryThe lower part of the GUI concerns basic modulation possibilities, starting with Volume and Pitch Envelopes for each pad that feature two different Envelope configurations for each. Velocity can be mapped to Volume or Pitch (or both), while a simple 'dual' filter design lets you scoop out bass and treble from either end of the frequency spectrum at the same time.Each pad features its own Compressor that keeps things simple on this main page with a basic Amount dial only, while send dials to the Delay and Reverb modules (we'll come to these shortly) lie on the right. Brilliantly, the waveform display toggles from LFO or Envelope shapes and the waveform of the sound you're processing as you hover over parameters, which is neat and hugely effective.Oodles of optionsEven though this version has been a long time coming, it's been worth the wait. Workflow has been so significantly improved that once you have familiarized yourself with what's new, beat building becomes more fun than ever. The new kits sound great and with the integration options - Battery 4 will accept samples from a wide range of file types - there's no need to stick with NI's own libraries of content because you can so easily expand these with your own.Once you have configured sounds into cells, the giant strides NI have taken in terms of effects processing in recent years make their presence felt here too. In fact, it should be considered towards the very top of your list if you're looking for a software only drum plug-in.