This 1965 Volkswagen Beetle, # 115798072, is a totally original 63,000 mile car that was properly restored in 2001. According to the owner this is a matching numbers car with the original invoice, bill of sale, owner's manuals, tool kit, jack, spare tire and keys. Its mission is to collect, preserve, exhibit and operate pre-1940 aircraft, ground vehicles, engines and related technologies significant to the evolution of transportation for the purpose of education. The components were made according to the German model year, but completion in Melbourne could often be up to six months later, due to the shipping time for the CKD crates to arrive in Melbourne, be railed to Clayton and unpacked, prepared, assembled and finished (joining with the various Australian-made components such as tyres, batteries, glass, paint, upholstery etc).Full local manufacture ran from 1960 to 1968. All Australian VW assembly ended in March 1977, and all subsequent models have been fully imported.All Volkswagens made after 1 August 1979 (that is, 1980 models onwards) use the Standardised International Vehicle Identification Numbering (VIN) system.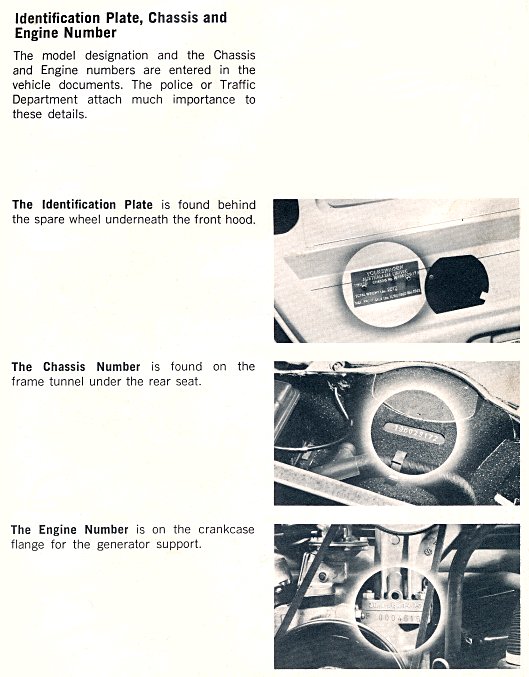 Australian manufacture production year (1960-67) is generally February-January but can vary. Australian-manufactured Beetles from 1965-67 had a 19* prefix, indicating they were stamped in Clayton, but this practice was discontinued in 1968 when German CKD kit assembly resumed.
These models were called the Superbug S (1971-72) and Superbug L (1973-75) in Australia, and were similar to the European 1302S and 1303S models (names not used in Australia). These vehicles were only available in Australia from 1959 to 1968, fully imported from Germany. Transporters were made in Australia from 1955 to 1976, then fully imported afterwards.From 1965 onwards, the standard VW Type 2 chassis prefix was 21*.
VW Type 3 Sedans and Station Wagons were sold in Australia from February 1963, and apart from the first few months of sales, were Australian-made throughout.
The imported Type 34 Karmann Ghia was only available to Australians from 1965 to 1968, and then only by special order.