Couples will learn what it take to keep passion alive, build a more loving relationship and discover more about the uniqueness of their partner. This session identifies the key behaviours that will prevent a couple from forming healthy intimacy and it unpacks the eight attitudes that are necessary for growth and change.
This session aims to address the theology of marriage by outlining the miracle of maleness and femaleness.
Differences in male and female brain chemistry and physiology are touched on in this session as well addressing three of the Ten Commandments, and looking at levels in communication and roadblocks to communication.
The teaching in this session builds on the subject matter of the previous sessions and gives a more detailed look at intimacy, individual needs and communicating love.
This session gives a snapshot of the influences of the family of origin on every area of relationships.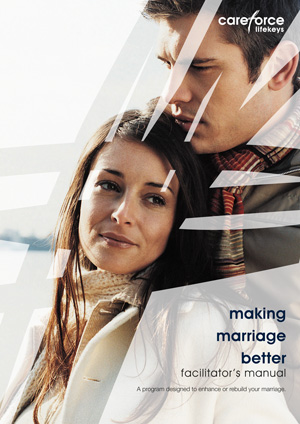 This subject is addressed from a physiological, psychological and behavioural perspective. Helping our local communities find Christ through their brokenness remains one of the greatest untapped evangelistic tools available to the church today. It addresses the need for mutual love and respect and challenges the stereotypical views of the dynamics needed for a healthy relationship.
The barriers to a lasting relationship are reviewed, the theological aspects of covenant are addressed and the First of the Ten Commandments is introduced.
Negative, abusive or damaging patterns are identified and participants are made aware that these must change. Role-play demonstrates healthy and unhealthy behaviour and provide a mirror for partners and singles to evaluate how they handle challenge and conflict.
Ways of overcoming gridlock are covered with some practical suggestions for enhancing the relationship.
The theology of sex is addressed using the Seventh Commandment and the trinitarian nature of God as the true model of intimacy.
The Eight and Ninth Commandment are briefly applied in relation to matters of intimacy and integrity.
Comments »