I have a lot of favorite books so today I will be sharing my Part 1 of  Best Books for Boys ages 9-12.  A lot of these books are thick books that are 300 to 400 pages.  Those are the ones I like best!
This post will be continued next week with my top 5 favorite, best books for boys!  Stay tuned for more!
I'm sending him over to your site as soon as he gets home from school and fencing tonight. I love a lot of the suggestions here, but I'll toss a couple of suggestions out as well.
The series by Michael Scott The Alchemyst: The Secrets of the Immortal Nicholas Flamel, The Magician and The Sorceress is a great read. I always loved reading to you every time I came to visit even when you were seemingly too little to even understand.
My kids love Artemis Fowl, Gregor the Underlander, The Hunger Games,The Mysterious Benedict Society, Percy Jackson (and other series by Rick Riordan) Harry Potter, A Wrinkle in time and series, Narnia, The Black Stallion, Bran Hambric, The Emerald Atlas, Erec Rex, Ranger's Apprentice, Alex Rider, The Jaguar Stones. I would suggest The Mysterious Benedict Society series, any Andrew Clements book, the City of Ember series, Millions, and the School of Fear series.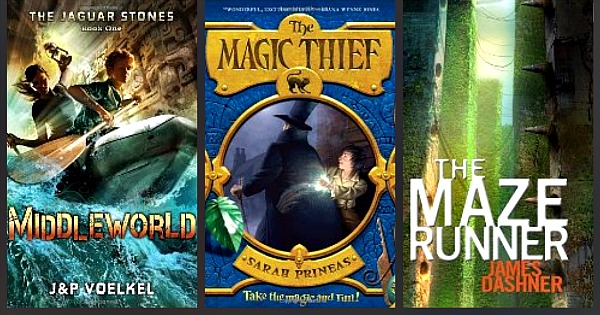 This entry was written by Laura, posted on March 13, 2013 at 8:44 am, filed under Stories from the Farm and tagged names. Receive weekly or seasonal updates from the farm including recipes, farm happenings, event announcements, and what's on sale this week at our farm stand.
My oldest son is almost 11 and his taste in books is COMPLETELY different from mine…and much more like yours. Since I was a tomboy, I'm pretty sure boys will love them too, especially any boy interested in dogs or the outdoors. Might be a very easy read for you…she read it in about a day and half but she thought it was really good! A local newspaper reported that a secret labyrinth of tunnels existed under the streets of Hertford, a small English market town. I met the author when I was in 4th grade and still have the signed copy of Egypt Game from that day. My son is 10 and likes to read, when I finally insist we turn off the tv and the video games.
I just read a biography about the author of the Redwall series, Brian Jacques, and found it very inspiring. We are now reading the second book in the Redwall series and my son loves it and the shows.
Literally, I read more than 3 books a week and sometimes I read a really good book in just one day! Modern day descendants of the Knights Templar still meet in these underground chambers and Hertford could be the last resting place of the Holy Grail. I also really liked the Bartimaeus Trilogy by Jonathon Stroud and the Redwall series by Brian Jacques.