We are supportive of the Don't Cook Your Dog campaign raising awareness about the dangers of dogs left in cars - don't do it please! Because we do not routinely use kennels we are always looking for those special people who are able to foster a dog, whilst we are looking for a forever home. We expect new owners to give the dog a reasonable amount of time to settle and adjust to a new life, however if an incompatibility arises the dog MUST be returned to West Yorkshire Dog Rescue at the owner's expense West Yorkshire Dog Rescue cannot accept responsibility for the temperament of any dog once it has been re-homed. Harry is a Bedlington Terrier x who is around 4 to 5 years old and is currently on foster in Leeds.
Harry has been living with other dogs in his foster home and can be rehomed into an existing pack or as the only dog. Harry has been fine to be left for short periods however, he does love company and would not be suitable for a full time worker but could be left part time.
All Hope Rescue dogs are neutered (if over 6 months), vaccinated, flea treated, wormed and micro-chipped prior to adoption.
Harry is undergoing some training with his foster home to work on his lead walking and excitable behaviour around other dogs so his rehoming will have to be delayed for a couple of weeks. Should the dog be offered for adoption before being neutered (for example bitches who have only just finished a season cannot be neutered for 3 months as this may compromise their health) then the new owner MUST neuter the dog.
The rewards are tremendous - rescue dogs understand they have been saved so make loyal and faithful pets. He is excitable around other dogs and this is an issue which will require further work from a new home. Please do not apply to adopt him unless you have good fencing without gaps or are able to organise for your garden to be secure before adoption. If other dogs are running around and playing excitedly, he gets over-excited and can start to nip them. Ideally he would be best suited to a home where neighbouring cats rarely visit a garden just in case.
He loves to go out for walks and explore new places but he does not have high energy requirements to meet. A homecheck will be required, and you will need to come and meet the dog with your own dogs and family. The 11-week-old Lurcher pup was freed from the tree in Leeds, West Yorkshire, and taken to a nearby Dogs Trust centre. His recall is good with his foster home but this will need to be a continued focus for a new home to make sure he has a bombproof recall and can be called away from distractions in case he spots a cat when off lead on a walk. He is currently attending Tailwagger training mainly for the socialising and would like to continue with something similar in his new home.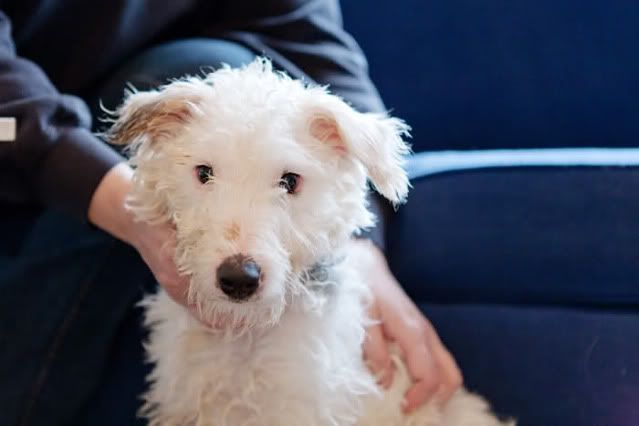 ---