However, if your dog isn't leash trained, walking your dog can be a pain more than a pleasure. January is not only National Train Your Dog Month, but also National Walk Your Pet Month!Before You Walk Before venturing out in your neighborhood, to the dog park or on an outdoors adventure, make sure your dog is:Comfortable with the Equipment Your dog's collar and leash are obviously very important, but you must make sure your dog isn't nervous or scared around them. If your dog seems skittish around these objects begin by simply placing them in the same room and letting your dog become comfortable with the objects themselves. Once your dog seems relaxed and can approach the collar, lead or harness without fear, move on to putting them on your dog. As your dog becomes more comfortable, start picking up the lead while your dog is eating or playing. The point is to get your dog to understand the feel of the equipment.Relaxed When you're ready to walk, your dog might be really excited!
When Fido realizes a walk is coming, train him to have all four paws on the ground before you attach his harness and lead. This sets a precedence of you being in charge before the walk even begins.Tips For Training SuccessA tired dog is a more relaxed dog. If you have a good amount of playtime before you start a training walk, your dog will be more willing to follow your lead. Expel that energy before a training walk and you'll be sure to have an easier training session.Dogs respond to rewards. Make sure you pack plenty of highly desirable training treats before leaving for your walk. If your dog keeps walking and reaches the end of his lead and pulls, don't move (red light).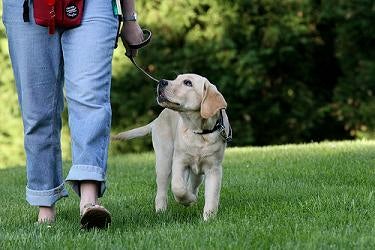 When your dog stops moving and leaves slack in the leash, use your "Come" and "Sit" commands, give praise and reward with a treat (green light).
If your dog ever pulls to chase a scent or use the bathroom, repeat the "red light" process, but when you call your dog back don't reward with a treat.
---