March 20, 2008 by Mandie Leave a Comment The term Pit Bull is a relatively non-descriptive one as it is not an officially recognized breed by the American Kennel Club, or AKC, standards. Pit Bull or Bully breed dogs typically include the following types of dogs(all the breed names are click-able and will redirect you to a breed description if you want more information) – American Pit Bull Terrier, Bullmastiff, Perro de Presa Canario, Cane Corso, Dogo Argentino, Alano Espanol, Japanese Tosa, Bull Terrier, Alapaha Blue Blood Bulldog, American Bulldog, Boxer, Valley Bulldog, Olde English Bulldogge, and Banter Bulldogge Also included in the Molosser family of dogs are Great Danes, Rottweilers and Newfoundlands.
As you can see, there are at least 20 different breeds of dogs that are often considered to be Pit Bull.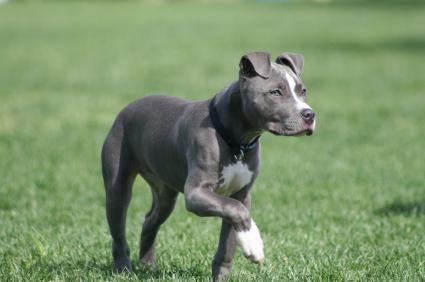 There is a great resource on the web where you can test you skills and see if you can spot the American Pit Bull Terrier amongst these other breeds.
There are a lot of dogs, since they only have to meet 5 of the 8 criteria, that are going to qualify as Pit Bull dogs, including some outside of the Molosser or Bully family.
---