Olympus continues to push innovation further so underwater enthusiasts can now explore depths up to 50 feet* with the TG-2 iHS – 10 feet deeper than its predecessor! This high-speed performer delivers brilliant images courtesy of its high-sensitivity, high-speed 12-megapixel backlit CMOS sensor combined with a blazing fast, DSLR-quality TruePic™ VI image processor.
The new Microscopic Macro function boosts zoom magnification from 4x to 14x** with no noticeable loss of image quality from one centimeter away for true macro results. With five frames-per-second high-speed burst shooting or 60 frames-per-second at 3-megapixel resolution, Movie enthusiasts can shoot 1080p Full HD videos (1920×1080 pixels) while Multi-Motion Movie Image Stabilization compensates for movement during recording to create smoother videos.
In low-light conditions, HDR Backlight Adjustment takes a collage of images at various exposure levels and blends them into one perfectly exposed photo.
The camera's three-inch, high-resolution OLED display (610K dots) provides excellent visibility in bright situations, enabling composition of the perfect shot in direct sunlight. Users can easily share their images on a big-screen HDTV in high definition using an optional HDMI cable or on their social networks using the Olympus Image Share smartphone application (via optional Toshiba FlashAir™ SDHC card or optional Eye-Fi Card).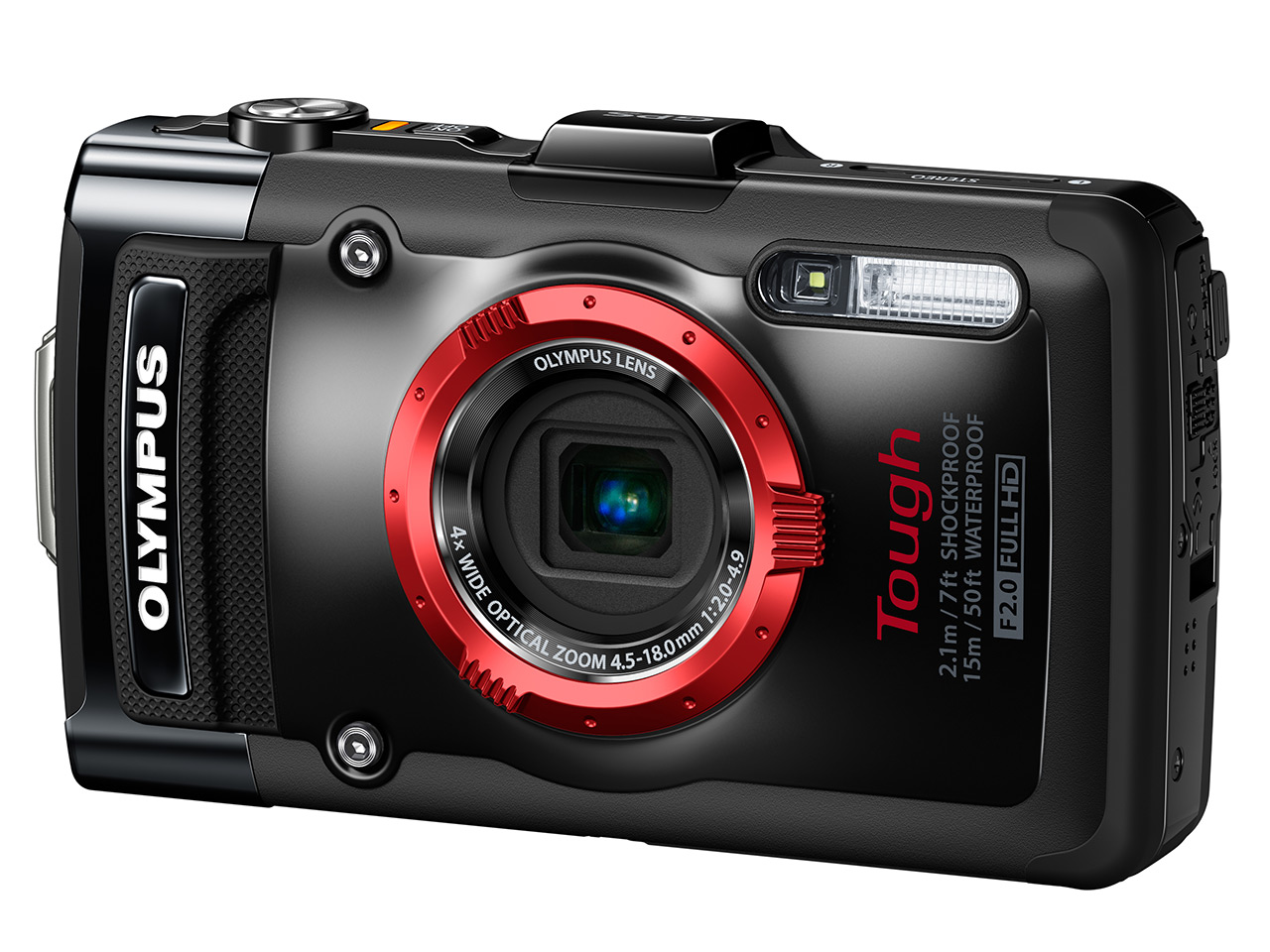 Two bundled lens rings, one in red and one in black, and a premium wrist strap customize the camera's look. Of course, it also withstands the rigors of other extreme conditions with its advanced ruggedized body construction that is shockproof up to 6.6 feet*, freezeproof to 14°F*, crushproof to a weight of 220 pounds and dustproof.
The iHS family of technologies unite for unmatched image quality in challenging shooting conditions with improved lighting, less noise and response times twice as fast as traditional point-and-shoot cameras.
When the doubly powerful Super Resolution zoom is used, aspects of the natural world usually invisible to the naked eye, such as veins on a leaf and the details of an insect's eye, are revealed.
The Manual aperture priority mode allows the user to set the aperture to give pictures different expressions, or for professional-looking effects like background blur. The camera's LED Illuminator perfectly captures the mood of low-light indoor scenes, beautiful sunsets or late-night outdoor festivities without a bright flash. Mark a special spot on the map with the GPS and e-compass functions that display and record location and landmark information with every shot.
The Olympus® PT-053 underwater housing takes the STYLUS TOUGH TG-2 iHS down to depths of 135 feet (45m). High-speed autofocus, enhanced Intelligent Auto for spectacular scene and subject recognition, and 8x Super-resolution zoom (4x optical zoom) produce incredible images in any location.
Shadow Adjustment Technology adjusts shadows within an image shot under backlit conditions so that a subject's face can be revealed even under harsh lighting.
The built-in manometer records elevation and water depth and even displays a warning when the user approaches a depth of 50 feet.
The STYLUS TOUGH TG-2 iHS lens adapter converter ring expands system capability by enabling the addition of a waterproof Fisheye Converter Lens or Teleconverter Lens for use on land or under water.