May 9, 2013 by Sparky Leave a Comment While commuting to work this morning, I heard a commercial for pizza. A yummy low carb pizza crust recipe that will let you pick up those slices with your hands to chow down! Pull from oven and put about two tablespoons of marinara sauce on the crust, which should be lightly springy and a golden brown. Personally I liked the idea of the courgette crust more than the one with cauliflower, which in my experience can be pretty messy to grate up! I tried this tonight (Tuesday night is pizza night at our house!) and really, really enjoyed it.
I made this tonight and the flavor is pretty good – the spices really cover up the taste of the coconut (which would otherwise seem an odd note with pizza flavors).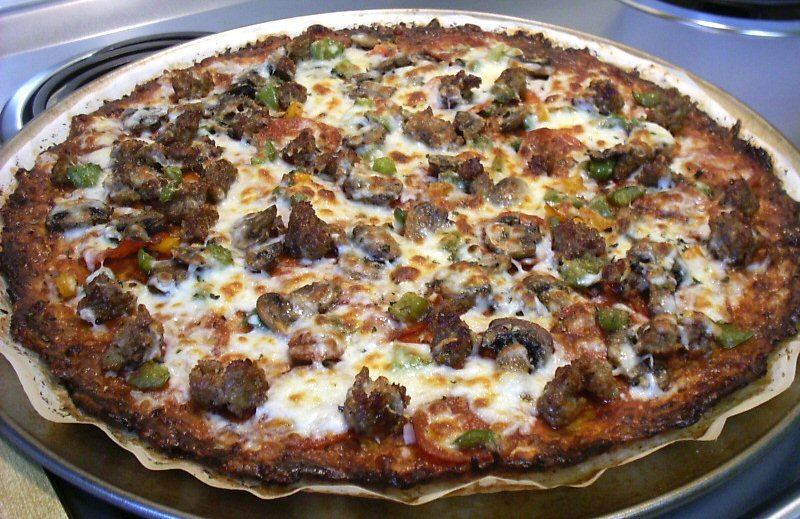 Also, I think that baking on a silicon mat prevents the crust from becoming really crisp, so next time I am going to use parchment paper to see how that works. Low Carb Yum is a participant in the following affiliate programs: Amazon Services LLC Associates Program, LC Foods Affiliate Program, and the Thrive Market Affiliate Program. I didn't think much about it, but while driving home today I realized I had all the ingredients needed to make a low carb crust pizza. I made socca pizza bases with chickpea flour way back in 2011, and sometimes used my high protein wraps too. Like others have said, I've been put off from trying the cauli crusts because of the faff, but this is easy peasy, especially if you use the grating blade on your food processor like I did! Of course, regular pizzas whether frozen, take out or from a restaurant can pack a hefty calorie punch, as well as being a source of gluten and refined white flour, which often leaves me feeling rather bloated.
However they always lacked something that a proper pizza could offer, that crispy base and gooey melted cheese topping. We use the crust from the deep dish pizza recipe now which goes over well with those who don't do low carb.
Keeping the oven rack in the center position, put the pizza under the broiler until the toppings are hot and any cheese you added is melted and bubbly, about 4-5 minutes.
I also went light on the cheese topping because there was already 12 ounces of cheese in the crust.