By following your friends and influencers you'll be able to see what they're saving in real time. Author Notes: This is my favorite way to braise lamb shanks -- there's warm spice and fresh herbs for comfort, good syrupy balsamic vinegar for depth, and white wine and orange zest for brightness. Heat a small Dutch oven (3 to 6 quarts) over medium-high heat and sear the lamb shanks on all sides until a good crust forms -- this will take 8 to 10 minutes total.
Scrape any crusty bits from the lamb-searing off the bottom of the Dutch oven (don't discard, just scrape them up to loosen them and prevent them from burning). Place the Dutch oven over medium heat and add the garlic, onion, carrots, celery, rosemary, thyme, and orange zest. Stir in the vinegar and cook until it has evaporated slightly and thickened further, about 10 to 12 minutes.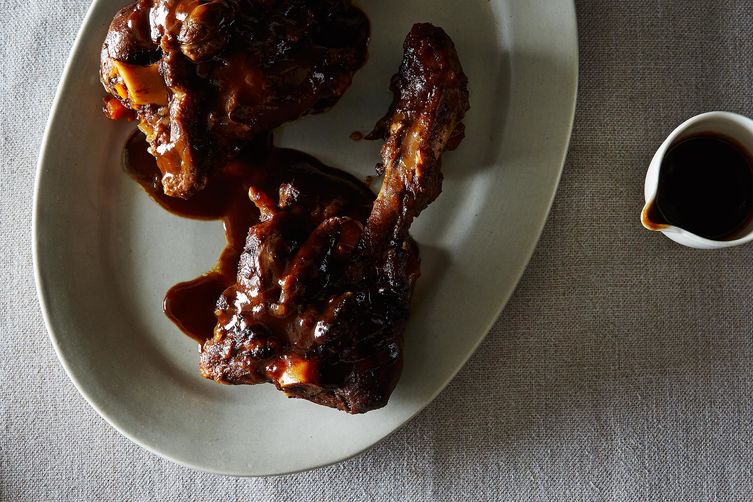 Remove the shanks from the pot, covering them with foil to keep them warm, and strain the liquid into a saucepan.
Jan Angus welcomes Miguel to her Barossa Valley farm, where she and husband John produce fruit, tobacco, grapes, cattle and sheep. Miguel only uses the freshest local produce, including aromatic garlic, chillies, ginger and thyme. As the sun sets over the Barossa hills, the smells of braising lamb waft around Jan's farm kitchen! Amanda talks all things alien with Independence Day: Resurgence actor Jeff Goldblum in this extended interview you won't see on TV!
Add the onions and the crushed garlic to the pan with the rest of the oil and cook for 5 minutes until softened and golden.
Bring to the boil.Return the shanks to the pan, cover with foil and cook in the oven for 2-2A? hours until the meat is almost falling off the bone. Take the lamb shanks from the oven and when cooled, remove the meat from the bones (reserving the bones) and cut it into chunks.
Cut out lids from the pastry, about 2cm (A?in) larger than the basins all the way around and cut a small cross in the centre of each.
Stand a bone in the middle of each pie then place the pastry over the top, with the bone sticking through the slits and the edges of the pastry hanging over the sides.