Sausage Cheese Balls make for the perfect little appetizer to serve to your guests at any holiday party, football party, and especially for New Year's Eve. This is easy to make ahead and a delicious recipe to keep on hand when you need a quick appetizer for a work party, Super Bowl game, etc. These are a few of my favorite things: cooking, baking, Broadway musicals, cruises, Disney World, Christmas, storms, 80's and country music, and my favorite pastime has always been baseball. Sausage balls are one of those things that are classic and you learn to make them in 7th grade and the recipe sticks with you forever.
Best dipoing sauce for these… Peppered breakfast gravy made from sausage and bacon drippings!!! I don't make these myself - however my coworker uses this recipe to make these, usually doubling the garlic. January 21, 2013 By Becky (Your Modern Family) Leave a Comment Sausage balls recipe – perfect easy party food.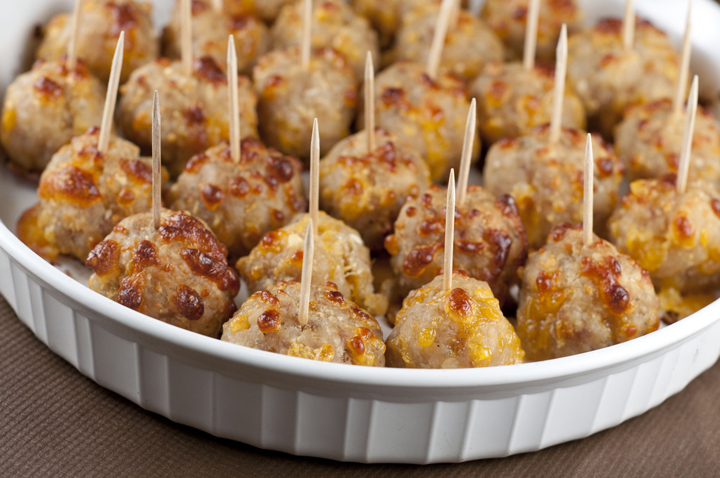 We've pulled together our most popular recipes, our latest additions and our editor's picks, so there's sure to be something tempting for you to try. Subscribe to BBC Good Food magazine and get triple-tested recipes delivered to your door, every month. In fact, I would be the crazy guest standing in front of the plate at your party (so I could eat them all)! I've had several comments on my Facebook page of people who made this recipe and loved it.
Crush the garlic and a little salt to a paste using a pestle and mortar, or use the flat of your knife on a chopping board. Divide the sausage mixture in two and spread along the length of each pastry strip in a cylinder shape, leaving a 1cm edge.
Place in the oven and cook for 25-35 mins until the pastry is puffed and crisp and the meat has cooked through.
This is a definite easy to make ahead, to make in the moment, and delicious recipe to keep on hand.
Tightly roll the pastry around the sausagemeat and brush the ends with the beaten egg to secure.
Place the sausagemeat in a food processor (if using sausages, peel away the skins), turn on to a high speed, pour the garlic-flavoured water into the mixture, then season with pepper. Use a sharp knife to cut each roll into 10 pieces, each about 2.5cm long, and place on a baking sheet.